Business
Popular food is equal to 1/6 of income, bitter consequences of 'paradoxical' monetary policy
To the Turks, the plum, or "erik" in Turkish, symbolizes the beginning of spring. This fruit appears in April, when the tree bears fruit and the fruit is picked before ripening.
For decades, sour plums have been an affordable staple for working-class people, even if it's just an annual fruit. But soaring prices and the falling Turkish lira in recent years have left the "once-a-year delicacy" absent from the table.
Perhaps because of the role of plums in Turkish tradition, social media was bewildered by posts announcing 1kg of green plums selling for 690-750 Turkish lira ($47-51 USD). ). In a country where the monthly minimum wage is around $290, the price of plums has risen to a level that many will not be able to buy.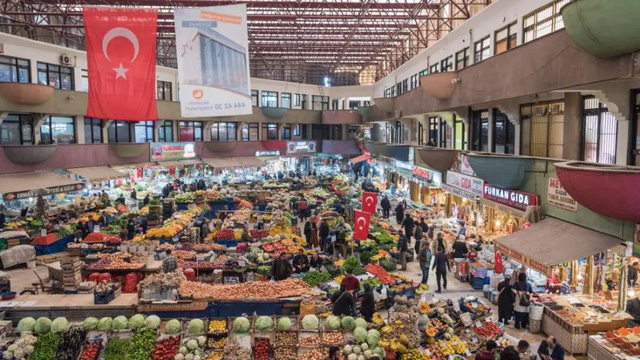 Shoppers walk the aisles of a market in Konya, Turkey. Photo: CNBC
New economic model
Turkish President Recep Tayyip Erdogan has been in power since 2002 and has implemented free-market policies to help rebuild the economy. But in recent years, Mr. Erdogan has pursued a strategy of lowering interest rates to keep inflation from rising. This is an approach that is the opposite of what central banks are used to.
He describes his approach as a "new economic model". This will help boost employment, growth, exports and low-interest credit.
Monetary policy is not fully promoted
Arda Tunca, an independent economist and journalist for Turkish news site PolitikYol, told CNBC that the Turkish economy is being affected by the outcome of that monetary policy.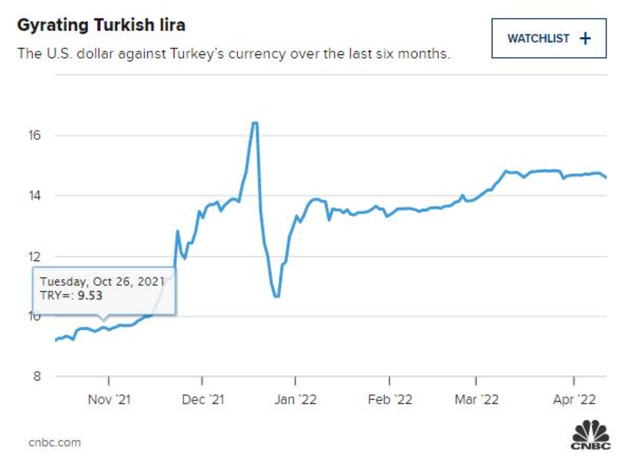 The Turkish lira fluctuates. Source: CNBC
"Monetary policy is not working at all," Tunca said. Real income per capita has been steadily declining over the past 7-8 years and purchasing power is weakening a lot. The most important point is that nothing can be done to stop it. Inflation goes up".
Under political pressure, central banks had to lower interest rates. Since September 2021, central banks have begun to lower interest rates to 19% despite high inflation. The current interest rate is kept at 14%.
Meanwhile, the lira lost more than 60% of its value against the dollar in just 6 months.
As Turkey's agricultural sector imports many commodities from seeds to fertilizers in dollar terms, the lira's depreciation has resulted in high food prices for households.
Turkey's consumer index (CPI) data for food and non-alcoholic beverages in March rose 70.3% year-on-year.
Turkey has fertile land for agriculture. But the country is dependent on agricultural imports.
"The incumbent government does not pave the way for local manufacturers to develop their capabilities in production and manufacturing," said the Tunca economist.
No clear plan to raise interest rates
"Turkey has been in need of structural change for decades," said Tunca. The only way to review Turkey's economic policies for the sake of development is to shape a set of policy tools. capable of modernizing the economy".
"Turkey's over-40s have experienced a drastic change in income equality," said the economist. ".
And so, the tradition of eating plums may remain a distant memory for the majority of people in Turkish society.
https://cafef.vn/lam-phat-tho-nhi-ky-nhin-tu-giaqua-man-mon-binh-dan-bang-1-6-thu-nhap-he-qua-cay-dang- study
You are reading the article
Popular food is equal to 1/6 of income, bitter consequences of 'paradoxical' monetary policy

at
Blogtuan.info
– Source:
cafebiz.vn
– Read the original article
here