Thế Giới
QUICK READING April 13: Russia says more than 1,000 Ukrainian soldiers in Mariupol have surrendered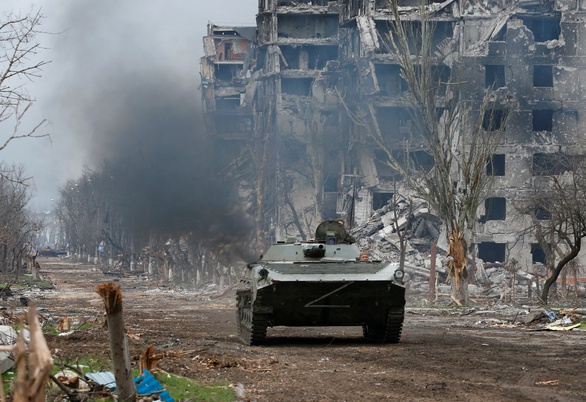 Pro-Russian forces on armored vehicles during the fighting near the Azovstal factory in the city of Mariupol, Ukraine, on April 12 – Photo: REUTERS
* On April 13, TASS news agency reported that the Russian Defense Ministry recognized 1,026 soldiers of Ukraine's 36th Marine Brigade surrendered in the city of Mariupol. Earlier, Mr. Ramzan Kadyrov, the head of the Russian Republic of Chechnya, also announced the surrender of more than 1,000 Ukrainian marines at Mariupol.
According to Reuters news agency, Ukrainian Defense Ministry spokesman Oleksandr Motuzyanyk said he received the information mentioned by the Russian Defense Ministry, but he has no information about this at the moment.
* Deputy Prime Minister of Ukraine Iryna Vereshchuk said they Can't open any humanitarian corridors on April 13. According to Reuters, Vereshchuk said Russian forces violated the ceasefire and blocked buses to evacuate civilians.
Meanwhile, the mayor of Mariupol, Vadym Boichenko, said more than 100,000 people were still in the city and awaiting evacuation.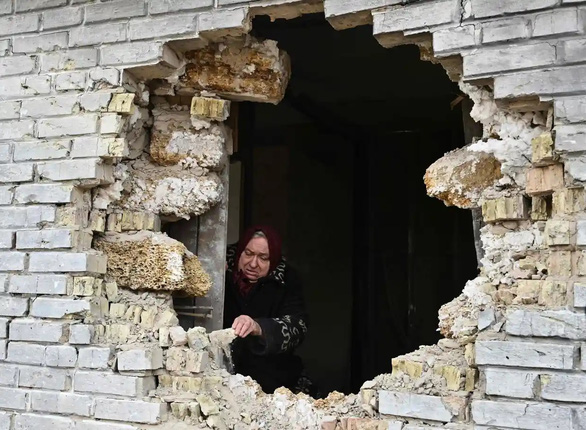 Ms. Nadiya, 65, lives in a house that was hit by shelling in the village of Zalissya, northeast of the capital Kiev, Ukraine on April 12 – Photo: AFP
* According to the Guardian newspaper on April 13, Lithuanian President Gitanas Nausea said he was on his way to Kiev to show "strong political support and military support". He affirmed that Lithuania will continue to support Ukraine's fight for sovereignty and freedom.
* On April 12, in a speech in the state of Iowa (USA) about the increase in gas prices, US President Joe Biden said to him, Russia's military campaign in Ukraine was genocide. He believes that the money American families spend on gas should not be dependent on genocide halfway around the world, according to CNN.
* According to Tass News Agency on April 13, Kremlin spokesman Dmitry Peskov says Ukraine is looking for ways to create fake news. He urged people not to believe this information and should verify everything published by Kiev.
Peskov said he had seen pictures of Ukrainian politician Viktor Medvedchuk, a close ally of Russian President Vladimir Putin, arrested. However, he said it was still too early to say it was authentic because there was a large amount of fake news created by Kiev.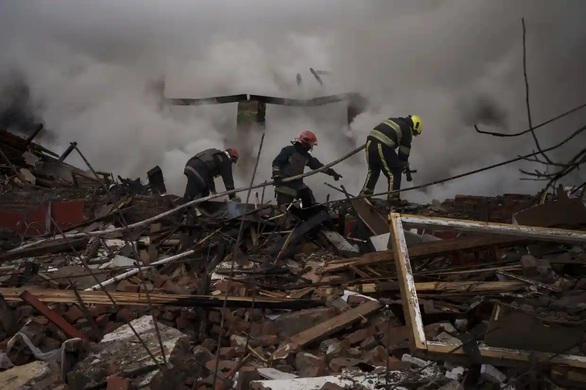 Firefighters put out a fire after Russian soldiers destroyed a building in the city of Kharkov, Ukraine – Photo: AP
* A source familiar with the situation in South Korea said on April 13 that the country plans to provide Ukraine with additional non-lethal weapons worth 2 billion won (US$1.6 million) in April, according to the VNA. According to the source, South Korea will begin shipping to Ukraine within the next week items such as bulletproof vests, helmets, medical supplies, meals and ready meals.
* The European Commission (EC) announced that it is promoting establish a humanitarian assistance center in Moldova to help Ukrainian refugees. According to the United Nations (UN), a total of more than 4.6 million Ukrainians have gone abroad since Russia launched a special military operation on February 24, making it the fastest growing refugee crisis in the country. Europe since World War II.
* Ukrainian border guards on April 12 said more than 870,000 people evacuated abroad since the Russian-Ukrainian conflict broke out returned to the country, among which are increasing numbers of women and children. This shift comes after Russian forces withdrew from the outskirts of the capital Kiev late last month.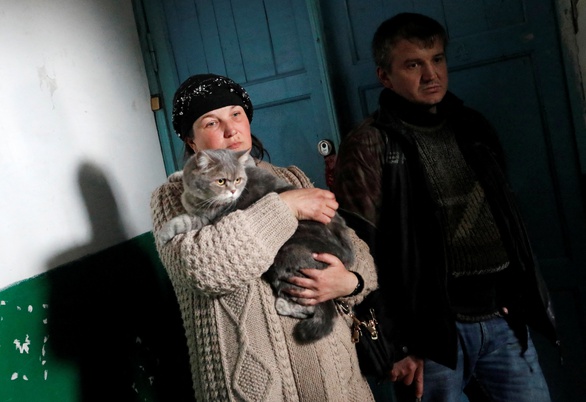 Ukrainians take shelter in a building in Mariupol. This city has been under siege for more than a month and is in danger of falling into the hands of Russian forces – Photo: REUTERS
* On April 13, Vietnam time, British Prime Minister Boris Johnson's office said he and US President Joe Biden discussed the need to accelerate assistance to Ukraine, both militarily and economically, as Ukrainian forces prepare for another Russian offensive in the east. Mr. Johnson told Biden that the latest round of British support, including anti-ship missiles and military vehicles, would arrive in Ukraine in the next few days and weeks, according to CNN.
The two sides also agreed to continue joint efforts to increase economic pressure on Russia and definitively end the West's dependence on Moscow's oil and gas.
* Reuters news agency quoted US officials as revealing that President Biden was about to announce the package military assistance worth 750 million USD for Ukraine on April 23. Last week, the White House announced that Washington had provided a total of more than $1.7 billion in security assistance to Ukraine since the end of February 2022.
* On April 12, President of Ukraine Volodomyr Zelensky announced tycoon Viktor Medvedchuk, the closest "ally" of Russian President Vladimir Putin in Ukraine, has been arrested by this country's law enforcement forces.. On his Telegram account, Mr. Zelensky posted a photo of Mr. Medvedchuk in handcuffs. The President of Ukraine proposed to exchange Mr. Medvedchuk for Ukrainian prisoners being held by Russia.
Mr. Medvedchuk is the leader of the largest opposition party in Ukraine, Opposition Platform for Life, one of the parties that was suspended by the Kiev government in March 2022. The tycoon was put under house arrest but escaped three days after Russia sent troops to Ukraine on February 24.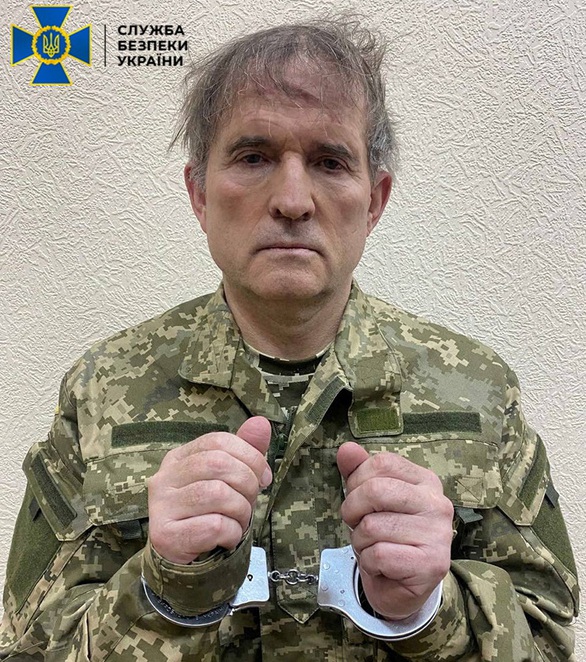 Tycoon Viktor Medvedchuk of Ukraine – Photo: REUTERS
* The leader of Ukraine's peace talks delegation, Mr. Davyd Arakhamiya, denied that the country changed its position. "The Ukrainian side adheres to the Istanbul Communiqué and does not change its position… The only difference is that we do not take into account all the issues that are not covered in the Istanbul Communiqué. It is possible that this has caused a misunderstanding of the current state of the negotiation process," Arakhamiya was quoted as saying by the Ukrinform news agency.
Arakhamiya said talks with Russia on security issues were still taking place online, while Zelensky's adviser Mykhaylo Podolyak described negotiations as "extremely difficult". Earlier, during a press conference on April 12, Putin described negotiations with Ukraine as falling into a "dead end" because Kiev changed what the two sides had agreed to in Istanbul (Turkey).
* Dutch customs authorities said they had detained a total of 20 yachts at shipyards in this country under sanctions against Russia and Belarus. "As these 20 yachts are being placed under closer supervision, they are not allowed to deliver, transfer or export," the Dutch side said in a statement.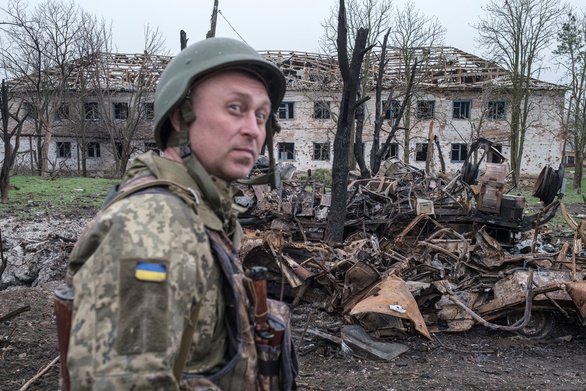 An area in Kharkov was attacked on April 12 – Photo: REUTERS
* Russian President Putin in a meeting with his Belarusian counterpart Alexander Lukashenko said that Moscow and Minsk need to strengthen cooperation in the face of Western sanctions.
"We will continue on a common front to fight any attempt to slow the development of our countries or isolate us from the global economy," he was quoted as saying by Tass News Agency. Putin said.
* Former Russian finance minister Alexei Kudrin warned This country's economy may shrink by up to 10% in 2022the sharpest decline in the past 30 years.
"The official forecast will be a drop of more than 10%," RIA Novosti news agency quoted Kurin, now the head of Russia's audit department, as saying. In March 2022, the World Bank estimated that Russia's GDP would shrink by about 11.4% in 2022 and enter a recession.
You are reading the article
QUICK READING April 13: Russia says more than 1,000 Ukrainian soldiers in Mariupol have surrendered

at
Blogtuan.info
– Source:
tuoitre.vn
– Read the original article
here