Thị trường
"Rumor storm" causes extreme damage, losing investors want to "leave the stock market"
Rumored but investors in rumored stocks fell into a 10-25% account loss in just a few quick days. Obviously, the "storm of rumors" is extremely damaging.
"Storm of rumors" and unusual news have recently poured into the market. What makes investors more stunned is that the account evaporates billions when the "rumor storm" sweeps through. Rumors no one can say exactly right or wrong, but for investors who buy and sell according to rumors these days, losing money is true.
On a securities group, account Nguyen Hong Son wrote: "Officially giving up securities forever, I'm so bored, my account is 70% negative. I'm so scared". The sentence was short, but received several thousand likes because of sympathy, showing the mood of the investor who suffered a heavy loss, was depressed and wanted to let go and leave the stock market. Surfing forums, stock groups complaining, taking pictures of accounts losing 10-20% a lot. Last week, investors lost money for real.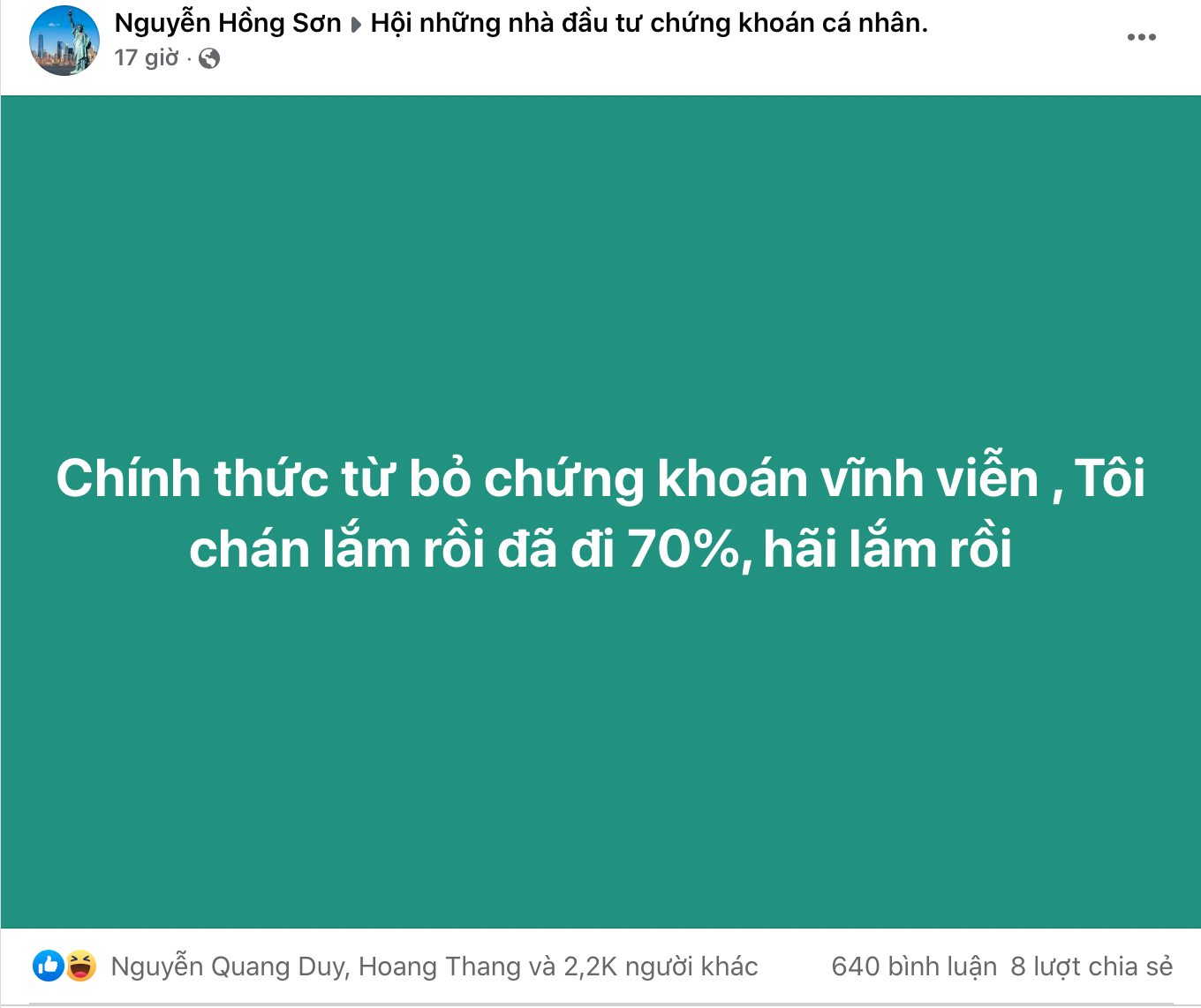 Too much loss, investors want to leave securities
Surfing investors clamped down heavily because the VN-Index's drop was very shocking and the breadth of the drop was very large, thousands of stocks dropped each session. In the past 3 sessions alone, VN-Index has "dropped" 67 points, corresponding to HOSE capitalization, evaporating 265,700 billion VND (equivalent to 11.5 billion USD). This is a large-scale decline when most stocks have dropped by 5-20% in the past few days.
For investors using margin, the loss is even worse. Margin is a double-edged sword, when the stock falls, it will do double damage.
"I hold GEX stock, since the rumor, the stock has plummeted 16% because GEX stock has corrected for the past 3 months, so I think it is safe to use margin, so when buying the area of ​​40,000 VND/ The stock was full on margin and the result was immediately a storm of rumors swept through and the account was severely negative 30% if margin is included, a loss of nearly 1 billion dong. I don't know when I will be able to return to shore," Mr. Hoang Minh , a shareholder of GEX shared.
The rapid spread of the "storm of rumors" blew away billions of dollars in market capitalization, and investors suffered heavy losses. After the false information was spread, many bewildered investors accepted to "cut loss" to sell stocks and suffered heavy losses for fear that the leaders of these companies would be arrested.
The spread of rumors prompted Lieutenant General To An Xo – chief of staff and spokesman of the Ministry of Public Security to speak up. Accordingly, in the past few days, there has been a lot of information that in the coming time, the authorities will prosecute and handle individuals and businesses with influence on the financial and securities markets similar to the incident that happened. at Tan Hoang Minh Group, FLC.
According to Lieutenant General To An Xo, taking advantage of the Investigation Agency to prosecute and investigate the above cases, some individuals used social networks to post false and unverified information about the handling of violations. many other individuals and businesses. This information focuses on businesses in the fields of finance, banking, securities, real estate… More seriously, some social networking sites with a large number of followers also publish information that the time is right. In the coming time, the authorities will prosecute and handle these individuals and businesses.
The publication of false information has adversely affected public opinion, investor psychology, negatively affected the financial and securities market of Vietnam, and caused damage to the reputation and economy of individuals. individuals, businesses and investors," said Lieutenant General Soviet. The Ministry of Public Security is directing functional forces to collect and consolidate documents and evidence, and resolutely handle strictly according to regulations all individuals who have posted unverified and unverified information. contribute to creating a stable and healthy business environment.
Enterprises themselves caught up with rumors such as Hoa Sen, Gelex, etc. also spoke up after the rumor spread, causing stocks to "lay on the floor" consecutively, depreciating sharply, confirming that the business is still operating normally but the company is still operating as normal. investors' confidence was shaken, fear of rumors did not dare to buy, so rumors related stocks such as KBC, HSG, GEX ecosystem, etc. have only been "stopped" and have not recovered yet. . In fact, events like Tan Hoang Minh, FLC plus rumors of arresting a series of businesses are extremely damaging, spreading to the market, hot cash flows or stock driving teams looking to withdraw. while investors fall into heavy losses. On the side of investors holding money, they are also worried about rumors that make them unable to boldly "get down" to catch the bottom. That's why the VN-Index dropped in shock but the cash flow was still very superficial to catch the bottom, different from the previous declines of the market.
If it is clamped because the stock has a rumor, how to behave?
Mr. Bui Van Huy, Brokerage Director of Ho Chi Minh City Securities Company (HSC) shared on the media that rumors in the past week caused damage to investors. He believes that rumors are always present in the market, we all have certain grounds to indicate that rumors may not be accurate.
For example, at the peak of the epidemic, there was no basis to use a tool to lower the reserve ratio or the initial rumored size of the stimulus package was not suitable for the budget capacity… The rumors this time are specific. It can be case by case and it's really difficult to analyze. Since then, many businesses have also issued documents to reassure investors, but more or less there have been certain losses for investors with those shares. One thing can be seen here, from time to time, investors tend to act on rumors a lot.
As a direct customer consultant, in such cases, it is also difficult to advise an individual client to remain calm and not sell. A calm recommendation can only be made if we are certain we can confirm the source of the information, but most of us are also somewhat vague with rumors. Because if the rumored information turns out to be true, the damage level will be huge. This action isn't exactly the same, but like with stop loss, sometimes cuts right at the bottom and the stock can rally again later. With past losses, many investors consider it a reflex.
According to Mr. Huy, there are two issues that need to be emphasized here, the first is that there is a need for regulations to strictly handle false rumors and to strengthen investors' confidence in the official information flows.
"Why are rumors always so influential in the Vietnamese market? This is a question that should also be concerned by regulators? Whether the official information channels have not played their full role. That's the question and the reality that needs to be concerned by market regulators," Mr. Huy said.
However, Mr. Bui Van Huy said that the negative sentiment came partly from the bad rumors in the past week, but that was not the main factor, basically the market context was not too favorable and the cash flow was not very favorable. weaken. If in a more favorable context and stronger cash flow, bad rumors wouldn't have that much of an impact.
Currently, the risks for cash outflow are inflation and policy changes by central banks, conflict in Ukraine and domestic inflation.
According to Economic Life
You are reading the article
"Rumor storm" causes extreme damage, losing investors want to "leave the stock market"

at
Blogtuan.info
– Source:
infonet.vietnamnet.vn
– Read the original article
here