Duong Loan (33 years old, An Giang) followed her parents to Saigon to live since she was 13 years old. At the age of 19, she decided to be a single mother. When her son was 1 year old, she had the opportunity to meet and know Michael (43 years old, German nationality, currently working as a project manager). They decided to get married in 2014 after 3 years of love and living together. After nearly 8 years of marriage, even though she had "adventure" with him around the poor country, even though she felt sorry for herself when she gave birth without a husband, she still feels happy with the small home she has.
Duong Loan's small nest.
Western boyfriend spreads money all over the house to test his heart
Ms. Loan currently has 2 children, a boy – her own child and a daughter who is the happy fruit of her and Michael. Speaking of which, Ms. Loan said that she and Michael met in 2011 in a bar in Saigon. At that time, he was a fresh graduate who had lived in Hanoi for 6 months and had just broken up with his Hanoian girlfriend because his girlfriend had ripped off all his money.
"After that, he went to Saigon to go to the bar with his friends, I also went with his friends and met him. At that time, no one talked to anyone, after going out, everyone returned home until the next time they met by chance at Bui Vien, did they talk to each other. Our English is basic, so we can't talk much. After 1 week, the two of them liked each other but he didn't dare to say it, but if I was straight, I would say it. So he said "Go home to live with me", I also agreed. I think many people will think that we can easily meet each other and have already moved in together, but I don't care what other people say, I feel happy."Ms. Loan shared.
When she met him, Loan made it clear that she had a small son, but he did not care much about it. However, he also told her frankly that he would take care of her stepchild, but he could not bring her along because the constant job transfer would affect her studies. Therefore, when she met him, she decided to send her child to her grandmother to take care of her to ensure her education.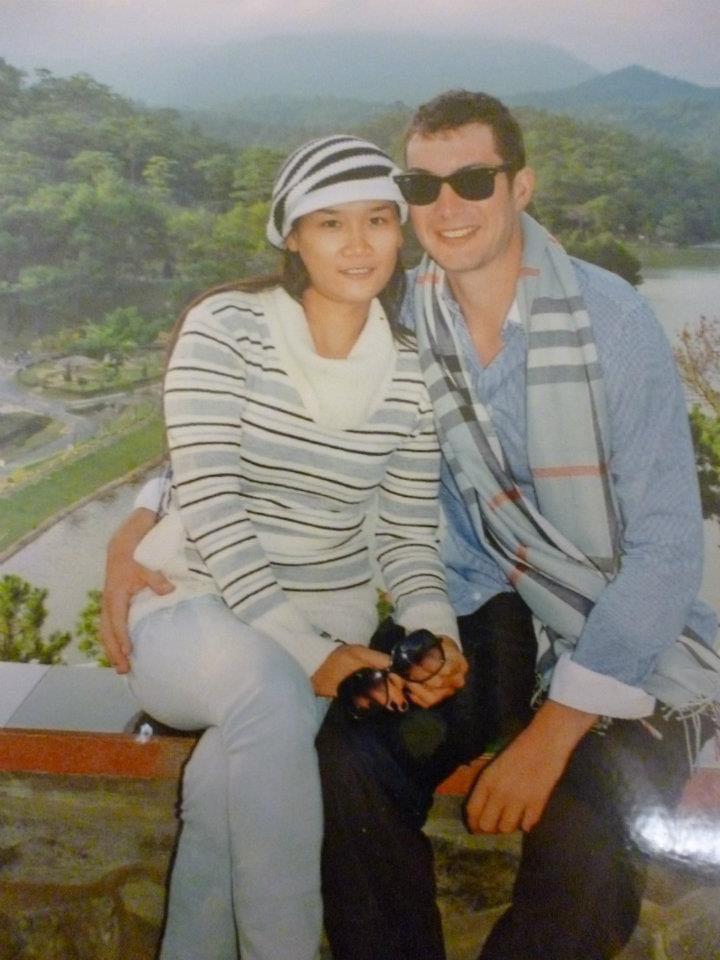 Ms. Loan and Mr. Michael in the early days of knowing each other.
Loan said, she went to live in the same house with him, but life was not like a dream because he thought she was like an ex-girlfriend who also took his money, so she repeatedly tried her heart. He left money around in his room and did a lot of tricks to see if she would take it. And he also challenged her a lot, but all failed.
"After knowing that he tried, I was not angry but sad. But I'm proud because my parents taught me not to take things that don't belong to me.
I told him that "yes, my family doesn't have much money, but my parents taught me who's things to put where they are, leave it there, even if it's damaged, you can't take it because it's not yours", Ms. Loan confided.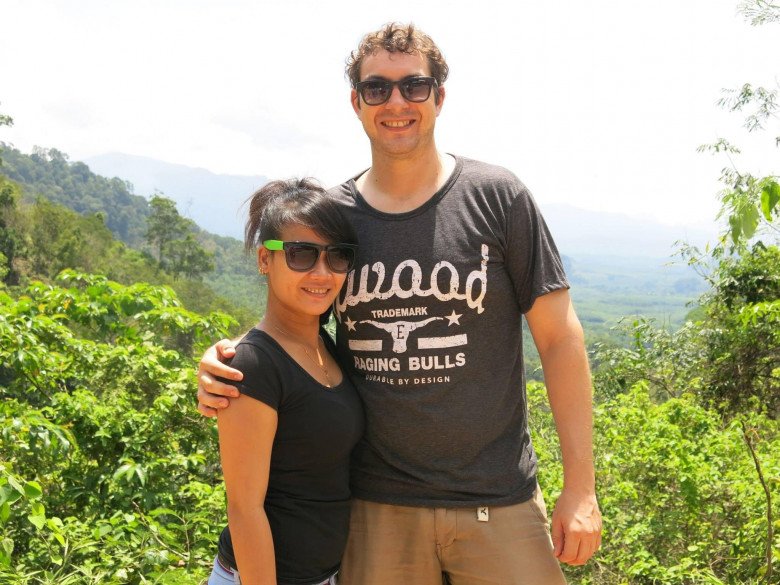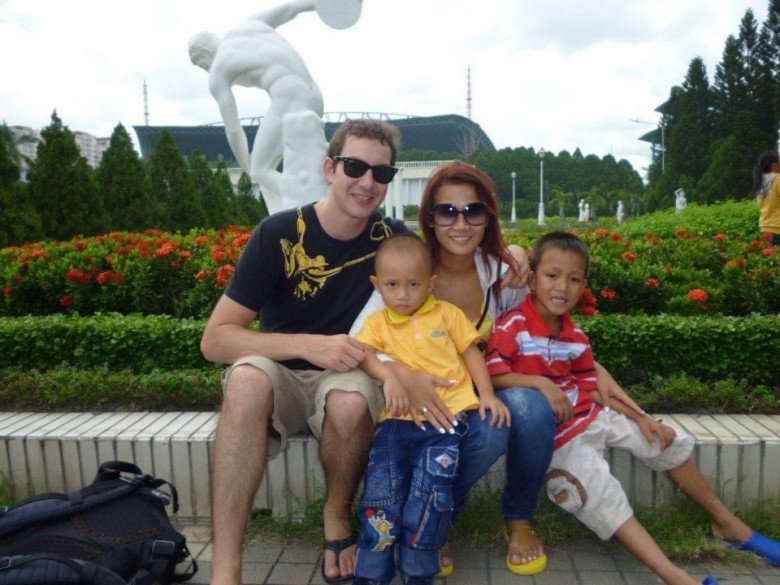 He and his sister took his son to play.
Later, when Michael trusted her, he gave the money to her to keep, but because she knew she would spend all the money, she let him keep the economy. After dating for 1 year, Michael moved to Thailand for a job, so she followed him to Thailand. After 3 months in Thailand, Michael had to go to Bangladesh to work for 3 months so that she could live in a foreign country alone. Although he knew that she would face many difficulties, because he wanted to earn money to marry her and get a better job, he persuaded her. At that time, they were unmarried, understanding her fears, so he went to buy a ring and proposed to her on Halloween October 31, 2013.
After getting married for more than 7 years, I feel sorry for myself because there are no gifts on any holiday
It is known that Ms. Loan and Mr. Michael got married in 2014. Due to the problem of marriage papers in Vietnam and the delay in the documents in Germany, they went to Denmark to get married and then returned to Vietnam to get married.
Recalling the wedding day, Loan smiled and said that after finishing the wedding at a restaurant, she and her husband took their friends in Thailand and 2 friends in Germany to the bar for the first time they met. Because she got drunk ashore and went to the field and was so tired, she went home before sleeping and locked the door, leaving Michael outside all night. He had to sleep over at the house of two friends for one night.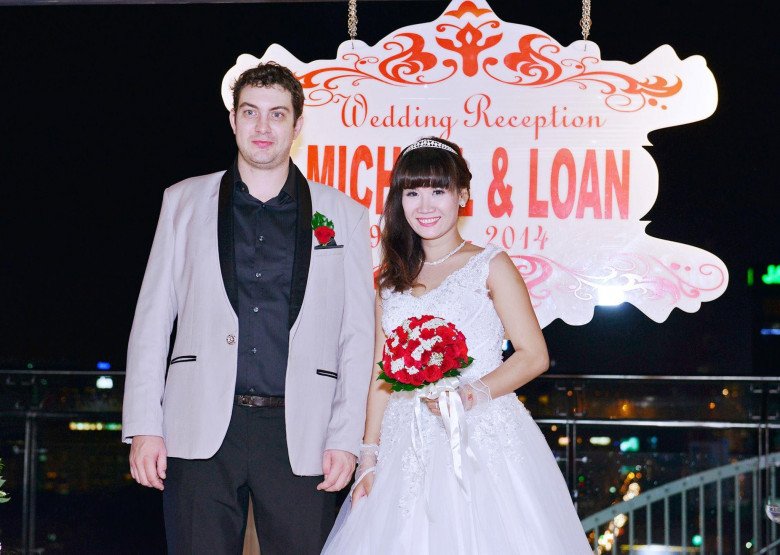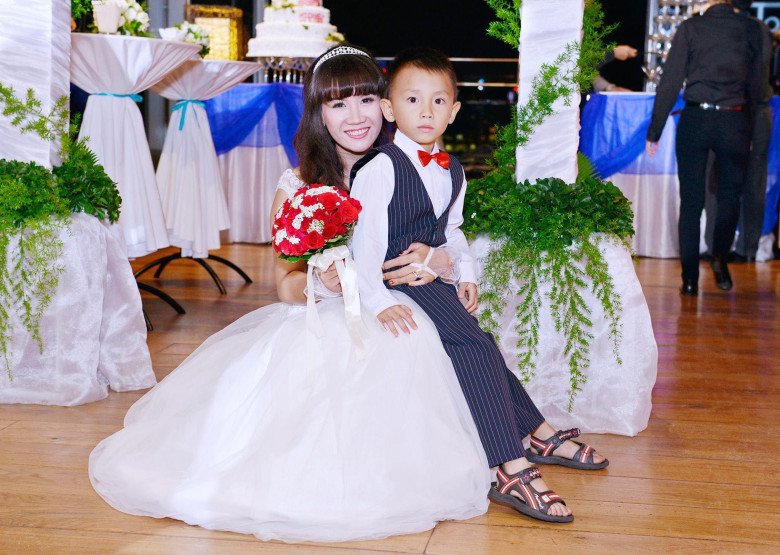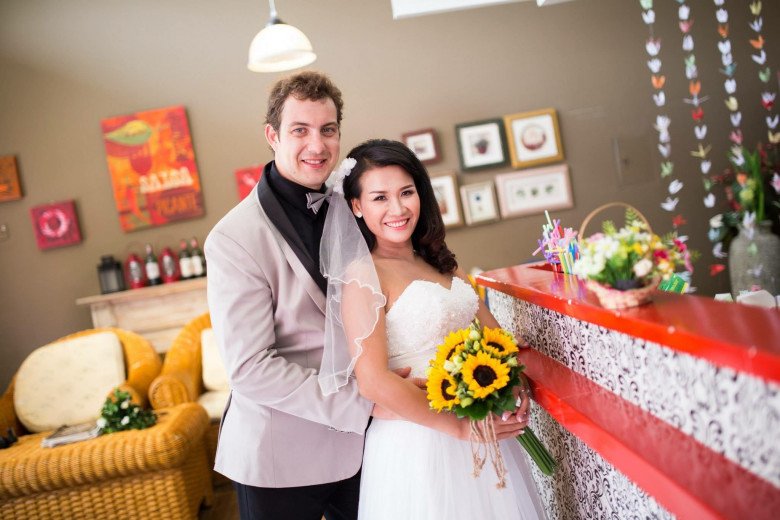 Their wedding was held in 2014.
Due to the nature of her job, after getting married, Loan stayed in Vietnam and Michael had to work in poor and dangerous countries to make the future of the couple better. When she was 4 months pregnant, he could only come back to Vietnam to visit her and when she gave birth, he had to work and could not be with his wife. It wasn't until the child was a month old that he returned but only stayed for 3 weeks to take care of the paperwork for the child and then left.
"Going to give birth without a husband, I was also sad, but I also had to think again because he sacrificed and cared for two children to have a better life, so I had to bear it. He returned to Vietnam for 3 weeks to do paperwork for his son, then he and I had to go to Jordan alone to reunite with him.Hi Loan shared.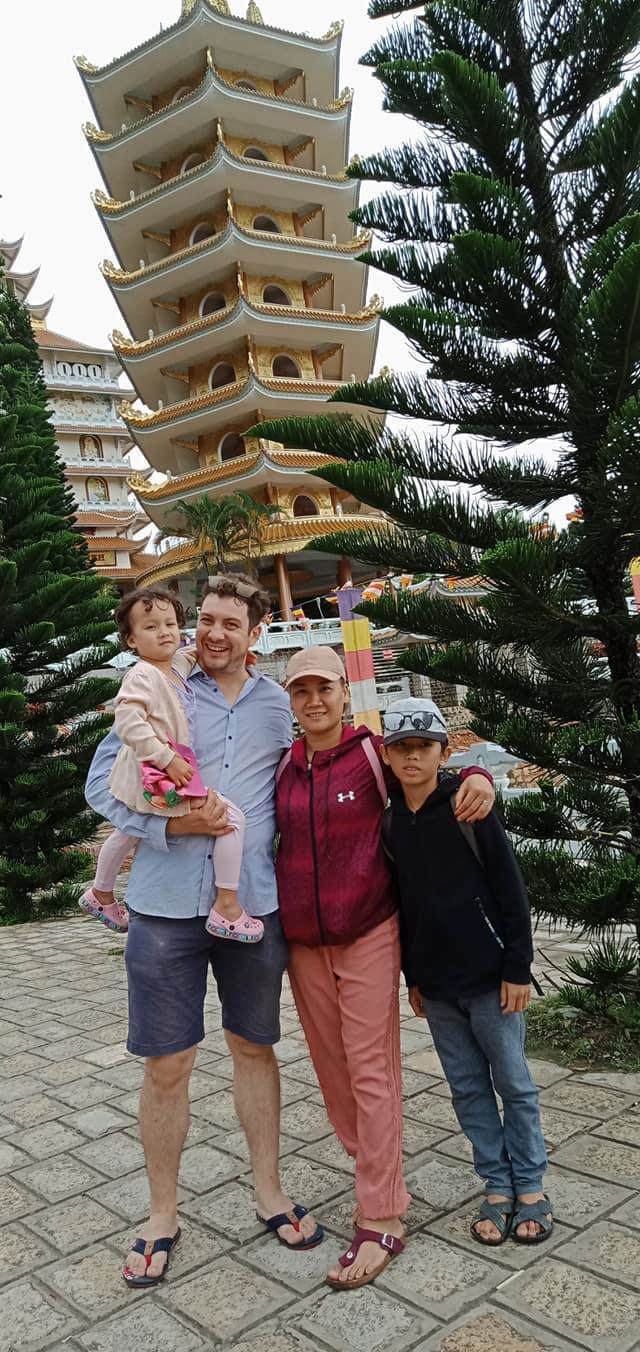 Sharing about the issue of common children, Ms. Loan said that because Michael's job moved constantly, she and her husband let their eldest son stay with his grandmother to stabilize his studies, while her and her younger daughter went away. follow me.
Before the epidemic, her family returned to Vietnam to visit her son every year, and it was difficult for them to travel for 2 years, so they could not return to visit him, so they could only care from afar. However, Michael always gives loving care to her step-son. He doesn't distinguish between his own children, but what they need, whatever he wants, he takes care of both of them equally.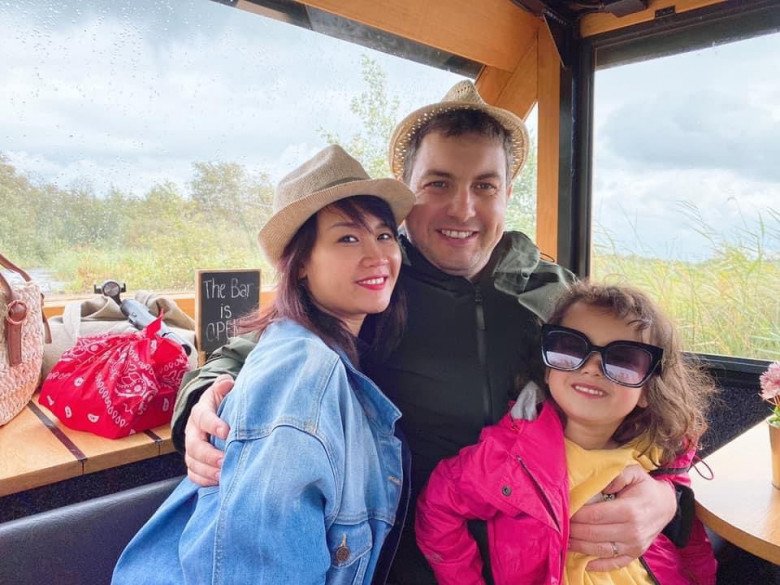 Nearly 8 years of marriage, he never once gave her a gift on a holiday.
Speaking of this, Ms. Loan's face is a bit sad because her husband is not a romantic type while she likes romance. That's why many times she feels sorry for herself because of any holiday in Vietnam from March 8, October 20 or Valentine's Day, he does not buy flowers or gifts for his wife. He just chose not to buy a gift for his sister. That caused her husband and wife to quarrel all the time.
However, after all, she understands his sacrifices and efforts for a better life and family future and she is happy with what she has. Currently she is in Zambia (Africa). She and her husband plan to return to Vietnam next year to live and take care of their eldest son and let their second daughter go to school to be stable.
You are reading the article
Western boys spend money trying to please single mother An Giang, get married and take care of their own children

at
Blogtuan.info
– Source:
Eva.vn
– Read the original article
here