In the latest move, the government Sri Lanka had to ask the International Monetary Fund and China for a bailout. But, India and China still "shake their heads" not to save Sri Lanka because of their own calculations.
It is worth mentioning that Sri Lanka, a member of the Belt and Road Initiative, emerged as a new geopolitical hotspot in South Asia – thanks to a lot of grants, but ended up defaulting. Analysts said that the economic recession and debt default not only pushed Sri Lanka to the risk of political instability, but also could become a hotbed of competition between the giants of India, China and the US.
Dr. Dang Thai Binh, Deputy Head of Department – Economic Research and Development Department, Institute of India and Southwest Asian Studies, Vietnam Academy of Social Sciences has made an assessment of the impact of the Sri Lanka's debt default to regional geopolitical competition.
Reporter: Dear Doctor, the international public is paying great attention to the story of Sri Lanka's debt default. After many years of studying South Asia and Sri Lanka, how would you first comment on the situation that Sri Lanka is facing?
Dr. Dang Thai Binh: The island nation of Sri Lanka with a population of 22 million is facing a crisis both economically and politically.
The state of public debt and the economy of Sri Lanka can be generalized through a few prominent figures and information as follows: The Sri Lankan government has borrowed huge amounts of money from foreign lending institutions, foreign to finance public services as well as infrastructure development. Sri Lanka's debt-to-GDP ratio has skyrocketed in recent years, rising from 42% in 2019 to 104% in 2021, with foreign exchange reserves at an all-time low. As a result of this situation, on April 12, Sri Lanka declared default with US$51 billion in foreign debt.
Sri Lanka has to pay about $8.6 billion in debt this year, however, as of March, the country only had $1.94 billion of its reserves. Sri Lanka must pay $78.2 million in interest on April 18, followed by a $1 billion payment on a bond maturing on July 25.
Investors suspect Sri Lanka is unlikely to make payments in July, with bonds trading below face value of $0.54. Sri Lanka had to declare default on its debt on April 12 and the government had to ask the IMF to provide another bailout package for Sri Lanka as well as to ask China and India to provide a credit package so that this island nation could able to pay debts.
In addition, consecutive trade deficits and budget deficits leave Sri Lanka in debt. The country is also experiencing inflation of 18.8% – the highest in Asia, and levels not seen since the Sri Lankan Civil War. The Sri Lankan Rupee has plunged 32% since the start of the year and has become the world's worst currency even lower than the Russian Ruble has recovered back to pre-Russian-Ukrainian war levels.
Sri Lanka is also facing the risk of a political crisis. Sri Lanka's cabinet resigned repeatedly on April 3, leaving the government scrambling to find new officials to help run the country through crises. More than 40 MPs left the governing coalition a few days later on April 5.
Reporter: Sri Lanka is importing most products, from milk powder, rice, gasoline to pharmaceuticals and cement. The public wondered, Sri Lanka has received a lot of aid so far and is also a member of the Belt and Road Initiative thanks to Sri Lanka's geographical advantage in South Asia, but what has pushed Sri Lanka in the current situation?
Dr. Dang Thai Binh: The first and the biggest reason that pushed Sri Lanka into its current state is the fact that Sri Lanka is a member of the Belt and Road Initiative but it is participation in this initiative that has propelled Sri Lanka into the " debtor", in particular the development of these costly infrastructure projects has caused the present situation of Sri Lanka where these infrastructure projects have generated almost no resources. any real revenue while Sri Lanka has to pay interest on these loans. Sri Lanka has borrowed huge sums of money to invest in huge infrastructure projects – such as the China-funded Hambantota International Port – in the hope that the end result will boost economic growth. economic.
Massive tax cuts and uncontrolled money printing have put pressure on public finances and created high inflation: On the one hand, reducing taxes reduces government revenue, on the other hand, makes rating agencies The credit rating downgraded Sri Lanka's credit rating to near default, resulting in Sri Lanka being frozen out of the international bond market. The root cause of the tax cuts was that Mr Gotabaya was elected president in 2019 and fulfilled his campaign promise to cut taxes.
Import restriction policy is not a good policy to save foreign currency and economic problems of Sri Lanka.
The tourism industry is an important industry of Sri Lanka (contributing 13% of GDP) and an important source of foreign currency before Covid-19 but the tourism industry has been plunged due to the bombings and the Covid-19 pandemic, making the possibility of foreign exchange impossible. Sri Lanka's debt accumulation and repayment became increasingly difficult. Tourist arrivals fell from 2.3 million in 2018 to 173,000 in 2021.
Weak economic management by the government as well as the placement of family members in key positions has resulted in a cabinet and an ineffective government in running the economy.
Consecutive trade deficit, especially deficit in government spending (budget deficit) leading to double debt is one of the causes leading to economic crisis and public debt of Sri Lanka is facing at present. now.
A mistake in agricultural policy: it was a sudden change from traditional farming to organic farming and a ban on the import of chemical fertilizers (From April 2021) with the idea of ​​​​preventing Blocking imports drains the country's currency.
This has resulted in a 50% drop in rice production, forcing the country to import rice for the first time in many years, and also a decline in tea production, taking away one of the country's key export industries. In March this year, inflation in Sri Lanka hit 18.8% – the highest in Asia, and levels not seen since the Sri Lankan Civil War – and food prices increased 30% year-on-year.
Meanwhile, Covid-19 also reduces remittances from Sri Lankans working abroad, the Russia-Ukraine war is also an indirect cause of inflation, increasing the cost of Sri Lanka's imports.
Reporter: In the latest move, Sri Lanka has asked India and China to write off its debt, but both India and China "shake their heads and refuse". Is Sri Lanka no longer important or are India and China having other calculations?
Dr. Dang Thai Binh: We can affirm that Sri Lanka still has an important role for both India and China. These two countries are also two of the three major creditors to Sri Lanka in which China and Japan hold 10% of each of Sri Lanka's foreign debt, while India is less than 5%.
In the current crisis situation, Sri Lanka has sought to write off the debt of the two countries, however, India and China have not written off the debt, but instead offered more lines of credit to buy goods from Sri Lanka. In the near future, both India and China will increase their offers of assistance to help Sri Lanka overcome difficulties; through long-term but low-interest loan packages, to entice Sri Lanka into its orbit.
On March 17, India provided $1 billion in credit to the country, while providing aid for essential medicines and fuels. Sri Lanka is also negotiating with China for an additional $2.5 billion in credit.
Both India and China do not want to forgive Sri Lanka's debt, because if any country cancels its debt for Sri Lanka, it will lose many advantages in maritime exploitation in the Indian Ocean, especially in the context that both India and China All countries are realizing the goal of becoming a maritime power. As for China, continuing to provide credit to Sri Lanka to pull the island nation deeper into China's Belt and Road initiative.
Reporter: How do you comment on the geopolitical position of Sri Lanka with respect to the current powers and what do you think the prolonged instability in this country could lead to for the region?
Dr. Dang Thai Binh: First, Sri Lanka still has an important role to play for India and China. Sri Lanka is trying to balance both countries and reap the benefits of China and India's geopolitical interests, as both countries have strategic interests in Sri Lanka.
China is both the leading source of imports and the largest source of FDI in Sri Lanka. China wants to keep a close economic relationship with Sri Lanka, it is careful not to take unnecessary risks. Previous currency swap agreements attest to this. Moreover, in terms of geopolitics, China and India both aspire to become a maritime power and gain economic and security advantages in the Indo-Pacific.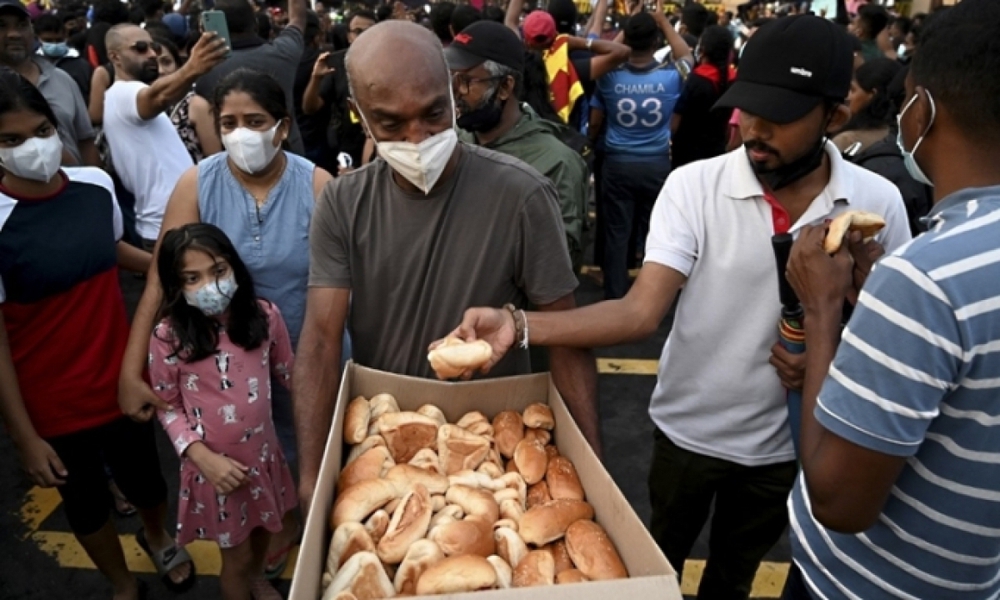 China has demonstrated this ambition when investing 100% capital in the Colombo Port City Project. This project is likened to: "China's jewel in the Indian Ocean" because when completed this project will become an area almost outside the territory will have some favorable laws and regulations of its own. trade and investment. Sri Lanka's position is of interest to China. Suspended at the tip of the Indian subcontinent on the world's busiest shipping lane, right between East Asia, the Middle East and Africa, Sri Lanka has always been a clutch trade hub.
For India, first, Sri Lanka's economic crisis caused the island nation to re-bind economically with India. Over the past two years, Sri Lanka has further strengthened its economic ties with India and has repeatedly sought assistance. India has also taken this opportunity to expand its economic presence in Sri Lanka amid China's growing economic presence in India's close neighbour. These credits will likely lead to India becoming Sri Lanka's top source of imports, overtaking China.
Sri Lanka's economic crisis allows India to exercise its own geopolitical interests by increasing its presence in strategically important places in Sri Lanka. A subsidiary of the Indian government oil company, Lanka India Oil Company (LIOC), has signed an agreement to develop the Trincomalee oil fields as a joint venture with Sri Lanka.
Accordingly, 51% of the joint venture is owned by Ceylon Petroleum Corporation while LIOC owns the remaining 49%. The deal has been stalled for years due to the controversial nature of the project, but the crisis has provided an opportunity for India to reach an agreement.
It can be said that the Sri Lanka crisis on the one hand creates advantages for India in exploiting Sri Lanka's oil and gas, but these may be the sources in the dispute over oil and gas exploitation in Sri Lanka and the Indian Ocean. , which would complicate the Indo-Pacific situation.
Besides, China's exploitation of the Colombo port city project in the heart of the Indian Ocean will increase the geopolitical and maritime competition between India and China in the Indian Ocean region. In addition, the US increasingly focuses on the Asia Pacific region as well as the policy of freedom of navigation, which will make the situation in this region even more complicated.
Reporter: Thank you Sir./.
You are reading the article
After the default, Sri Lanka became a new geopolitical "hot spot" in Asia

at
Blogtuan.info
– Source:
Soha.vn
– Read the original article
here