Thế Giới
China is no longer the world's largest vaccine exporter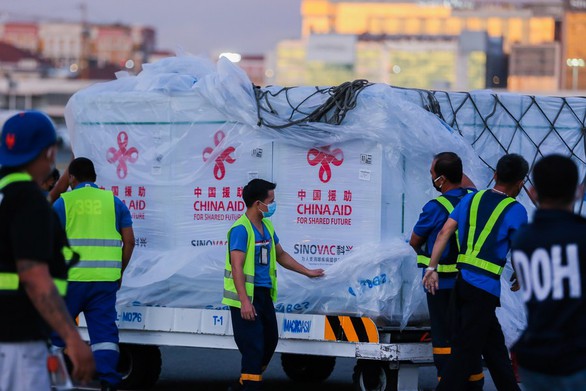 Vaccine funded by China, moved to Pasay city of the Philippines in December 2021 – Photo: THX
According to analysts, this is due to the availability of other more effective vaccines in China and a decrease in demand in other countries.
China's position as the leading vaccine exporter is partly due to the country's huge manufacturing capacity, but also because other major vaccine producers are less export-focused.
Most Chinese vaccines are provided through bilateral and preferential trade deals with Asian countries, where Beijing wants to promote soft power. China has also increased vaccine funding since late last year, through bilateral agreements or the World Health Organization-backed COVAX mechanism, when the United States also began donating vaccines to many countries.
But this year, the situation has changed and China's vaccine exports, through both sales and sponsorship arrangements, have plummeted from January 2022. Chinese vaccines no longer account for most of the supply in low- and middle-income countries, according to data from the United Nations Children's Fund (UNICEF), other vaccine monitoring agencies.
Specifically, newspaper South China Morning Post Citing data from British analyst firm Airfinity, vaccine exports by Chinese manufacturers Sinopharm, Sinovac and CanSino peaked in November 2021 with 235 million doses, of which 202.9 million were through agreements. commercial agreement. By December 2021, commercial vaccine shipments dropped to 89 million doses, but total exports remained high at 199 million, as China increased supplies to COVAX.
China's vaccine exports then plummeted in the first three months of this year, to 51.6 million doses in January 2022, 36 million doses in February 2022 and 11.5 million doses in March. 2022.
Last year, most of China's vaccines were supplied to developed countries, while richer countries "used" vaccines with mRNA technology from pharmaceutical companies such as Pfizer, Moderna. This year, Pfizer has surpassed Chinese pharmaceutical companies to become the largest supplier of vaccines to low- and middle-income countries, providing 91, 84 and 46.6 million doses in the first three months of 2022, respectively. , according to United Nations data.
In addition to competition from Western pharmaceutical companies, China also suffered because two important customers, Brazil and Indonesia, also stopped buying vaccines from this country from the beginning of 2022. Markets in Africa, Asia, and China Dong is also looking to diversify the source of vaccines in the context that there are now more choices.
Nicholas Thomas, a professor at the Urban University of Hong Kong, said that as Omicron becomes the dominant variant globally, it is only natural that countries will prefer more effective vaccines to protect their populations.
China's vaccine diplomacy is affected by oversupply
Besides, the current demand for vaccines has also decreased. In January 2022, for the first time, the COVAX mechanism recorded that the supply exceeded the demand for vaccines. Last week, the African Union and COVAX even refused to buy 110 million more doses of Moderna's vaccine in the first two quarters of 2022 and 332 million doses in the following two quarters.
Globally, vaccine exports have fallen from 1.5 billion doses in December 2021 to 550 million doses in March 2022.
Analysts say the new situation will affect the vaccine diplomacy of not only China but also other countries.
"I think that now the peak of vaccine diplomacy is over – except for the countries that are still short of supplies," said Detlef Nolte, professor of Latin American studies at the German Council on Foreign Relations. identify.
You are reading the article
China is no longer the world's largest vaccine exporter

at
Blogtuan.info
– Source:
tuoitre.vn
– Read the original article
here