Giới trẻ
Following in the footsteps of "mutant" Long marathon running across Vietnam nearly 3,000km
"From Tra Co poplar forest to Ca Mau mangrove forest", that is the 2,846km cross-Vietnam running journey of "mutant" marathon Nguyen Van Long. He started his journey from the anniversary of Hung King's death anniversary, expected to complete in 31 days, over 90km each day.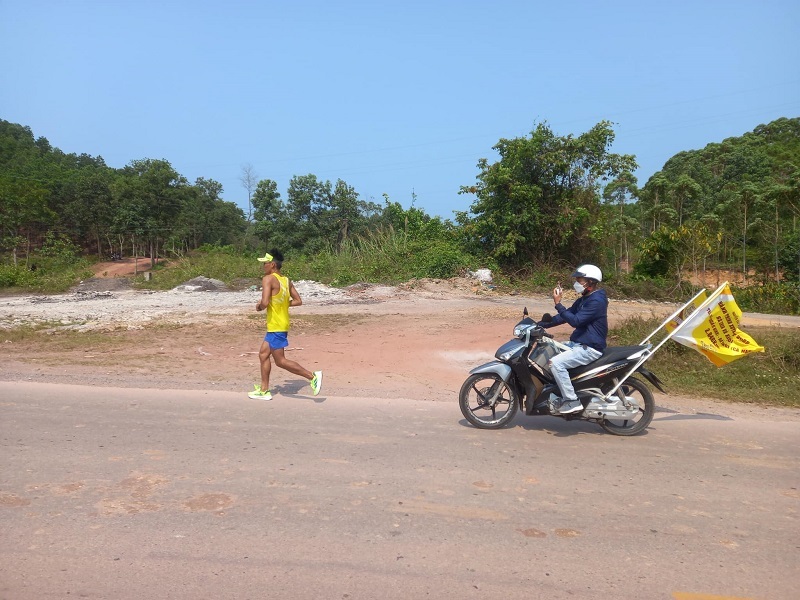 Running steps at Tra Co on the first day of Nguyen Van Long. Character photo provided.
For a long time, the name Nguyen Van Long (37 years old) has been no stranger to the Vietnamese running community. The former Vietnamese marathoner won gold in the Southeast Asian marathon in 2007 and won the national marathon for many years. In addition, this guy born and raised in Gia Lai is also an athlete who has achieved many high achievements at many other marathons and super marathons.
In these days, the running community has the opportunity to follow Long's every step when he takes on an extremely harsh challenge called "Running across Vietnam – Sharing and Connecting" to spread the running movement. ministries in the community, and at the same time raise funds to support disadvantaged children suffering from serious diseases.
"Long marathon" (nickname of Nguyen Van Long) departs to run across Vietnam on April 10, 2022 from Sa Vi cape, Tra Co (Quang Ninh), the first point on the S-shaped piece of land at the extreme northeast. of Vietnam. He plans to finish his journey on May 11 at Cape Ca Mau.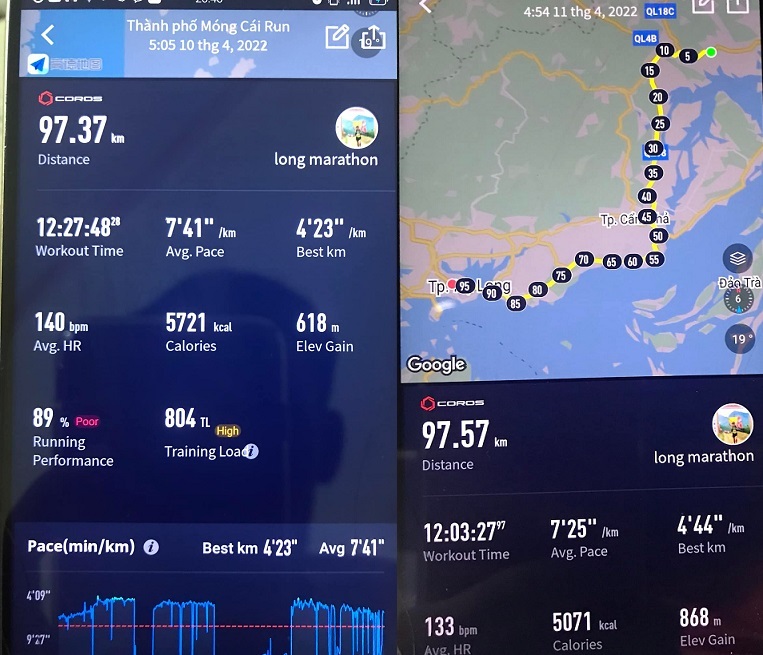 Running results on the first day (April 10) and the second day (April 11) of Long. Character photo provided.
On the first day, Long ran 97.37km in 12 hours 27 minutes, average speed 7'41"/km, average heart rate 140 beats/min. On the second day, he ran 97.57km in 12 hours and 03 minutes, average speed 7'25"/km, average heart rate 133 beats/min.
In case the GPS fails, he wears up to 3 GPS watches to record all the running data of the day. At the end of the day, Long shares that result on his personal page to "report" to the community.
Accompanying Long is a logistics support team consisting of 3 friends. Besides, he is fortunate to receive the love and companionship of many runners from local running clubs, who wait and run with him on every small race.
In the first 3 days, he received the attention and companionship of Runner Clubs in Quang Ninh, Hai Phong, Hai Duong, etc. In addition, Long also received support for food and accommodation from the runner community. in the places he passed.
Tuan Anh from VCB Runners Mong Cai started and ran with Long more than 10km from Tra Co. Friends Tien Minh, Duy Bang, Duc Chung of Cam Pha Runners traveled 58km from 3am to pick up the team along the way, waited for an hour to meet and then ran with Long 28km.mBa biker from Hanoi met Long on the road encouraged Long's spirit", Nguyen Van Long recorded in his diary on the first day of departure.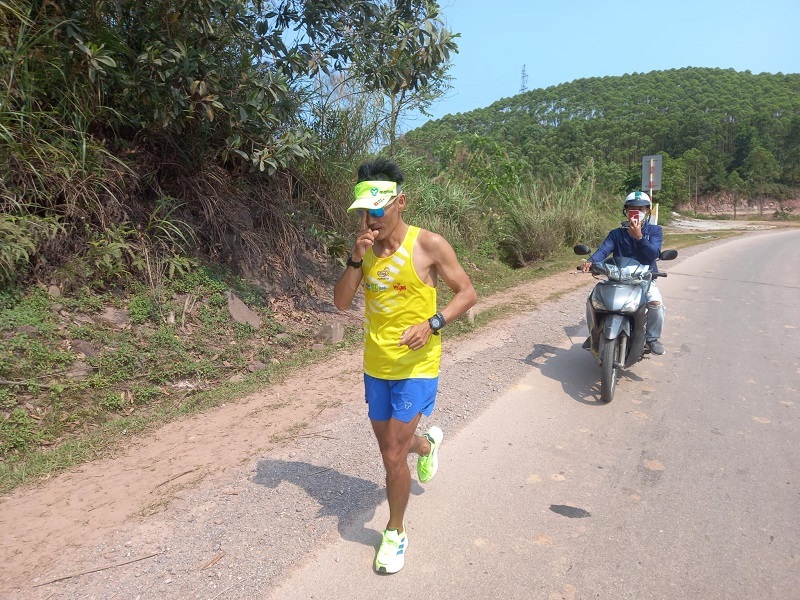 Nguyen Van Long on the first day of running. Character photo provided.
"Long marathon" shared about the long road ahead: "Long will continue to try and conquer each small stage every day to assemble each piece for his complete 2,846km S-picture. Long and the team also look forward to continuing to receive love and sharing from everyone to spread the positive values ​​of running and training as well as bring joy to disadvantaged children. lucky.
Although the weather in the North has turned hot, long-distance running will make runners lose a lot of strength. However, Long still maintains a regular daily routine of over 90km divided into two running sessions (morning and afternoon) in the past 4 days. On the fourth day, he was in Hanoi at noon on April 13.
Welcoming Long in Hanoi was a large number of runners from movement clubs such as Turtle Runners, West Lake Runners, Thanh Tri Runners, CISAN Runners,…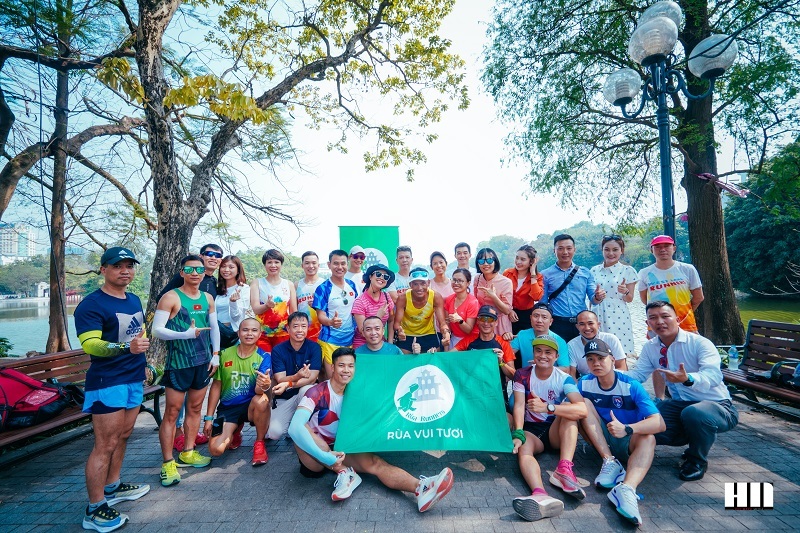 Nguyen Van Long (center, yellow shirt) took a photo with Hanoi runners at noon on April 13 after arriving in Hanoi. Photo: Dao Huu Manh.
"We were so moved by the significance of this journey that we planned to welcome Long a few days before, and run with him for the journey. May she always be happy every step of the way on the journey of sharing and connecting with love", shared Ms. Nguyen Mai Hanh, a member of Turtle Runners.
With the spirit of will of a young man coming up from hardship, "Long marathon" will conquer the length of the country with his own feet. His legs and head have helped him conquer many high achievements with Marathon in his career as an athlete. He hopes to inspire the community with running and fitness. Moreover, his steps are also spreading love to disadvantaged children.
"The journey across Vietnam is a dream, a goal that Long has cherished for many years since coming to running. For Long, this is the most suitable time to fulfill that dream. With this Journey across Vietnam, Long hopes to be able to inspire more people to practice running, raise funds for charity to help disadvantaged children, and be an opportunity to connect clubs. The set runs in all parts of Vietnam," shared Nguyen Van Long.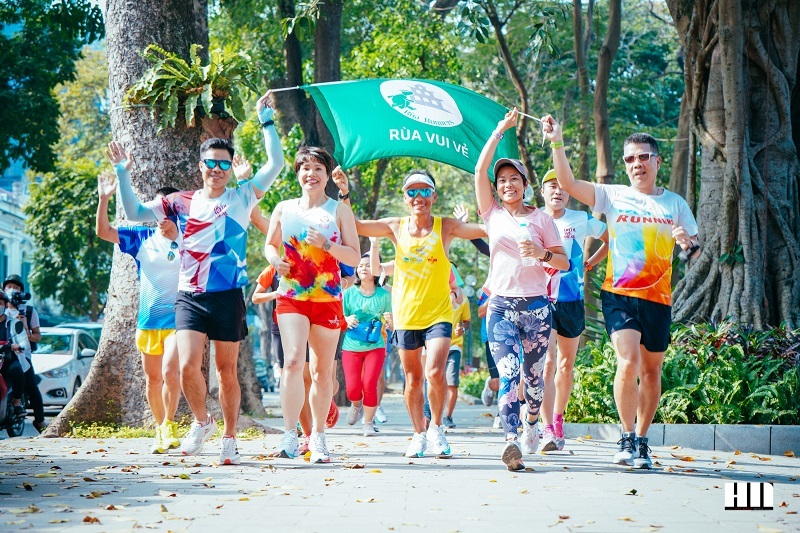 Movement athletes in Hanoi in turn accompanied Long from Hoan Kiem Lake to Thuong Tin town (Thuong Tin district), where he rested to end the fourth day of running. Photo: Dao Huu Manh.
It is known that in order to connect movement runners across the country in accompanying "Journey through Vietnam – Sharing and connecting", VietRace365 organizes a virtual running event from April 10 to May 11/ 2022. Runners are free to join and can choose to register for one of three distances 28.46km, 284.6km or 2,846km.
Nguyen Van Long is a strangely special case in the history of the Vietnamese marathon. From a running foot, in 2005 he asked to practice with the gifted athletics team of Gia Lai province when he was 20 years old. Starting with an age that is considered too late, but with determination, effort and endurance. Extraordinary Belief Long overcame the challenge to be recruited directly into the team. In the long-running village, only Long took exactly 5 years for the spectacular conquest of both the national championship and the Southeast Asian gold medal.
Achievements of Nguyen Van Long:
+ 4th place in National Athletics Championship 2006
+ 3rd place in Southeast Asia Marathon 2006
+ 3rd place in National Athletics Championship 2007
+ Gold medal in Southeast Asia Marathon 2007
+ 3rd place in National Athletics Championship 2008
+ Gold medal in National Athletics Championship 2009
+ Gold medal 21km in Tien Phong Marathon 2010
+ Silver medal 42km National Athletics Championship 2010
+ Gold medal 21km in Pioneer Marathon 2011
+ Gold medal 42km at National Athletics Championship 2011
+ Gold medal 21km in Pioneer Marathon 2012
+ Gold medal 42km in Danang International Marathon 2013
+ 3rd place in 42km distance of Da Nang International Marathon 2014
+ 3rd place in 42km of the Pioneer Marathon 2015
+ 3rd place in 42km distance of Danang International Marathon 2015
+ Silver medal 42km Tien Phong Marathon 2016
+ 3rd place in 42km distance of Ho Chi Minh City International Marathon 2018
+ Gold medal in the 80km Ultra Night Marathon 2018
+ Silver medal 21km Vnexpress Marathon Quy Nhon 2019
+ Gold medal 80km Ultra Night Marathon 2019.
Tuan Nguyen
You are reading the article
Following in the footsteps of "mutant" Long marathon running across Vietnam nearly 3,000km

at
Blogtuan.info
– Source:
infonet.vietnamnet.vn
– Read the original article
here