Gia đình
Parents were startled when Huggy Wuggy walked out of the stuffed animal store from the internet
Children with obsessive disorders when watching horror movies and clips are not uncommon. Fear is a common condition in young children because of inadequate awareness.
Recently, the British police issued a warning that the cartoon character Huggy Wuggy – a scary blue bear with sharp knife teeth is very disturbing to children.
Originating as the villain in the 2021 Poppy Playtime horror game, this creepy bear has now appeared on a series of TikTok and YouTube videos.
Although it is only a product of the imagination, Huggy Wuggy can cause panic in children, to the point that police have to warn parents to be wary of videos containing this character.
However, as noted by the Infonet reporter, Huggy Wuggy not only appears on Youtube and Tiktok platforms, but is now available at toy stores for children, and e-commerce sites in the form of stuffed animals. .
This makes many parents startled and worried. Ms. Nguyen Le Anh (Cau Giay, Hanoi) said that last week she took her children to buy birthday gifts for friends before going to school. When she took her child to the toy store near her house, the 7-year-old girl pointed at a blue and red stuffed animal with a very weird shape.
"I didn't know this character's name even though he was bragging about it. I also didn't pay much attention to it, although I did find it a little rippled when the shape of the stuffed animal looked hideous. It was only when I read the warning about Huggy Wuggy that I was startled to check my computer and found out that I had also watched it, so I knew this character very well.", Le Anh said.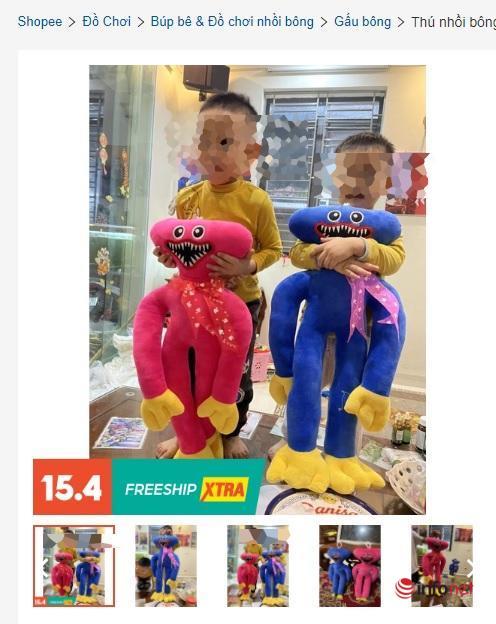 Huggy Wuggy stuffed animal listed for sale on Shopee.
Experts say that young children cannot distinguish between the real world and the imaginary world. Therefore, watching movies that are not suitable for age, especially horror movies, can cause children to suffer from phobias.
Since 2013, the Department of Pediatrics, Bach Mai Hospital has received a girl named H., 8 years old in Nho Quan district, Ninh Binh with mental disorders because of watching horror movies.
Before being admitted to the hospital, according to her grandmother, when she came home from school, she complained of pounding in her chest. At first, the family thought it was because the child was playing and playing, so they didn't care. A week later, while watching a movie, the baby was vomiting, palpitations, and severe headache. At this time, the parents took the baby to a medical facility near the house, but the doctor could not find the cause and transferred the baby to the Pediatrics Department, Bach Mai Hospital.
The test results here show that the test indicators are not uniform. Assoc. Prof. Dr. Nguyen Tien Dung, Head of Pediatrics Department, Bach Mai Hospital at that time said: "The test indicators of this patient were at times disordered, at times normal. Heart beats fast, sometimes slow. The baby often vomits and vomits violently, but the digestive tests are normal and the electrocardiogram results are mixed and sometimes not."
Pediatricians had to invite leading experts in antitoxicity, neurology, and gastroenterology for consultation. However, after clinical examination and other tests, experts confirmed that the baby was not poisoned, or had neurological or digestive diseases.
The doctor treating baby H. said that the baby's seizures were also very unusual. If it is a convulsion due to epilepsy or high fever, the patient must have a full-body convulsion and lose consciousness.
But this case is different, the baby only has contractions in the arms or legs. Even, there was a time when a child in the same bed with H. had a high fever and had a convulsion. Baby H. who was normal at that time suddenly had a mouth twitch just like you. Based on the above symptoms, the doctors confirmed that H. suffered from a mental disorder due to a certain impact.
Assoc. Prof. Dr. Nguyen Tien Dung shared, after a few days of talking, H. revealed: "I often see in my head, in front of my eyes, scenes of shooting or bleeding, dead people in horror movies. Every time like that, I feel very scared, my heart is racing, my head hurts so bad."
At this time, the doctors carefully asked the family members to know that at H.'s house, he watched a lot of TV and watched horror movies a lot. The doctor had to prescribe sedatives for H. to sleep because every time he wakes up, all the activities on the movie appear in his head. Fortunately, after 10 days of treatment, H.'s health recovered.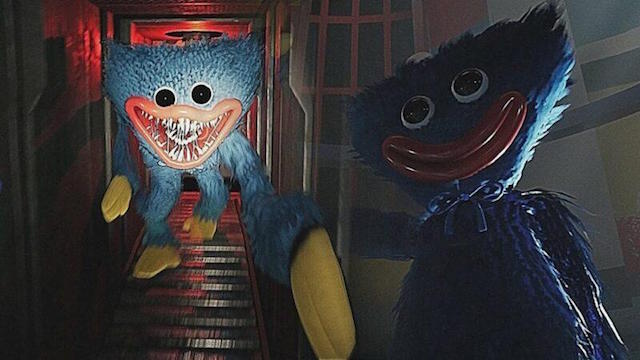 The Huggy Wuggy video caused panic among some children.
Psychologists said that it is not uncommon for children to have a phobia when watching horror movies and clips. Fear is a completely normal sign in young children because the awareness is not complete, after a while it will go away, but for some children, this becomes a phobia.
The feeling of fear makes children difficult to breathe, dizzy, heart palpitations, stomachache, headache, nausea, sweating… Psychologically, children will feel unsafe, cry, sad, Irritability, irritability, nightmares…
Children are afraid because they do not understand and fully realize the problem. Therefore, helping children overcome their fears takes time, even months. When children feel safe, they will no longer feel fear.
Therefore, in order to limit the negative effects of horror movies and clips shown on the internet, experts recommend that parents control electronic devices, choose the setting mode, filter the programs. useful program, suitable for each age of the child in order to control so that the child is not affected.
N. Huyen
You are reading the article
Parents were startled when Huggy Wuggy walked out of the stuffed animal store from the internet

at
Blogtuan.info
– Source:
infonet.vietnamnet.vn
– Read the original article
here