Gia đình
Planting trees on the roof for sale, believe it?
An official in Ho Chi Minh City can sell the tree he planted on the roof? But that's the real thing.
I don't smoke much, but am addicted. As if the obesity gave me a feeling of enjoyment, I couldn't give it up. To avoid trouble for my wife and children, I went to the roof. There was a garden there. I plant trees to sell. Strange yet? Can an official in Ho Chi Minh City sell the trees he planted on the roof? But that's the real thing.
In 2009, I built a house, poured slabs, the roof was not tiled, but the floor was poured, and there was a ladder to climb up. When I built, I didn't think about planting trees, so the roof was only designed for drainage, waterproofing, placing a water tank and a ladder just to climb up to clean the water tank. However, seeing that the terrace was empty and dry, I planted vegetables, then "expanded" the planting to the roof. 40m2 terrace, 60m2 roof is spoiled for planting, and also have to carry the soil from the ground floor to back pain. But if you like it, you have to… move.
In fact, when I was only 7-8 years old, like many children in the post-war generation, I had to follow my parents to the fields. It's bad to do, but I love the green color and the scenery of the fields, mountains, and streams. So, when I planted the first batch of vegetables on the terrace, I saw green sprouts sprouting and leaves as big as my hand, I liked it so much, I kept growing until there was no path. I have to climb ladders to the roof, pull the soil up there to plant. 100m2 is wide, but you can't grow everything. Therefore, saying "don't go to the market" is wrong. But in the past four months of strict social distancing to prevent and control the COVID-19 epidemic in mid-2021, indeed, my family has no shortage of green vegetables: onions, chives, gourds, ground ginseng, Japanese amaranth, Japanese sweet potato, water spinach, sweet potato, bok choy, collard greens, collard greens…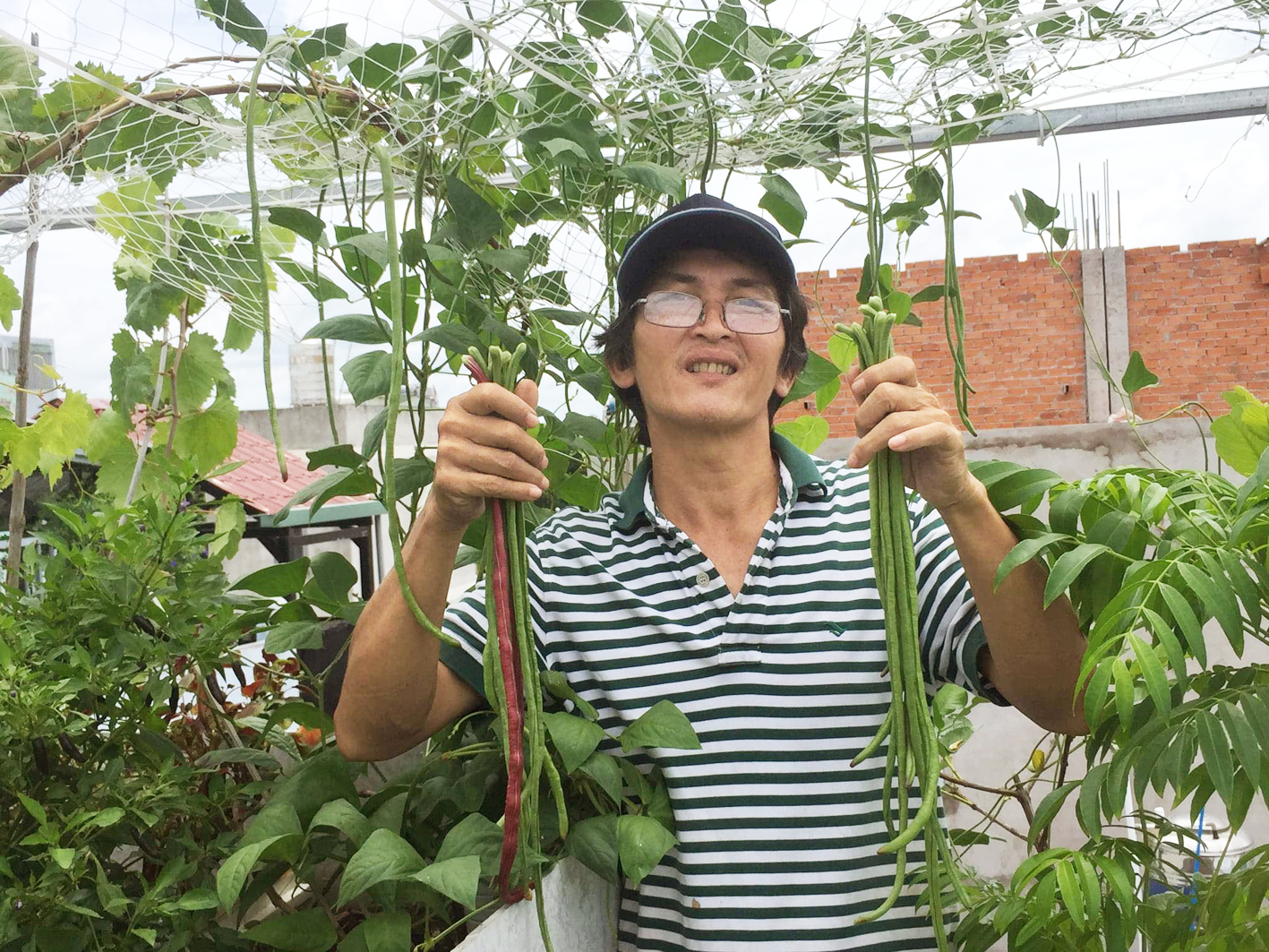 Author Ngoc Ho and the roof garden
From complaining about dry leaves and dust, my wife respects me too much. In the process of gardening, I created a group Like Growing Plants on Facebook to share my gardening experiences and this group has attracted more than 400,000 members.
In 2020, I opened a bonsai shop and my roof became a nursery, supplying rosemary, green chili, white chili pepper, five-color chili, heart chili for the store to sell to the market.
I have a garden, I know how to plant trees, why don't I set up a YouTube channel? With that in mind, I set up a channel, which now has over 65,000 subscribers and earns millions of dollars every month. It's nice to have an extra source of income, but since gardening, I've gained a lot of other things. It is joy, health and composure. Next to the quiet dedication of the tree, I was more calm than before, my aggressiveness gradually decreased, causing less trouble with my wife and colleagues.
For me, being with green leaves and fruits is an indispensable source of joy. Every day, climbing up to the roof 4-5 times, pulling the soil, spreading manure, running the watering hose makes me slim, ten years later, I am no longer sick as before.
But there is another joy that is also significant, that is, going up to the garden to bring down a bag of vegetables for the wife's mother every day, sometimes picking up a basket to pick up dozens of guava, a few dozen toads, a few hundred apples, and then bring it down "offeringly" "for his wife and children. And also make many friends with the same hobby of planting trees. Oh I say… Then, my friend, plant a tree. If you live in Ho Chi Minh City or some urban area, there is an empty space without planting anything, I am really sorry for you.
Ngoc Ho
According to www.phunuonline.com.vn
You are reading the article
Planting trees on the roof for sale, believe it?

at
Blogtuan.info
– Source:
infonet.vietnamnet.vn
– Read the original article
here