Đời sống
The Covid-19 epidemic "sloped down", is it still necessary to wear a mask in class?
In recent days, the number of cases Covid-19 in the country fell sharply, to just over 24,000 cases per day. In Hanoi, which has recorded the highest number of infections in the country for many months, now there are only more than 1,700 cases on April 13.
In the face of the current epidemic situation as well as the policy of opening up activities, some people think that it is necessary to change and be more flexible in the implementation of the 5K principle (masks, disinfection, distance, not concentrating). crowding and medical declaration) proposed by the Ministry of Health from August 2021.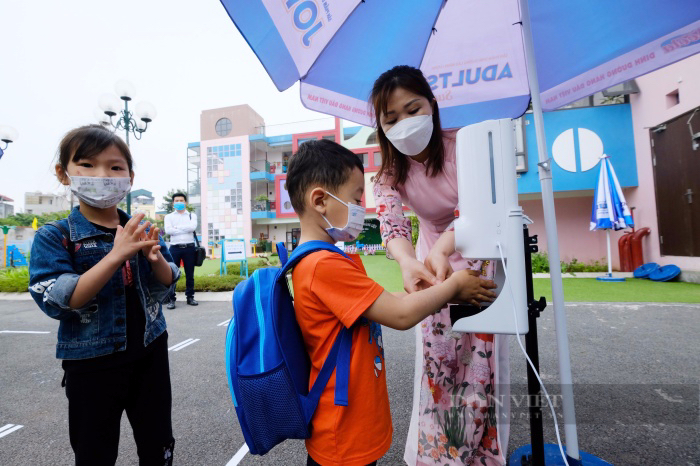 Children wear a mask in class may affect the child's airway. (Picture of children at Hoang Liet Kindergarten, Hoang Mai District, Hanoi, measuring body temperature and disinfecting before entering school.) Photo: Gia Khiem
Exchange with Reporter Dan Viet Regarding this issue, Dr. Truong Huu Khanh, former Head of the Department of Infection – Neurology, Children's Hospital 1, Ho Chi Minh City, said that in the current new period, if 5K was performed perfectly as before, it would no longer be necessary. necessary anymore.
"In the 5K measure, I think that medical declaration is no longer necessary. Right now the most important thing is to wear a mask when necessary and disinfect hands as much as possible. The rest of the measures are approx. ways, do not gather in large numbers, and medical declarations are no longer appropriate," said Dr. Khanh.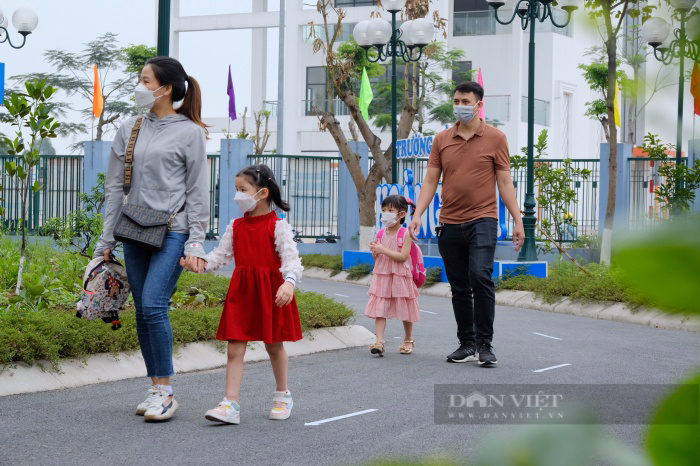 Sharing the same opinion, doctor Tran Van Phuc, Saint Paul General Hospital said, the epidemic peak Covid-19 went through. Vietnam is fortunate that the vaccination campaign is very good, so it can turn the epidemic situation around plus the people's awareness that they know how to prevent the disease.
"With the situation like that, I think it's time to move Covid-19 from dangerous group A infectious diseases to group B infectious diseases. We can change epidemic prevention measures of a public health nature and it is important that 5K also needs to change, change with the whole society. associations as well as individuals. 5K is still valid to some extent, not the whole 5K application. In my opinion, this moment is no longer suitable to apply 5K," said Doctor Phuc.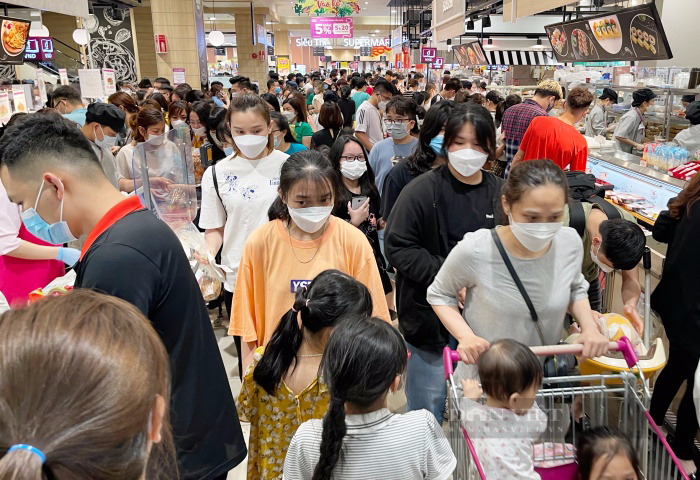 According to Dr. Phuc, the 5K measure still has some things that can be applied, but there are some things that are not suitable anymore. Specifically, as individuals, regulations on mass gatherings, medical declarations are no longer appropriate.
"We can boldly return to an almost normal state before we go, if the regulations on not gathering people almost freeze social activities. I highly recommend masks, disinfecting in addition to many other measures. Personal defense measures, people's awareness is the key to epidemic prevention," noted Doctor Phuc.
However, regarding this matter, consult with Reporter Dan VietAssoc. Prof. Dr. Tran Dac Phu, former Director of the Department of Preventive Medicine (Ministry of Health), Senior Advisor of the Center for Emergency Response to Public Health Events of Vietnam, said, Covid-19 is a respiratory disease with the form of transmission still being droplets, the high risk is close contact, closed, crowded environments and 5K are extremely effective personal prevention measures.
According to Mr. Phu, so far the vaccine's effectiveness in preventing infection is Covid-19 Not very high, people who have been vaccinated can still be infected and continue to be a source of the disease to others, but most infected people often have no symptoms or only mild symptoms.
"Covid-19 Currently, there is no specific treatment, so individual prevention is extremely important. With the 5K principle set out by the Ministry of Health as a personal preventive measure," Mr. Phu emphasized.
In addition, according to Mr. Phu, there are many studies that show that wearing a mask can prevent 50% of the risk of infection of respiratory infections and when washing hands with soap can prevent up to 40% of infectious diseases. through the gastrointestinal tract and respiratory tract.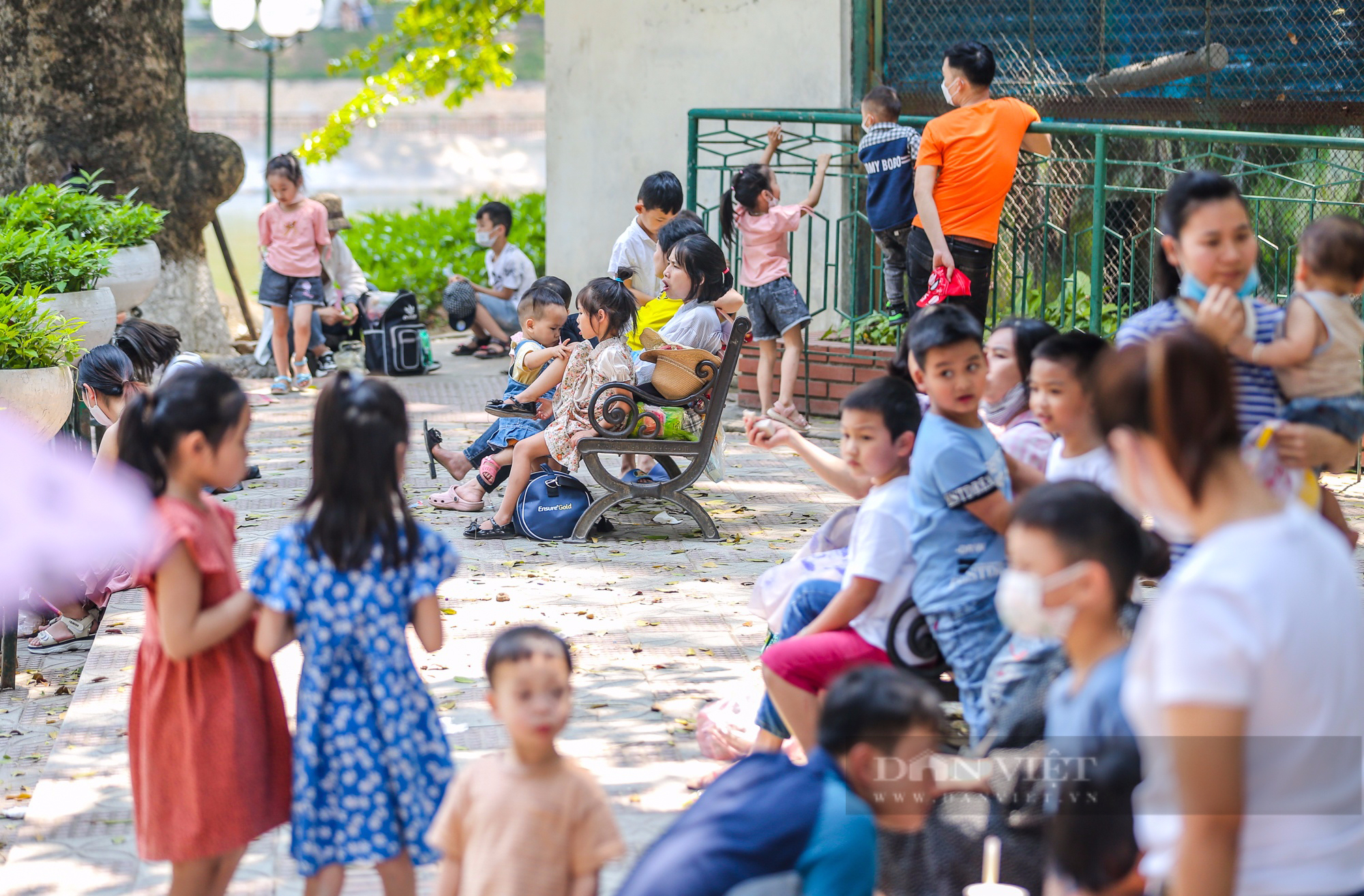 However, everyone needs to understand and be flexible when implementing 5K, doing it where, when, not anywhere, always have to implement all the measures of 5K. In which it is necessary to see which principle is the priority and which principle is to support each other and perform as much as possible depending on the work and activities…
"For example, when eating and drinking, it is not possible to wear a mask, but we can distance ourselves. Here it is not necessary to separate all people from each other, but distance between groups of people. Specifically, like families with each other, arrange a separate dining room… and disinfecting is easy to do.
Or when going to watch sports, it is impossible not to gather or keep a distance, but masks and disinfection are very important. The same goes for factories and factories… When working in a production workshop, there is a place where there is no ventilation because of preventing dirt from sticking to the product, so it is very important to wear a mask before disinfecting and distancing… ", this expert analyzed.
The former Director of Preventive Medicine said that the implementation of 5K must be flexible in each activity with specific characteristics that each industry, each agency, each unit, each company, enterprise, and factory… appropriate guidelines and regulations are in place.
In the context of opening up to tourism, it is also necessary to be flexible, such as how to apply 5K for outdoor visitors, in closed-environment museums, in restaurants, etc., how to apply it. We don't need to keep distance from family members, but limiting contact between delegations is very important.
"Problem wear a mask in class also. Depending on the subject, it is not necessary for young children to wear a mask because it may affect their airway. Depending on the subject, the heads of agencies, units, enterprises … have appropriate regulations in the context of safe, flexible adaptation and effective control of the epidemic. Covid-19", added Mr. Phu.
You are reading the article
The Covid-19 epidemic "sloped down", is it still necessary to wear a mask in class?

at
Blogtuan.info
– Source:
danviet.vn
– Read the original article
here