Gia đình
The day I got remarried, my ex-mother-in-law suddenly appeared as a gift, making me cry
The day I decided to get on a flower car to go to my new husband's house, suddenly my ex-mother-in-law appeared and gave me this item that made me cry with emotion.
When I was 22 years old, when I held a university diploma in my hand, I discovered I was nearly 2 months pregnant with Tung. Tung was born and raised in the countryside, he was 1 year older than me, so he didn't have anything at that time.
While my family is in the city, the economic conditions are better than many Tung's. My parents only had me as a daughter, so they strongly objected to my request to marry Tung. My grandparents also forced me to abort the pregnancy, then let me go to Australia with a relative to forget the memories here and start a new life, but I disagreed.
That night, I secretly took the house key to open the gate and followed Tung back to his hometown. Knowing that I was pregnant, Tung's mother was very happy, she asked me to keep the baby. She also hugged me and cried, feeling sorry for me for daring to change the future to be her daughter-in-law.
On the day of marriage registration, she made a tray of rice to offer to her ancestors and then bought me 2 gold threads. Of course, my wedding did not have the presence of my biological parents because they firmly opposed this marriage, even declaring from the face of their disobedient daughter.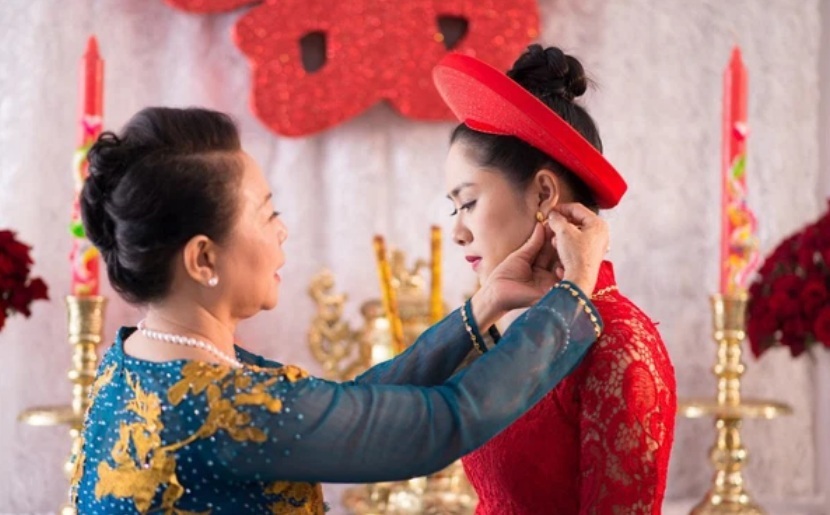 Illustration
I thought our marriage would be happy, but after 3 weeks of marriage, I miscarried. After that, we decided to plan for a while, after having a stable economy to have children. So, we led each other to the city to start a business with a little money for the wedding and 2 gold coins given by the mother-in-law.
Having an online business, my husband expanded his business. Thanks to our luck, our business quickly took off.
Less than 3 years after the wedding, we bought a small apartment house with our own labor. At this time, my parents also calmed down, so on weekends we often go to my parents' house to have dinner.
My mother also urged early pregnancy to have children because for her making money is the job of men and women have to give birth and raise a family.
However, I suddenly discovered that my husband was secretly having an affair with a saleswoman at the store.
I decided to break up with him on a rainy August afternoon. At the court gate, he apologized briefly. I sobbed, walking for hours in the rain to wash away my worries.
That night, I drove home to visit my mother-in-law, fell on her shoulder and sobbed. She called him, scolding furiously.
For a month, I was precarious, still staying at my ex-husband's house. Of course, he also did not appear, because he was still engrossed in his new love.
The mother-in-law tried to heal, and even gave advice to her son. In the end, I had to bury my pain, say goodbye to her and return to the city to start a new life.
Two years later I remarried to a guy 1 year younger than me. On the wedding day, I don't understand where the ex-mother-in-law came to find the news from. She blamed me for getting married without telling her, then she put in my hand a savings book of 200 million dong.
She told me that she treated me like a daughter, so when she heard that I was getting married, she took the car to the city immediately. She revealed that this is the money that Tung and I sent back in the past, she did not spend it but made a savings book, now that I am married, she will give it to me as a dowry.
She also wished me a very happy life to make up for the time when I was her daughter-in-law but suffered many losses.
I burst into tears, hugged her tightly and called her "mother". When she took me to her husband's house in the flower car, she even took my hand and gave it to my husband and told him to take good care of her daughter, which made me extremely emotional.
Readers please remain anonymous
You are reading the article
The day I got remarried, my ex-mother-in-law suddenly appeared as a gift, making me cry

at
Blogtuan.info
– Source:
infonet.vietnamnet.vn
– Read the original article
here