Life Style
Sức Khỏe
The type of eating rice causes disease, produces carcinogens, office people like it
For generations, rice has always been an indispensable dish in the daily meals of Vietnamese people. Eat only then have the strength to work, to study. That's important, but a lot of people still maintain dangerous eating patterns, which are the breeding ground carcinogen as well as susceptible to many other dangerous diseases.
3 types of rice are easy to cause disease, some produce cancer-causing substances, but Vietnamese people are very prone to them
1. Eat cold rice
Not cooking hot rice and then letting it cool and eating, cold rice here refers to leftover rice from previous meals to use for later meals. There are many families that store rice in the refrigerator "forget it" for a few days, then take it out and re-steam it and eat it. This habit of eating rice is very common in Vietnamese kitchens.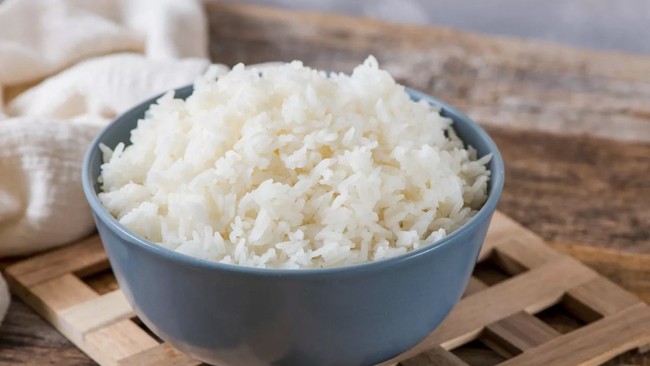 In the daily meals, we sisters often have the habit of cooking a little extra for fear of lack of rice for the whole family. As a result, after eating the rice, the rice cooker may have some leftover. Most people will leave the rice in the pot and reheat it for a later meal.
We all think that when the rice is cold, there are no signs of sourness or staleness, it will be okay to reheat it. This is extremely wrong thinking.
According to Assoc. Prof. Dr. Nguyen Duy Thinh (former lecturer at Institute of Food and Biotechnology, Hanoi University of Science and Technology), cold rice can be used within 24 hours in a state that the rice is not sour, stale, or discolored. matter. After this period, it is best not to use cold rice anymore.
According to experts, the habit of eating cold rice when it is stored properly and within the specified time does not have to worry about disease problems. However, if you eat cold rice for too long, you will not store it properly can cause Food poisoning.
"The reason is that when rice is left for a long time, improper storage will produce toxins. Specifically, rice may contain spores of Bacillus cereus, a bacteria that can cause food poisoning. If the spores are cooked, these spores, if present in the rice, can still survive and pose a danger to humans. Especially in the condition of long-term storage and improper storage." Assoc. Prof. Dr. Nguyen Duy Thinh emphasized.
2. Eating fried rice outside the restaurant is not guaranteed
Eating fried rice in a restaurant is a popular habit. Especially for office people. Lunch with a plate of fried rice is considered by many to be a favorite, filling and inexpensive. However, this type of rice is not good for health. Even the fried rice dishes outside the restaurant may contain substances harmful to health.
According to Assoc. Prof. Dr. Nguyen Duy Thinh, different from cold rice at home, which can control whether the rice has been stale, metamorphosed… or not to be thrown away, fried rice outside the restaurant is not so recognizable.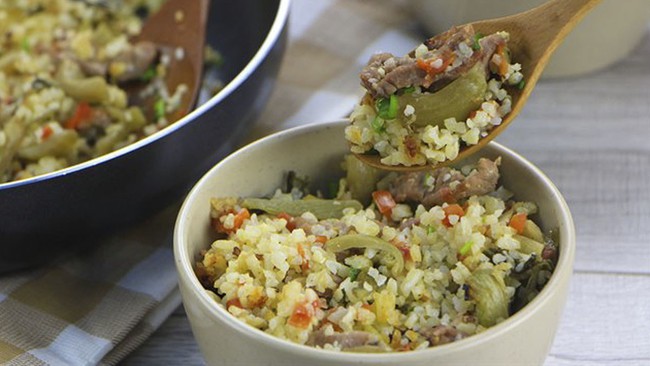 Cold rice does not know what days it is stored, then brought into a frying pan with all kinds of mixed ingredients to make the rice delicious and attractive. Many people are addicted to eating. And it is no exaggeration when this is a favorite dish of many office workers.
The risk of illness comes not only from leftover cooked rice, but also from the grease used to roast the rice. Many restaurants, to save costs, have used fried oil and fried many times to roast rice for customers to eat. This type of grease is very dangerous, can produce carcinogenic substances when used to fry rice.
The reason is that the burnt residue left after frying food for the first time is extremely dangerous, while the naked eye can't see it all. This is the cause of cancer. Not to mention, using cooking oil to fry again and again does not have the same nutritional value as the original, the vitamins in the oil have now been destroyed.
3. Eat rice and soup
Dr. Le Tien Huy (Deputy Director of the Institute of Medical Science and Technology) said that eating rice with soup will cause food to be rushed to the stomach. Risky food has not been thoroughly crushed, causing the digestive system to work hard. That is very bad for the stomach.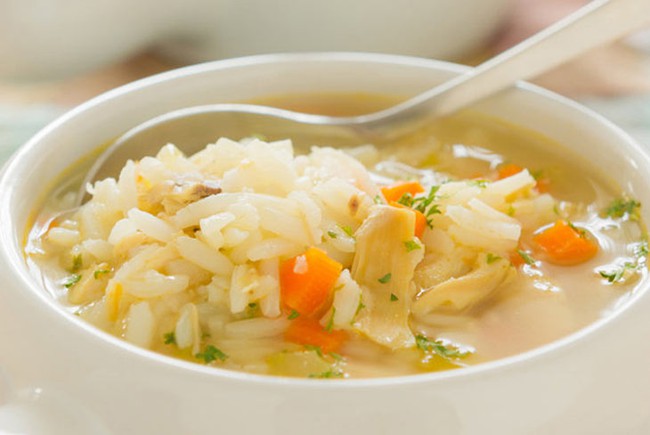 Not to mention, eating rice with soup also dilutes digestive juices, and nutrients in food are absorbed worse.
Unfortunately, eating rice soup is very popular with Vietnamese people. If you want to be healthy, you should give up this habit of eating rice. Instead, you should eat dry rice separately and then drink soup separately. You can eat a little soup before eating rice is also very good.
If you want to eat delicious rice, nourish your blood, and prevent aging, you should add one of the following 2 things to cook rice
1. Oatmeal
According to HealthlineWhole-grain oats are high in antioxidants and beneficial plant compounds called polyphenols. Especially Avenanthramides, help reduce blood pressure, tonic blood, better blood circulation, prevent cardiovascular disease.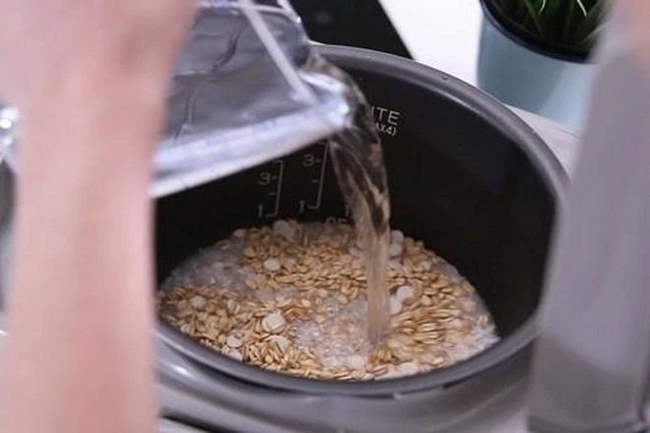 At the same time, oats also contain a soluble fiber called beta-glucan. Increase the feeling of fullness so you will eat less, both lose weight and increase good bacteria in the digestive tract, preventing diabetes.
2. Black beans
Black beans are not only rich in protein and low in calories, but also have very high nutritional value. The protein content in black beans is high, but it is easy to digest, meeting the body's needs every day.
The fat content in black beans is mainly unsaturated fatty acids, which reduce blood cholesterol and improve anemia. In addition, this bean is rich in trace elements, which delay the aging of the body.
Not only cooling, eating black beans regularly also helps to beautify the skin. That's the reason that many Japanese and Korean women have used in their menus for generations to get shiny, collagen-filled skin.
https://afamily.vn/3-kieu-an-com-khien-ban-sinh-benh-rieng-kieu-thu-2-co-the-san-sinh-chat-gay-ung-thu-nhung- dan-van-phong-rat-thich-20220413194453921.chn
You are reading the article
The type of eating rice causes disease, produces carcinogens, office people like it

at
Blogtuan.info
– Source:
Afamily.vn
– Read the original article
here