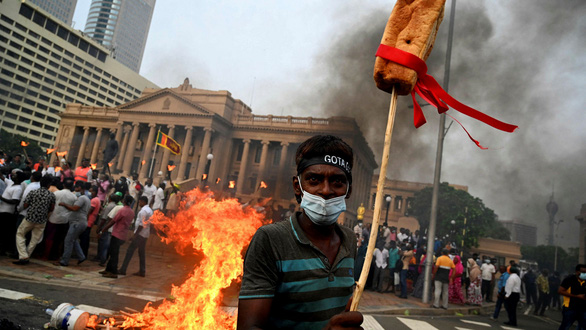 Sri Lankans protest to demand the resignation of the president – Photo: AFP
This declaration means that Colombo is no longer able to pay its foreign debts that have totaled 51 billion USD, in a country whose GDP in 2021 is only 81 billion USD.
17th IMF Loan
The island nation's foreign exchange reserves have shrunk by more than two-thirds in the past two years, according to Reuters, while tax cuts and the COVID-19 pandemic have hit the tourism-based economy hard, making investors The country has to rely too much on debt to spend. Over the past month, protests have broken out across the country because of lack of fuel, power outages, insufficient food and medicine.
"We have to focus on essential imports and can't afford to pay our foreign debt right now," said Sri Lanka's Central Bank Governor.
P.Nandalal Weerasinghe said in a press conference. Mr Weerasinghe also said Sri Lanka would not repay the debt until an agreement was reached with its creditors and an answer on a bailout loan from the International Monetary Fund (IMF) – which, if approved, would is Sri Lanka's 17th IMF loan in the country's history.
Negotiations on emergency loans between Colombo and creditors officially began on April 11. Sri Lanka's external debt obligations this year are around $7 billion, including $1 billion in internationally-issued government bonds due in July. "This is already a default and is inevitable. out," Murtaza Jafferjee, managing director of Sri Lankan brokerage JB Securities, told Reuters.
Mr. Timothy Ash, senior emerging markets strategist at British financial firm BlueBay Asset Management, said that "the only surprising thing here is that the Colombo government has just now accepted the reality. The announcement. stop paying the debt until they reach an agreement with the IMF and the creditors are reasonable." Meanwhile, Mr Weerasinghe hoped things would be settled "in good faith", stressing that the country of 23 million people had never defaulted on its debts.
Fault next to fault
Indeed, this is the first time Sri Lanka has failed to repay its foreign debt since independence in 1948. The Colombo government's move has also been anticipated by international markets for months given the difficult situation at home. . Tens of thousands of angry protesters are still taking to the streets demanding the resignation of President Gotabaya Rajapaksa.
The Rajapaska family has ruled the country for almost a decade – headed by Mr Gotabaya and his brother Prime Minister Mahinda Rajapaksa. They still insist they will not resign and are expected to negotiate a bailout package with the IMF at a meeting in Washington next week. Previously, the IMF itself recommended that Sri Lanka negotiate with its creditors – mainly the Asian Development Bank, Japan, China and private firms such as BlackRock – to apply for a pause in repayment until the country stabilize again.
With a mainly service-based economy (59.2% of GDP – including tourism, port operations, information technology services…), the physical production segment is quite modest (agriculture is only accounting for 7.4% and manufacturing industry 27.4%), Sri Lanka entered an economic crisis when the prices of many imported goods increased sharply and inflation spiked to an all-time high of 17.5% in October. 3-2022. The price of rice, for example, has risen to 500 Sri Lankan rupees ($1.53) a kilo from its usual 80 rupees.
Although quite developed, Sri Lanka's agricultural sector is mainly focused on export crops such as tea, coffee, rubber and spices. In April 2021, the Rajapaksa government made another fatal mistake. In order to prevent foreign exchange from flowing abroad, a white ban on fertilizer imports was issued. Sri Lanka announced it will become 100% organic farming country. This policy was a total failure and was canceled in November 2021, but the result was an unprecedented decline in agricultural output, leading to an even greater need for imports.
Another important factor is Sri Lanka's economic relationship with China. The defaults related to loans from China to build infrastructure such as the Hambantota port project, the country's second largest port after Colombo, is considered a cause of the crisis. However, it is also important to know that China's debt accounted for only 10% of Sri Lanka's total foreign debt in 2020, still lagging behind Japan (11%) and debt due to international government bond issuance (30%). ).
Lease the seaport to China for 99 years
Construction of the Hambantota port began in 2008 with the help of the Export-Import Bank of China. Opened in 2010, the port suffered from constant losses, leading the Sri Lankan government to decide to lease the port to the China Bureau of Commerce Corporation for 99 years for a fee of $ 1.12 billion.