Khỏe - Đẹp
Body of millions loved by Vietnamese mothers in Australia
Hanh Vu Nelson was born in 1988, a mother of 2 children who currently lives in Perth, Western Australia, is loved by many in the gym community because of her super standard body with three measurements of 80 – 61 – 97 with exercises at home. .
Body level journey
Hanh shared that she moved to Australia to live for 7 years. Before giving birth, Hanh was slim and petite. Having given birth to her first child 6 months ago, due to stress due to a new living environment and taking care of her small child, Hanh was as thin as a stick. If you live in Vietnam, people will surely criticize you for having a postpartum period. 2 years later, Ms. Hanh was pregnant and gave birth to her second baby, unlike the first, the second baby made her gain a lot of weight and gain weight.
From someone who only wears size xs, Hanh couldn't fit anything and had to increase it to 2, 3 sizes. She was embarrassed and clearly noticed her sagging body. Busy childcare makes her more stressed. At that time, she began to look to home exercises to improve her physique. She herself likes to exercise, so she does exercises on how to both lose fat and gain muscle, not exercise aggressively.
During this time, Ms. Hanh attended classes for PT. Although learning online, there are also tests and evaluation sessions. When going to school, the biggest difficulty is language. Ms. Hanh can communicate well in English, but learning specialized words is her obstacle.
Every day, she tries her best. Learn to beautify your own body, so persevere and don't give up. Currently, the mother of two has completed her Australian IV Personal Trainer degree.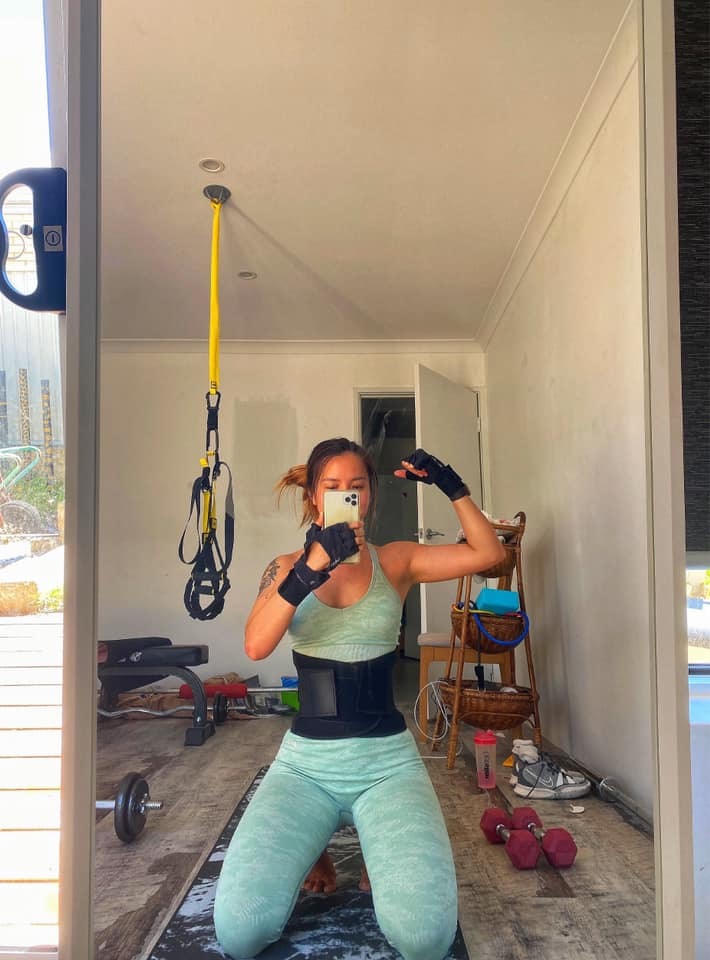 Hanh's gym at home.
Up to now, Hanh has been studying online for more than 1 year. Recently, the young mother is also working on YouTube to help moms stay at home and take care of their children while exercising.
With the desire to motivate mothers to change their body shape without going to the gym, Hanh set up a group Gym motivation for women to join.
New participants will be guided enthusiastically, correcting techniques from the simplest lessons. Vietnamese mothers just need to practice according to the instructions, record a video and send it back to Hanh to correct it.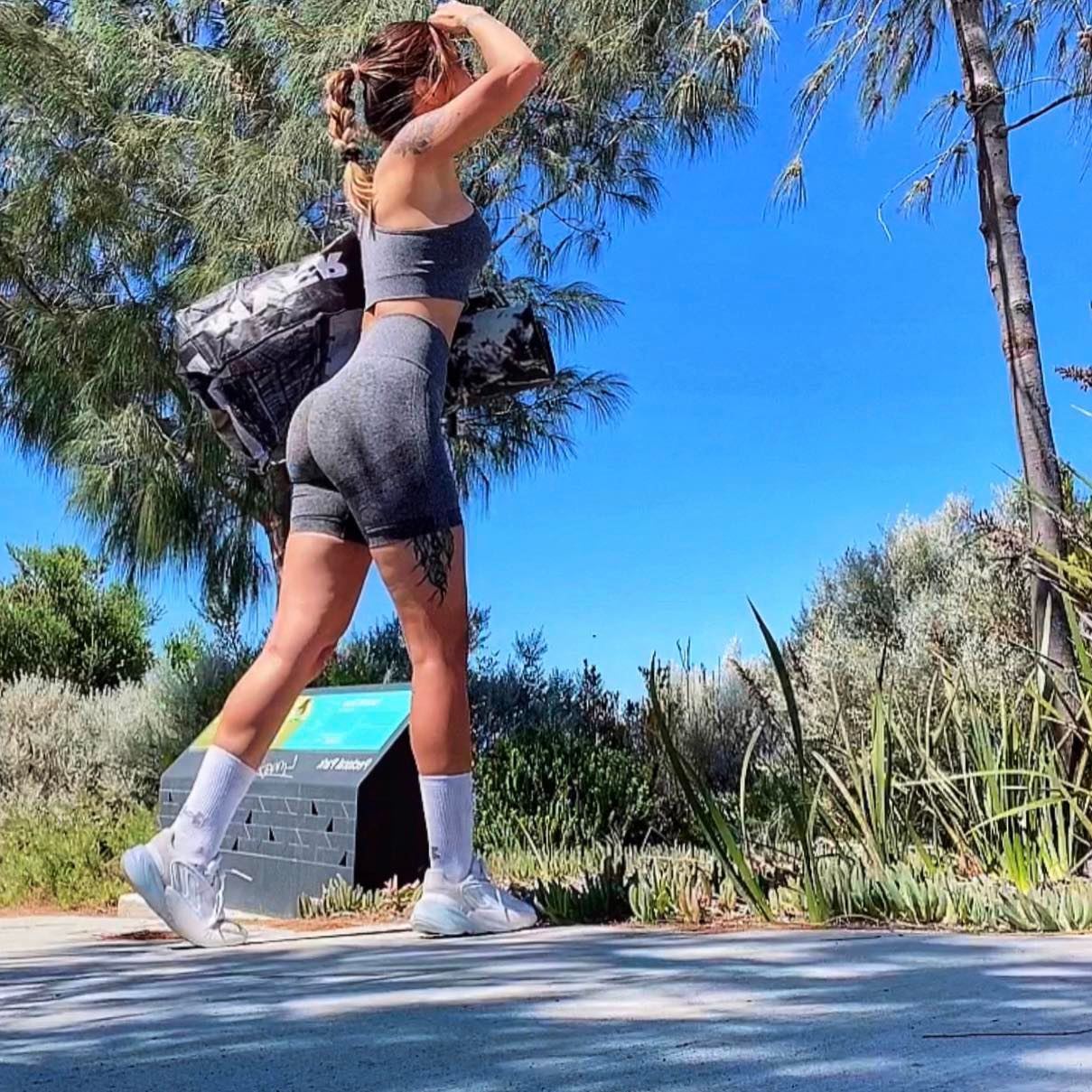 The current body of Ms. Hanh, she thinks that she has gone 80-90% of the journey to the body she wants.
According to Hanh, how much practice is not as important as you practice the right technique. Basic techniques such as squat, lunge, dead bug, plank… When you know the right technique, you will step into more advanced exercises, much more effective.
Mistakes in losing fat, getting back the ant's waist
Many women think that losing weight must cut off all starch, remove fat, eat hard, but in fact, safe weight loss is fat loss, not your weight.
According to Ms. Hanh, more than 3 years of studying hard and from my own experience, if I go wrong, it will take a long time. At first, Hanh did not choose the right exercise and nutrition, so it took nearly 2 years to be ineffective. When she found the "truth", she succeeded.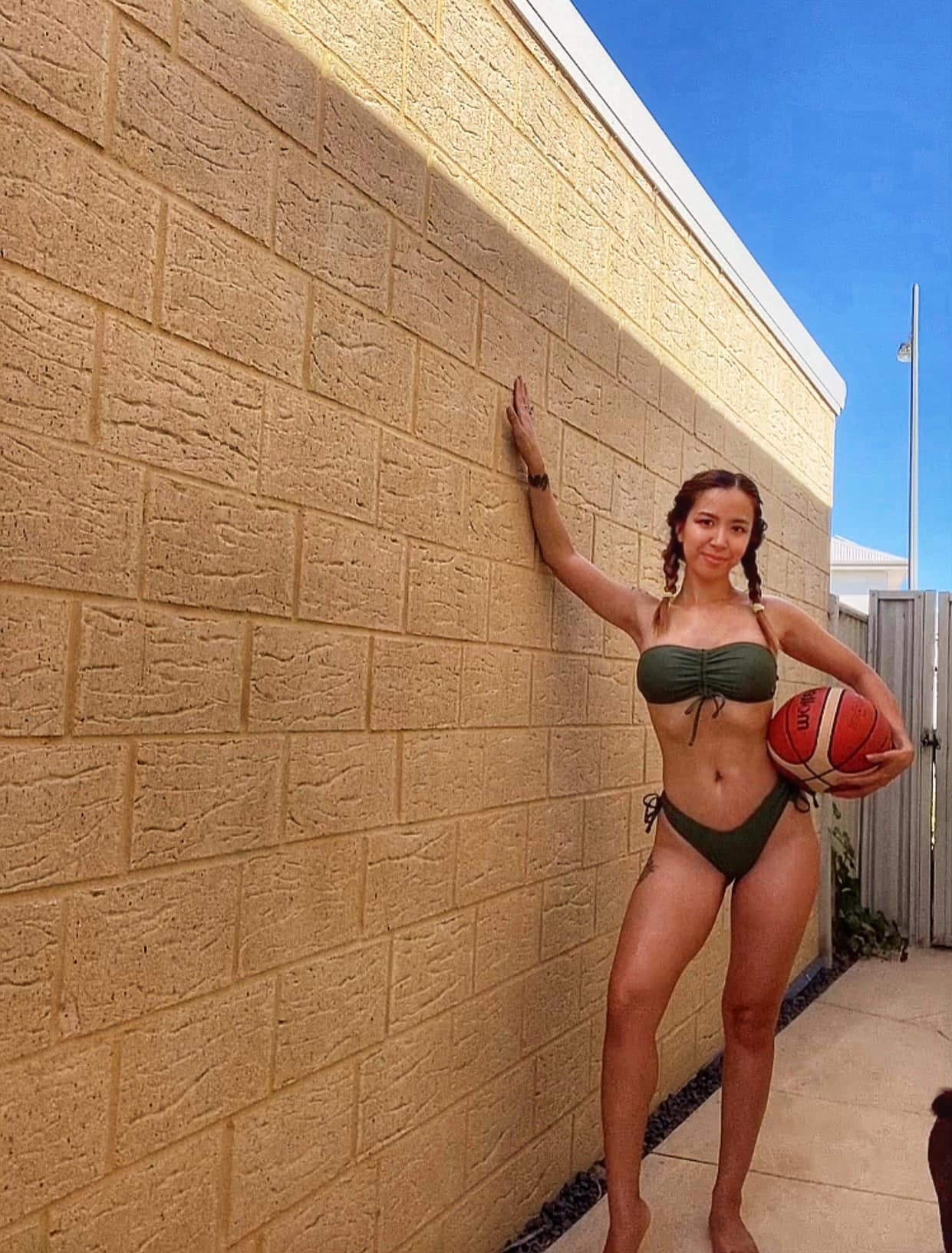 No need to go to the gym to still have a beautiful body.
In terms of nutrition, she eats well. The ectclaen meals are maintained by her during the week and at the end of the week will "discharge" but with a controlled discharge. Ms. Hanh still likes Hue beef noodle soup, pho, and other dishes that gym people are afraid of because of fat gain, but if they eat enough, it will still help them live a richer culinary life.
A meal of Ms. Hanh pushes enough essential nutrients.
In terms of nutrition, Hanh eats enough nutrients, uses a lot of fat from fish, no salmon can replace other fish. The main starches Hanh uses are sweet potatoes, oats, whole-wheat bread, and brown rice.
Compared to women in Vietnam, eating right nutrition is not as expensive as many people think. In Vietnam products like chicken breast are very cheap. You can choose chicken breast, brown rice, green vegetables, fresh water fish, basa instead of salmon… absolutely good.
Absolutely do not fast, completely remove starch because the body still needs energy to function, if cutting out something, the body will lack that substance, which is not good.
In addition, in training, Hanh thinks that you shouldn't think fat in that exercise. Many women believe that doing abdominal exercises will reduce belly fat, so they work hard to do abdominal crunches and pulls every day and the result only increases the size of the abdomen because fat reduces the whole body, not any particular part.
When practicing, Hanh builds a daily training plan on specific muscle groups. For example, upper body days, lower body days, abs days and each muscle group are 48 hours apart to give the muscles time to recover.
When stepping into training to get in shape, Hanh shared that diaper mothers should note:
30 minutes before exercise, eat a snack to have energy to exercise such as drinking whey protein, eating yogurt, cereal bread, bananas or eggs … to help during exercise not to be exhausted.
In addition to the exercise regimen, we should focus on the diet, eat enough nutrition, do not fast, and balance the 4 essential substances such as: fat, protein, starch and fiber.
For beginners, you should practice the basics first, build a strong body first, and then you can work up and go deep into the body such as: gain muscle, increase butt or whatever people want.
And important throughout the process of improving each person's physique is to be persistent and self-disciplined.
Khanh Chi
You are reading the article
Body of millions loved by Vietnamese mothers in Australia

at
Blogtuan.info
– Source:
infonet.vietnamnet.vn
– Read the original article
here