Business
Chinese tech billionaires 'give up' leadership positions due to pressure
Founder of e-commerce giant JD.com Richard Liu is the latest leader to step down. Last week, the company announced that Mr. Liu was leaving the CEO position but remained the Chairman of the Board of Directors.
In 2021, both Zhang Yi Ming – founder of ByteDance, the parent company of TikTok, and Su Hua, the father of "TikTok rival" Kuaishou both relinquished leadership positions. In 2020, Colin Huang – founder of e-commerce platform Pinduoduo – does the same. In 2019, Jack Ma withdrew from the chair of the Chairman of the Board of Directors of Alibaba.
The wave of founders relinquishing power emerged as Beijing stepped up scrutiny of the tech sector. In recent years, China has continuously opened antitrust investigations against technology enterprises, tightened data safety management, and restricted users from using the Internet and games. The crackdown caused investor confidence to plummet, affecting business results. In March, Alibaba and Tencent reported their slowest revenue growth in history, while JD.com posted losses for the first time in three years. JD.com and other firms in the industry also laid off thousands of employees.
According to Naubahar Sharif, a professor at the Hong Kong University of Science and Technology, "these old bodyguards need to pave the way for a successor."
Let's take a look at China's tech leaders who have stepped back over the years.
Richard Liu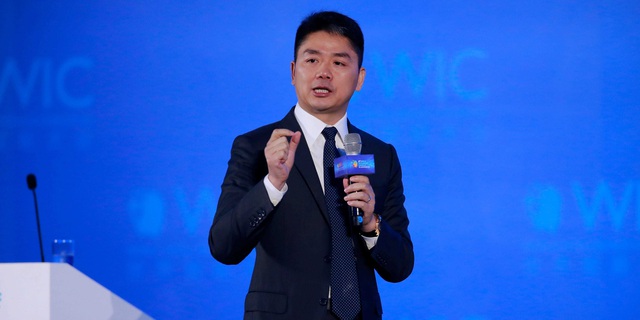 Richard Liu, 49 years old, founded JD.com in 1998. According to Forbes magazine, his net worth is about 10.5 billion USD. Liu is known as China's "Jeff Bezos". He stepped down as CEO on April 7 but remains Chairman of the Board of Directors and continues to lead long-term strategy, mentoring the young management team, and making contributions. for rural revitalization.
The first name of JD.com was Jingdong, operating as a traditional store, specializing in selling electronics and computer components. The SARS bird flu outbreak in 2003 forced him to move his business online. The company went public on the US NASDAQ in 2014, raising $1.8 billion in an IPO.
Liu himself is a controversial figure. In 2018, a student at the University of Minnesota accused him of rape. The US prosecutor dropped the charges due to insufficient evidence. But in 2019, this person continued to file a civil lawsuit in the US against Liu.
Zhang Yi Ming
Zhang Yi Ming, 39, founded ByteDance in 2012. His net worth is estimated at $50 billion. Zhang stepped down as Chairman of ByteDance in November 2021, six months after stepping down as CEO. Known for being discreet, in his resignation letter, he admitted that he lacked the skills to be a good manager.
In early 2021, ByteDance is said to have canceled its plans to list on the stock exchange after authorities wanted the company to address data safety risks.
Colin Huang
Colin Huang, 42, founded Pinduoduo in 2015. He has a net worth of $11.3 billion. Pinduoduo leads the way in "group buying," where people buy items like groceries while playing games and entice friends to buy together for discounts.
Huang left the post of Pinduoduo CEO in 2020 and stepped down as Chairman in March 2021. The company confirmed his decision to bring new leaders to the fore into a new phase of growth.
Mr. Huang abruptly stepped down from his leadership position as Pinduodo received heavy criticism for its harsh work culture. In December 2020, an employee was exhausted and died after leaving work at 1:30 am. Less than two weeks later, another Pinduoduo employee committed suicide. After the first death, one person exposed the company's toxic work culture on social media and was fired.
Su Hua
Su Hua, 40, founded Kuaishou in 2011. His net worth is about $4.3 billion. Mr. Su resigned as CEO in October 2021 without reason. He became the Chairman of the company he founded.
Kuaishou is a rival to Douyin – China's version of TikTok – where people can create and watch short videos, livestream, shop online. Before Mr. Su stepped down, Kuaishou and several other Internet firms were fined by the Beijing government for sharing child pornography videos on the platform.
Jack Ma
Jack Ma, 58, founded Alibaba in 1999. He has a net worth of $22.8 billion. In two decades, Jack Ma took Alibaba from a tiny startup specializing in cross-border commerce to a $460 billion empire, covering all fields, employing more than 100,000 people. When Alibaba listed on the New York Stock Exchange in 2014, it was the largest IPO in the world, raising $25 billion.
However, over time, Mr. Ma gradually relinquished control of the company. In 2013, he stepped down as CEO. In 2019, he resigned as Chairman and finally, in 2020, he is no longer a member of the Board of Directors. However, he still has far-reaching influence on Alibaba through his position on the Alibaba Partnership, a board made up of mostly members of the company's Board of Directors.
Mr. Ma angered Beijing with his statements for years. In particular, in October 2020, he criticized the lawmaker when he said that current regulations hinder China's technological progress. Ant Financial – Alibaba's fintech payments company – had to cancel its massive IPO plan after China asked Ant to return to its roots as a payments service. Since then, Mr. Ma has withdrawn from the limelight and has barely appeared in public.
You are reading the article
Chinese tech billionaires 'give up' leadership positions due to pressure

at
Blogtuan.info
– Source:
cafebiz.vn
– Read the original article
here