Ăn chơi
Closed at 14:00, but 20 minutes ago, KC conveyor hot pot still received customers
The female customer did not receive any word from the staff that the restaurant would close at 14:00.
A clip of a case involving a famous conveyor belt hot pot brand with dozens of branches across the country is going viral on TikTok.
The person who posted the clip is female customer Just used the service at the restaurant, she said that when she entered the door at 13:38, the staff was still welcoming at the table.
At 14:00, the food on the conveyor belt runs out and stops running. At first, she thought it was time for a new changing shop, so she waited patiently for 10 minutes, but then still nothing.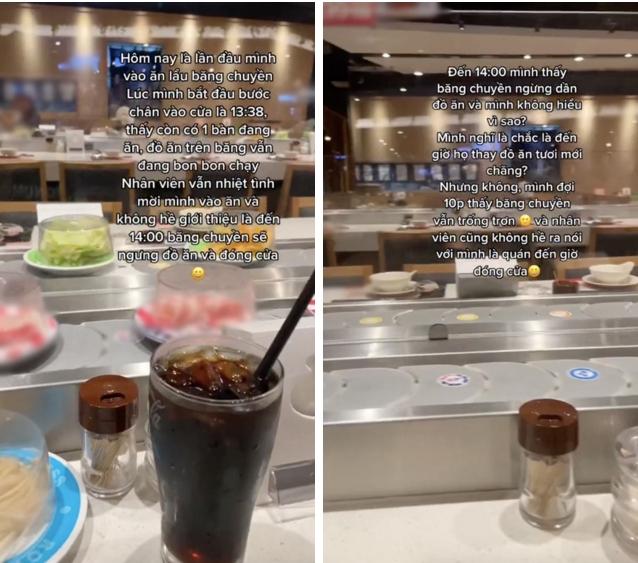 Sitting down to eat for 20 minutes until closing time, she claims to have never heard from the staff
What makes her unsatisfied is that the staff is still welcoming guests, not telling her to stop serving at 14:00. She shared in the comment section that this is her first time eating at a conveyor hot pot restaurant, and told the staff in advance.
Besides her, there was another customer about 40 years old who entered the restaurant at 13:45, and before he could eat anything, the conveyor belt stopped. When paying, she directly confronts the staff about the lack of service hours, only to receive silence.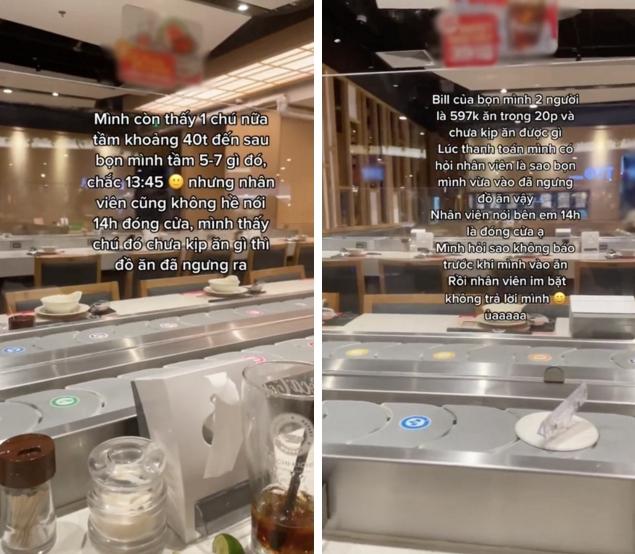 In the comment section, she shared more information such as at 14:15, a staff member asked if she wanted to eat dessert, and before that, although the conveyor belt had no food, customers were seated, but no one asked about service needs. . This is the point that frustrates her the most.
She believes that staff is responsible for reminding guests / asking questions when they see that guests are confused in using the service, but only receive indifference.
The female customer said she had received an apology from the restaurant. She shared to comment, not to slander and hope that public opinion will reduce conflicting opinions.
Under the clip comment section, hundreds of people expressed their views, many voiced their agreement with the female customer:
– "It's me, I made a big deal on the spot when I paid, I have the right to disseminate information."
– "This is the fault of the individual staff more, especially the one who takes the table. But the brand already has a clear process, everything works according to the process."
– "If on the conveyor belt stops, the staff will ask for permission and serve at the table, you can petition on the restaurant's or brand's page."
– "Probably a new employee, but when I go, I can always say before closing time, if I want to eat in and then serve it separately on request."
– "The money is not too bad, but the service is not clear."
According to the Law and Readers
You are reading the article
Closed at 14:00, but 20 minutes ago, KC conveyor hot pot still received customers

at
Blogtuan.info
– Source:
2sao.vn
– Read the original article
here