Giải trí
In the summer, don't miss the fruit with great health benefits-Life Health
Passion fruit is a popular fruit, often favored by many people because of its delicious, sweet and sour taste. But not everyone knows the amazing health benefits it brings.
1. Health benefits of passion fruit
1.1. Nutritious passion fruit
Despite its small size, passion fruit is rich in antioxidants, vitamins, minerals, and healthful plant compounds. Passion fruit is a rich source of nutrients, especially fiber, vitamin C and vitamin A.
In one passion fruit contains:
– Calories: 17
– Fiber: 2g
Vitamin C: 9% daily value (DV)
– Vitamin A: 8% DV
– Iron: 2% DV
– Potassium: 2% DV
Passion fruit is rich in beneficial plant compounds, including carotenoids and polyphenols. According to research, passion fruit is richer in polyphenols than many other tropical fruits such as banana, lychee, mango, papaya and pineapple.
In addition, passion fruit also provides a small amount of iron. Our bodies often don't absorb iron from plants well. However, the iron in passion fruit comes with a lot of vitamin C which will help enhance iron absorption.
Passion fruit is a rich source of nutrients.
1.2. Passion fruit is rich in antioxidants that prevent disease
Antioxidants play an important role in keeping the body healthy and preventing disease. They help improve blood flow, especially to the brain and nervous system. Passion fruit contains a lot of antioxidants. In particular, it is rich in vitamin C, beta carotene and polyphenols.
Polyphenols are plant compounds with antioxidant and anti-inflammatory effects. This means they can help reduce your risk of chronic inflammation and other conditions like heart disease.
Vitamin C is an important antioxidant that the body needs to support the immune system and healthy aging process. Vitamin C boosts the immune system by helping the body absorb more iron from plant-based foods, and may improve the body's ability to fight infections.
Beta carotene is also an important antioxidant. Your body converts it into vitamin A, which is needed to maintain good vision.
Diets rich in plant-based beta carotene have been linked to a reduced risk of several cancers, including prostate, colon, stomach, and breast.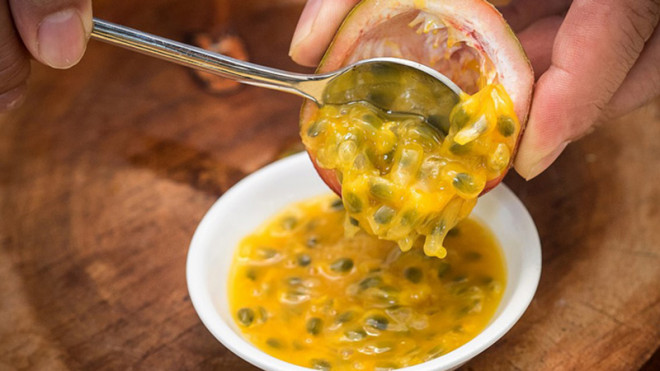 Passion fruit contains a lot of antioxidants.
1.3. Support cardiovascular health
Passion fruit is high in heart-healthy potassium and also low in sodium. A high-fiber diet may also help reduce the risk of heart disease.
When eating whole passion fruit seeds contain a lot of fiber, which helps to eliminate excess cholesterol from the inside of the blood vessels to the outside. However, do not abuse passion fruit seeds because it can affect digestion. Fruits like passion fruit, low in sodium and rich in potassium, also help stabilize blood pressure.
1.4. Eating passion fruit helps prevent constipation
Passion fruit is high in fiber, with 2g of fiber per serving.
Fiber is an important component of the diet. It helps regulate the digestive system and keep the intestinal tract healthy, preventing constipation and bowel disorders.
Soluble fiber helps slow the digestion of food, which can prevent blood sugar spikes.
Diets high in fiber have also been linked to a lower risk of disease, including heart disease, diabetes, and obesity.
1.5. Good for people with diabetes
Passion fruit is a fruit with a low glycemic index (GI). This means it doesn't spike blood sugar levels after eating, making it a good choice for people with diabetes.
Some research also shows that a compound called piceatannol found in passion fruit seeds can improve metabolism, including insulin sensitivity, helping to reduce the risk of many diseases, including diabetes.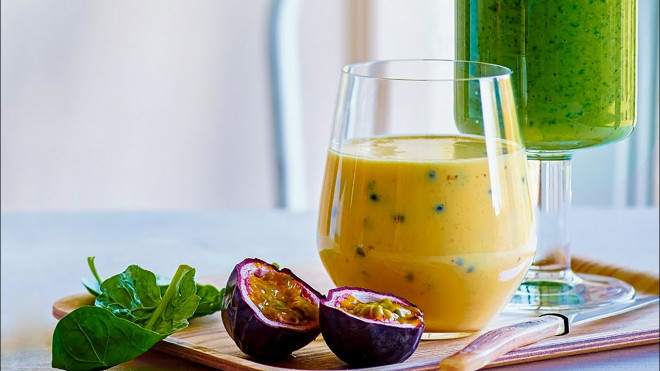 Passion fruit can be used to make many delicious dishes and nutritious drinks.
2. Some delicious and nutritious ways to eat passion fruit
– Eat raw directly: Except for the peel, you can eat all other parts including passion fruit seeds by scooping out the flesh, juice and seeds directly with a spoon.
– Passion fruit juice: You grate the flesh of passion fruit, you can leave the seeds or use a sieve to filter out the seeds, add a little sugar and ice to drink very well.
– Passion fruit smoothie: You can use passion fruit juice in combination with milk and other fruits such as banana, mango, pineapple… puree to have an extremely delicious and nutritious smoothie.
– Snacks, desserts made from passion fruit: Passion fruit juice is often used as a coating or flavoring for desserts, passion fruit cakes, salads, sauces, and yogurts. Combined with passion fruit, it helps to increase the flavor, color and nutrition of the dishes.
You are reading the article
In the summer, don't miss the fruit with great health benefits-Life Health

at
Blogtuan.info
– Source:
24h.com.vn
– Read the original article
here