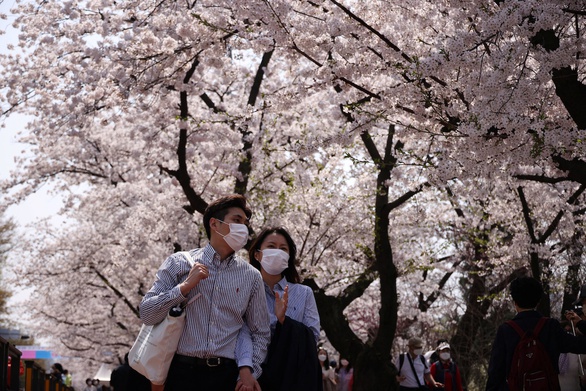 Korea decided to join the CPTPP. In the photo: people go to see cherry blossoms in bloom in Seoul – Photo: REUTERS
At the end of last year, Korea started the process of joining the CPTPP.
Officials said the plan to join the CPTPP was approved at a meeting of economic-related ministers on April 15, and the Korean government will officially submit an application to join after completing the procedures. domestic customs, including reporting to the National Assembly.
Comprehensive and Progressive Agreement for Trans-Pacific Partnership, CPTPP for short, is a new generation free trade agreement (FTA) with 11 member countries: Australia, Brunei, Canada, Chile, Japan, Malaysia, Mexico, New Zealand, Peru, Singapore and Vietnam. .
The Agreement was signed on March 8, 2018 in the city of Santiago, Chile, and officially entered into force on December 30, 2018 with the first group of 6 countries to complete the procedures for ratification of the agreement, including Mexico, Japan and Japan. Japan, Singapore, New Zealand, Canada and Australia. With Vietnam, the agreement took effect from January 14, 2019.
The South Korean government said it plans to submit an application for the CPTPP before President Moon Jae In's five-year term ends on May 9.
The new government of President-elect Yoon Suk Yeol will conduct negotiations for South Korea to become a member of the CPTPP, which is expected to take at least a year.