After completing the acquisition of 20th Century Fox in 2019, Disney decided to close Blue Sky Studios, the studio "father" of the hit animated series Ice Age. Don't worry, Ice Age is still there, continuing to develop under the hands of the Mouse house, with a series of new short films that have been, are and will continue to be released on Disney+. However, the studio that has been attached to this franchise since the first days is no longer there.
Saying goodbye is never easy, and Blue Sky Studios probably feels the same way. And so, they said goodbye to their fans in a more emotional and meaningful way: Produce another short animation to bring a happy ending to one of Ice's most beloved characters. Age.
The last animated short of Blue Sky Studios, the "father" of 5 Ice Age movies.
Ice Age begins with the story of Scrat, a squirrel who is obsessed with protecting and hiding acorns for the winter throughout the five movies of this franchise. However, that seemingly simple task often causes Scrat's troubles, sometimes cracking a giant iceberg, sometimes drifting to the shore, and sometimes being struck by lightning. beltless" or fall into the core of the Earth, and the acorn has yet to find a safe place to be.
The new video, which is also the last animation of Blue Sky Studios, was released on the occasion of the short series Ice Age: Scrat Tales aired on Disney+ on April 13. In the end, Scrat also decided not to have to work hard to protect the acorn anymore, but to enjoy his spoils peacefully, contentedly, before moving on to new adventures. A simple, gentle ending, but surely will make many people cry.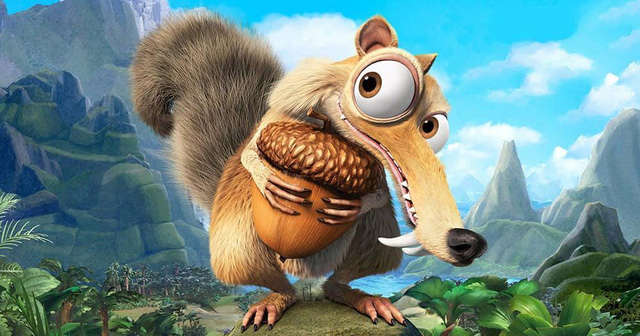 The 5 Ice Age movies are the journey to hide the acorn of Scrat squirrel "super-smoke".
On Twitter, a former member of Blue Sky Studios shared: "In the last days before our studio dissolved, a group of artists got together and made this final scene. This is our way of saying goodbye – Blue Sky Studios".
In early 2022, Disney also released a new Ice Age movie – Adventures of Buck Wild, but without the presence of the squirrel Scrat. Lori Forte, producer of this project, said that Buck Wild is the most suitable character to lead the first Ice Age spinoff: "I think Buck has become a character that is loved by both us and the audience because of his eccentricity, fun, and loveliness. Buck is an adventurous hero, very healthy, funny, and the guardian of the dinosaur world that no longer exists. That's the kind of character you want to get to know more closely than in previous movies. Buck has been alone for so long, now it's time to see how he and the other characters change and develop.".
The Ice Age series is now airing on Disney+.
According to Comicbook
https://genk.vn/cha-de-ice-age-tam-biet-fan-voi-doan-hoat-hinh-xuc-dong-mang-ve-cai-ket-co-hau-cho-soc- scrat-20220415115748182.chn
You are reading the article
The "father" of Ice Age said goodbye to fans with a touching animation, bringing a happy ending to Scrat

at
Blogtuan.info
– Source:
gamek.vn
– Read the original article
here