Alcohol can sometimes have unintended consequences. A Chinese girl was sexually assaulted by her middle-aged neighbor while she was drunk.
The incident happened on June 6, 2021 in Tuyang District, Sutian City, Jiangsu Province, China. That night, Ms. Xie and a group of close friends went out to eat and drink, and then came back drunk. Ms. Xie was brought to the apartment gate by friends, but said that she was still awake, did not need to be brought to the house, and then went inside by herself.
Unexpectedly, when Ms. Xie went up to her floor, she did not have time to take out the key to open the door, but she staggered, collapsed on the ground, fell asleep in the hallway because she was too drunk.
At more than 11 pm, Ms. Xie's neighbor Mr. Zhang, 51, returned home from his night shift, and saw Ms. Xie sleeping in the hallway. Mr. Zhang tried to wake Ms. Xie but could not. Seeing that she had a strong odor of alcohol on her body, he realized that she was drunk. Seeing Ms. Xie lying in the hallway, both unsafe and cold, which could affect her health, Mr. Zhang immediately wanted to help.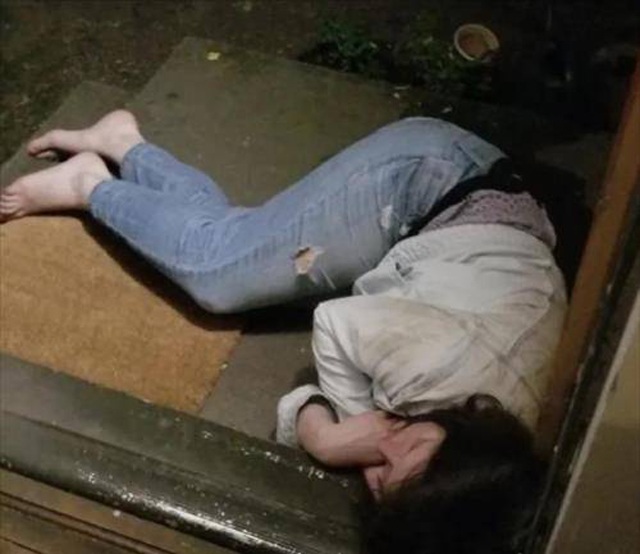 Illustration.
Initially, Mr. Zhang tried to call Ms. Xie's relatives but was unable to open her phone. With no other choice, Mr. Zhang had to carry Ms. Xie to his home, intending to let her sleep for the night.
Mr. Zhang's intentions were good at first, but then he couldn't contain himself. Around 3-4 am the next morning, Mr. Zhang could not sleep. He felt a burning sensation in his heart and had bad thoughts about Ms. Xie in his head.
Seeing that the girl was both beautiful and young, and so drunk that she lost consciousness and did not take any precautions, and there was no one around, Mr. Zhang let his lust defeat reason, and finally attacked. Ms. Xie's sex while she remained completely ignorant. After the story was over, Mr. Zhang fell asleep without thinking about the consequences.
The next morning, when Ms. Xie woke up, she immediately noticed the abnormality of her body. Only then did she realize that she was lying in a stranger's bed, not her own, and looked around and was shocked to see Mr. Zhang. Ms. Xie tried to recall the events of last night, but could only remember the part where she went home drunk. Ms. Xie immediately understood everything, was extremely shocked and scared, immediately grabbed her clothes and ran to her house, then reported the police.
But without waiting for the police to come and arrest him, Mr. Zhang voluntarily surrendered first. This man said that he deeply regretted, condemned his own conscience, so he surrendered and will accept all legal measures.
According to Article 236 of the Code Criminal In China, sex offenders can be imprisoned for not less than 3 years but not more than 10 years, serious cases can be aggravated. Although in this case, Mr. Zhang abused Ms. Xie while she did not protest, it still constitutes rape because Ms. Xie did not volunteer.
In response to Mr. Zhang's repentance and honest declaration, the Tu Thien city court ordered this man to be sentenced to 3 years in prison.
You are reading the article
Drunk girl sleeping in the hallway, being carried into the house by a neighbor, shocked when she woke up

at
Blogtuan.info
– Source:
Eva.vn
– Read the original article
here