Famous from the show Fun with Hugo, MC Thanh Thao is still young and beautiful at the age of 40. The female MC born in 1981 has a home with her businessman husband Thai Kim Son and 2 children nicknamed Strawberry and Bon Bon. Although busy with work, Thanh Thao is very brave, she often goes to the kitchen to cook delicious meals for her husband and children.
In particular, the mother of 2 is very passionate about baking. The female MC described that: "At the weekend, our house is full of waffles, beefsteak, delicious pumpkin soup… while my second sister learns Korean, Bon goes around helping her mother mix flour! List tomorrow will be lotus milk and cheese sausage bread tomorrow, save the children for snacks during the week.. Every Saturday and Sunday, people are full of the smell of food, immersed in the dear kitchen, just hope they are happy and healthy, no matter how busy they are, they will be fine.
Around 8 pm, you have a meal of bird's nest tea before going to bed, after that, I showered all sorts of ways and hugged a book with Bon. Therefore, if I want to study anything, I have to be early in the morning. I'm in love with something cool again, let's continue learning!"
Thanh Thao Hugo not only cooks but also loves to bake. Every weekend, she makes a lot of delicious cakes to take care of her husband and 2 kids.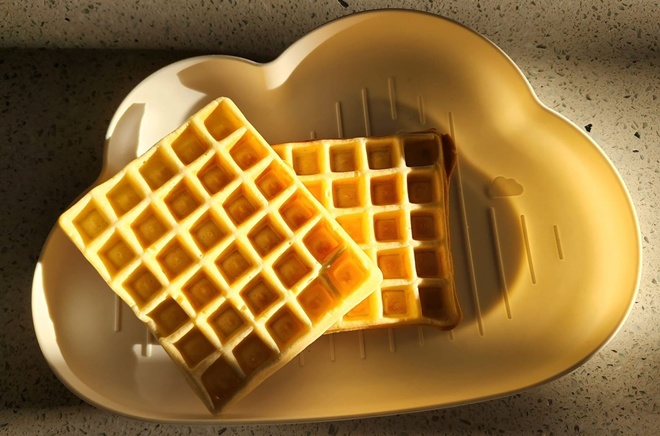 This is a waffle made by the female MC. She expressed: "Bake in the warm, golden afternoon sun, come out all of them, these are the last two parts of the parents".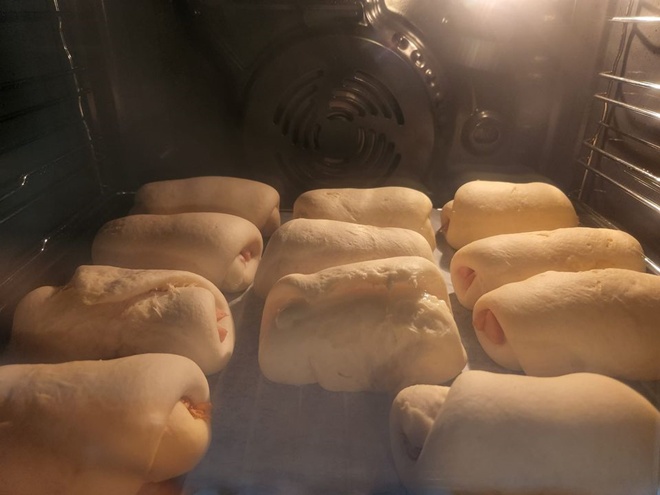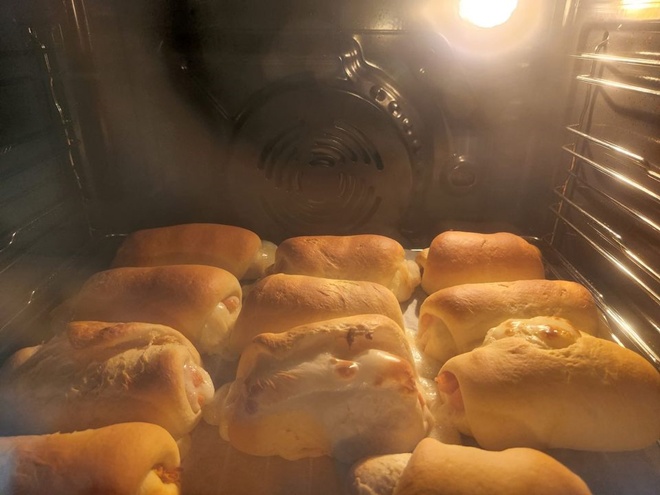 Recently, she continued to show off: "Mami's Sunday afternoon, when the two children said they wanted sausage bread and cheese rolls. Still maintaining the style of making cakes to treat the father and son in the late afternoon."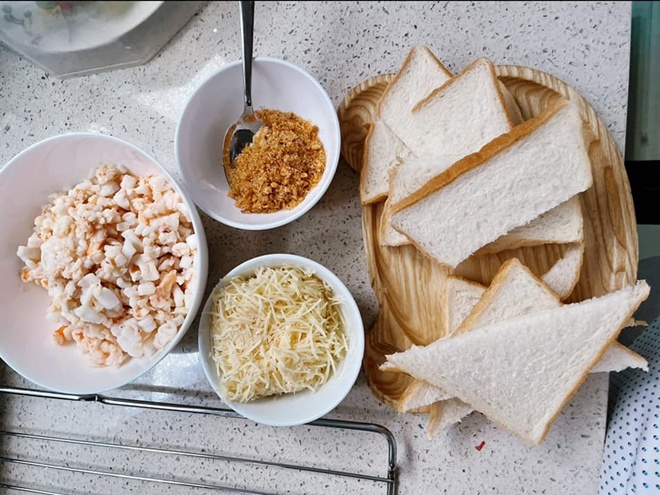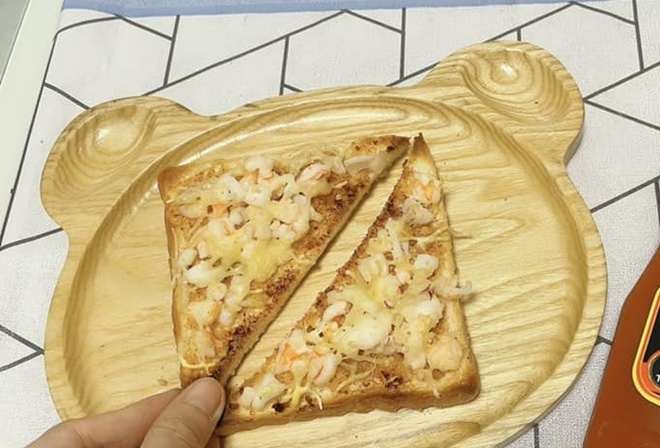 When her mother was at home, Thanh Thao's children freely asked her to make snacks. She made grilled seafood sandwich with cheese, added shrimp paste, served with chili sauce, ketchup.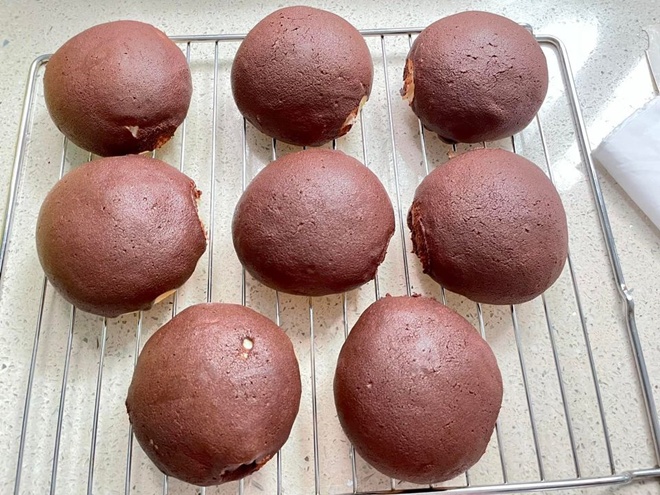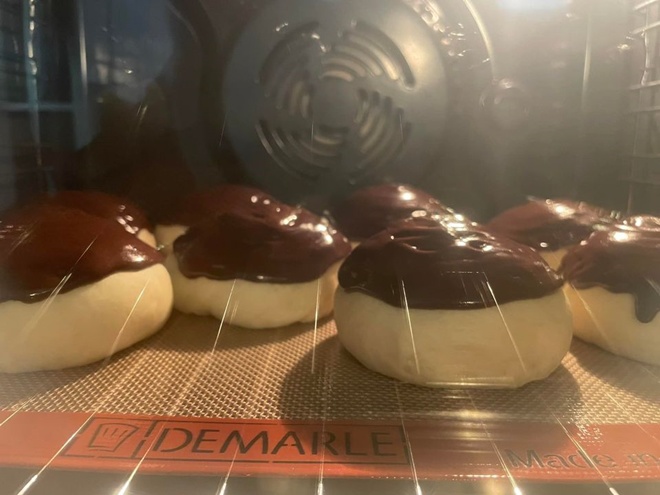 There are times during the week when she looks at the mountain of work, she just dreams of a sweet weekend to go for a walk, make a cake, then hug her husband and children to watch a movie with a hot, fragrant cake in her hand.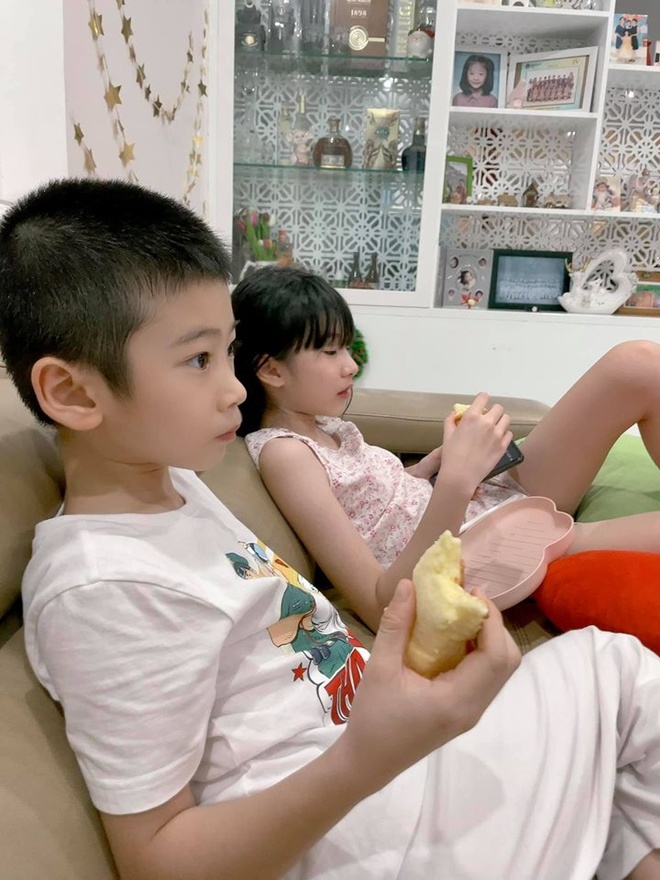 The MC's children are delighted with their mother's orange chiffon cake, soft, fragrant, and light like cotton. "When my mother was baking the cake, the father and son upstairs were in a commotion because the smell was flying around the house," the female MC expressed.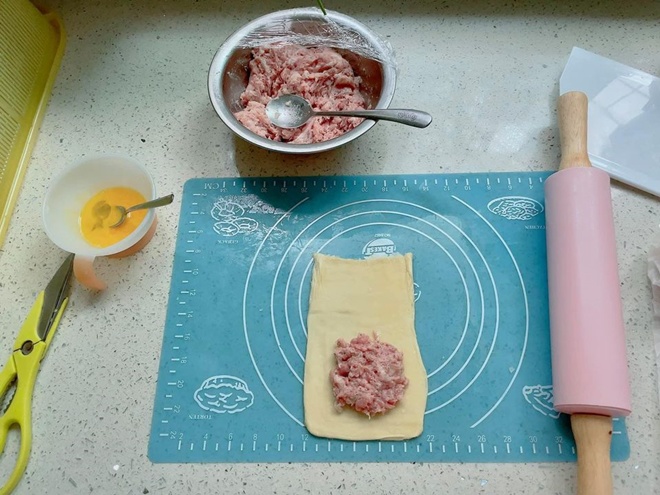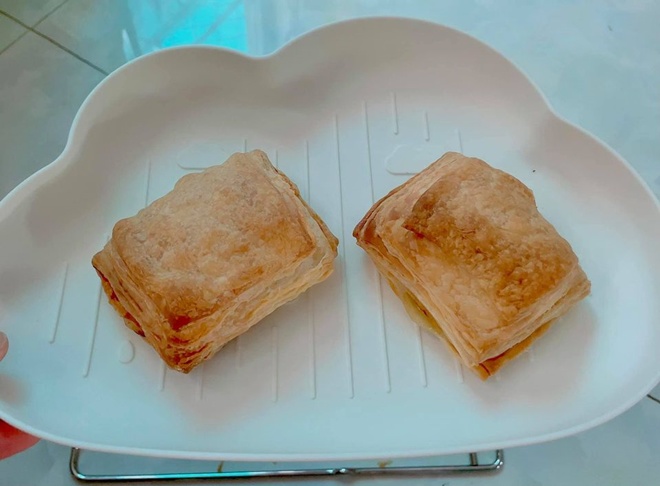 Thanh Thao tried new dishes for the father and son for breakfast and snacks and was quite successful. "Today's cake, the mother-in-law's filling is processed with a lot of meat according to the taste of the children," she said.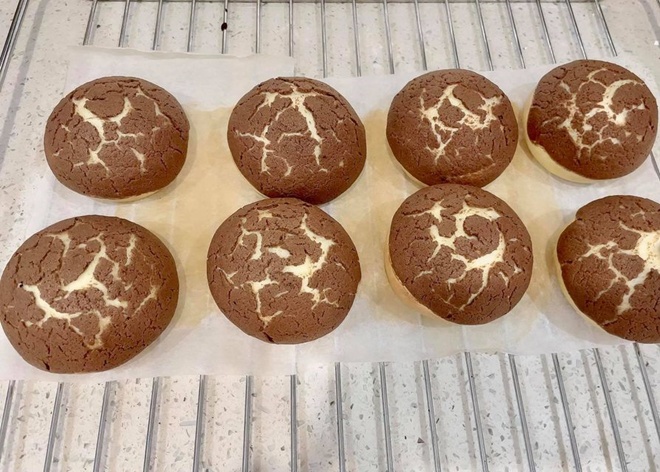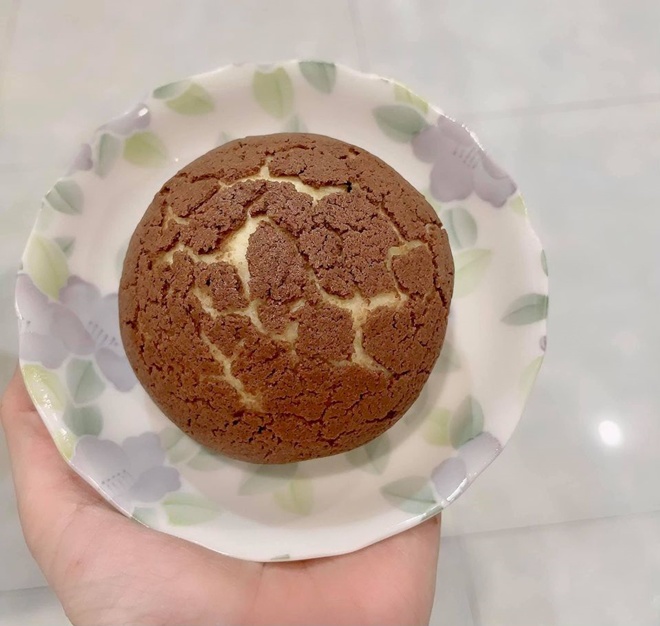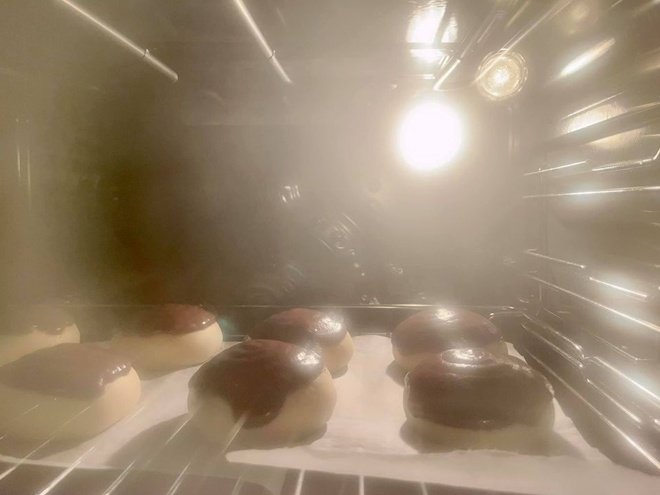 The mother of two excitedly said: "Paparoti is the first time I made according to the request of the children, with chocolate filling inside. The cake just came out of the oven with only 1/2 quantity left. What these friends love the most is eating freshly baked cakes. , hot and warm, fragrant butter, soft and crispy, the outer shell is melted".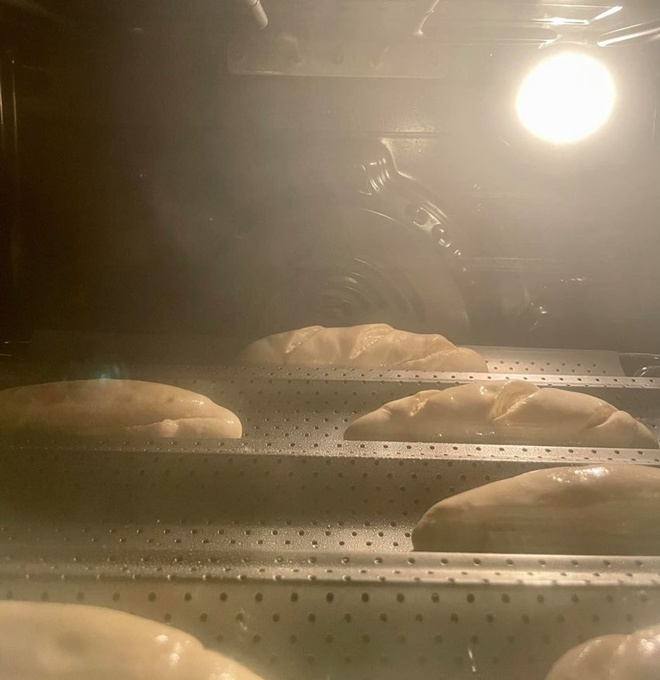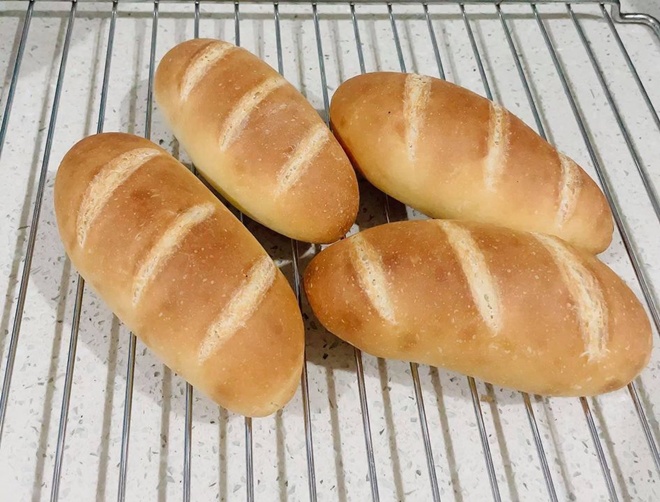 MC Thanh Thao also often makes bread at home. One day she said: "6 loaves of bread are out of 5 loaves in the blink of an eye, working for 2 and a half hours, eating for 1 hour".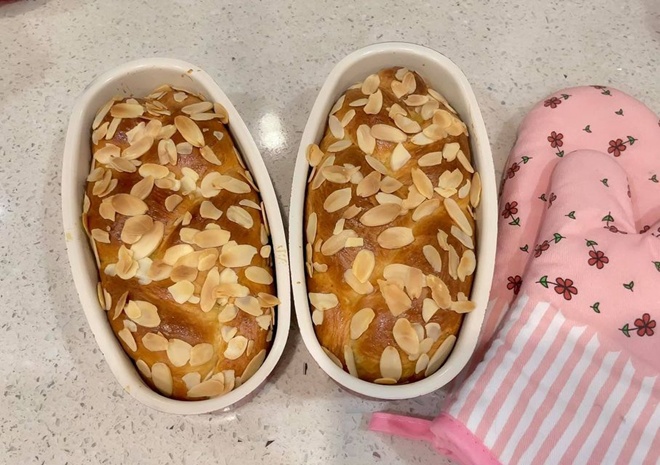 "Mother-in-law's chrysanthemum bread, the cake was out of the oven at 9 o'clock last night, the children made it a little more compact, today brought to the academy, it becomes a snack in one note for the big eyelids".
"This family has a custom of 'baking cakes at night', now the mother-in-law has finished her work to make breakfast for the whole family. But after baking, I lost two children," she shared the first time she made toast with sausage. Cheese and mayonnaise sauce are super attractive to the little ones.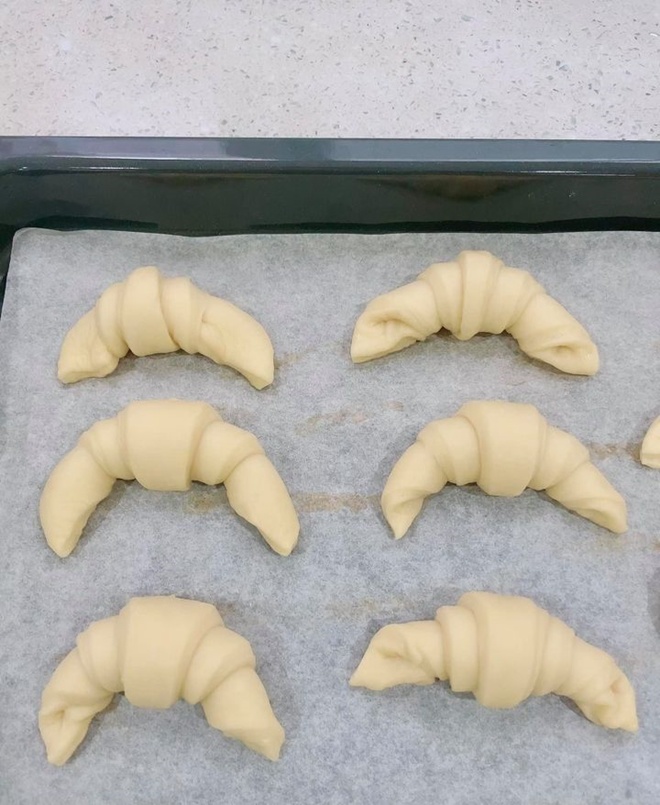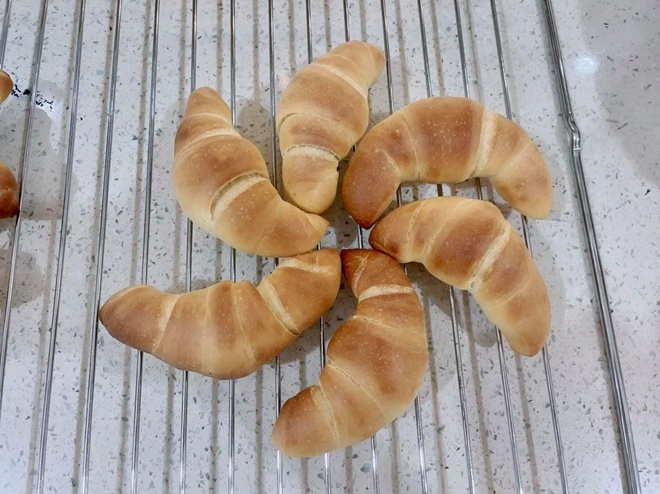 Craving for soft buttery croissants, fatty, moist butter in the intestines… so she pulled out the dough again. The children just finished eating, but when they saw the hot cake, the sisters ate 3 immediately! "When they were baking, they were so chubby, Bon Dau huddled with yellow cake soup, laughing while talking," she shared.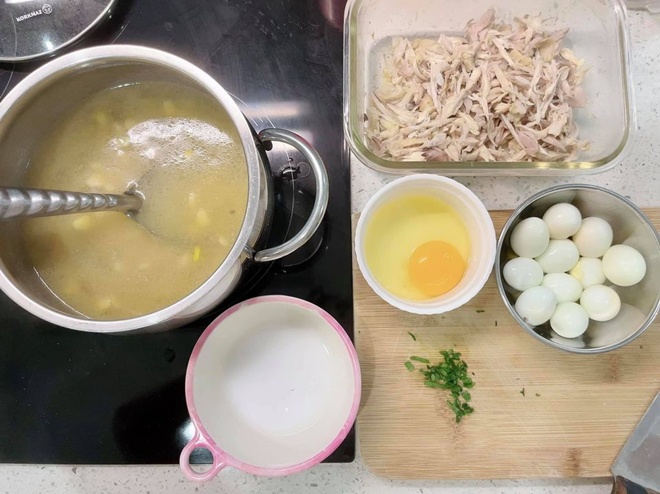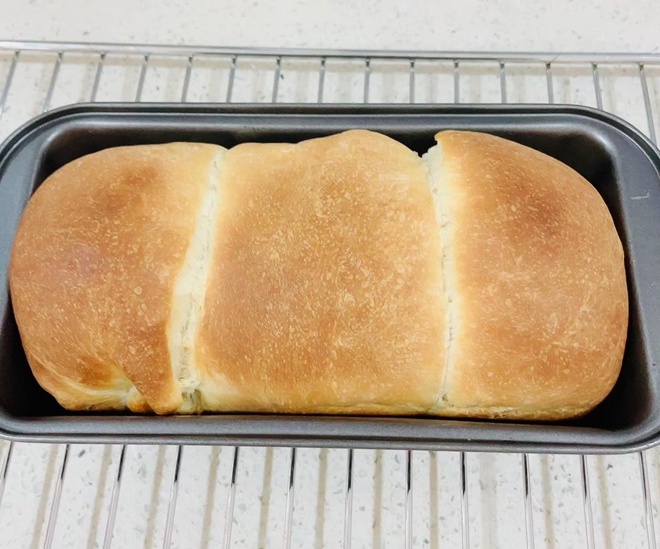 One day, when I flattered my daughter to make corn soup, she immediately afternoon, then "bonus" Hokkaido milk bread and asked herself: "I can't find milk sugar powder, can't make cakes, can't stand it or what???"
MC Thanh Thao revealed the recipe for Hokkaido milk bread as follows:
Material:
150g bread flour
150g all-purpose flour
30g chicken eggs, weigh the right amount
120ml fresh milk without sugar
80ml whipping cream
40g sugar
4g salt
5g dry yeast
Making:
At the first incubation stage like bread, then roll the cake into 3 parts and put it in the mold, the second incubation for another 30 minutes.
Then spread eggs and fresh milk on the cake before baking.
Bake 175 degrees 30 minutes is a beautiful golden cake.
You are reading the article
Having a happy home, MC Thanh Thao Hugo is also a good mother, the house smells like cake at the weekend

at
Blogtuan.info
– Source:
Eva.vn
– Read the original article
here