Life Style
Xã Hội
Poor old man for 6 years picking up trash without pay on the streets of Hoi An
6 years of unpaid garbage collection
Perhaps for a long time, the people of Hoi An city have been very familiar with the image of a thin old man, sunburned skin and a gentle smile, every morning pushing a homemade car along the coastal route, just went diligently picking up every small piece of garbage on the side of the road.
It is Mr. Nguyen Thuong (SN 1960, resident of Phuoc Trach Street, Cua Dai Ward, Hoi An City), who is often called by the locals with the affectionate name: "The old man of garbage".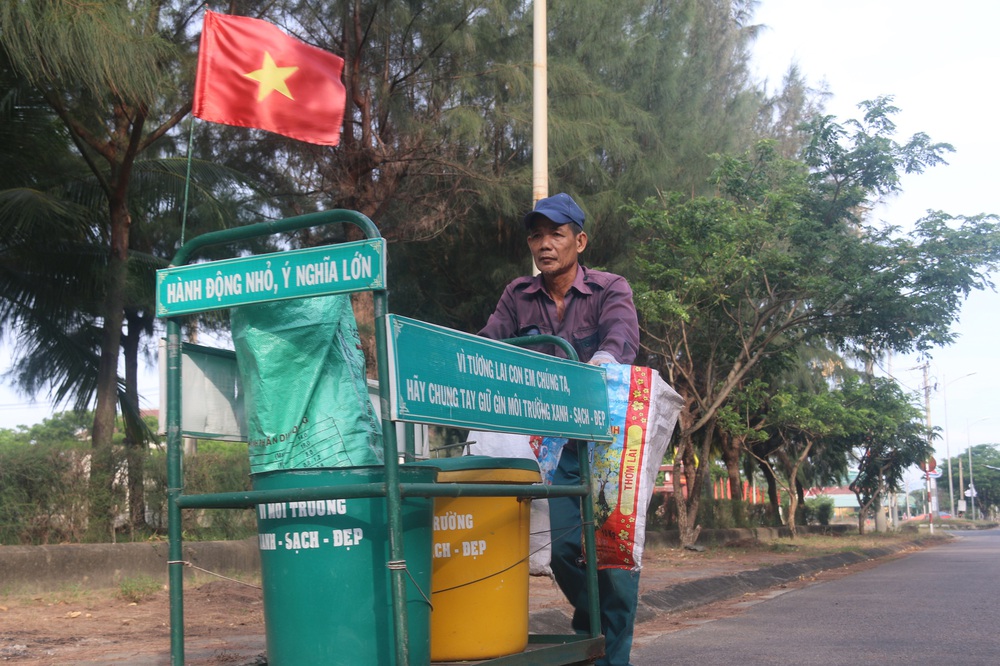 Mr. Nguyen Thuong, who is called "the old man of garbage" in Hoi An
At exactly 6 a.m., in a worn-out work suit, a faded cap, and simple flip-flops, Mr. Thuong has been quietly working as an unpaid garbage picker for more than 6 years.
Sharing about the opportunity to come to this "big money" job, Mr. Thuong said, about 7 years ago, while working as a chef at a hotel in Hoi An, he suddenly collapsed due to a terrible disease.
When he regained consciousness, his ears were no longer able to hear, and his limbs were paralyzed. For more than half a year, the hospital was home, the doctor was a relative, but the disease did not improve, the family had to take him home to take care of him.

Poor old man for 6 years volunteered to pick up unpaid garbage on the streets of Hoi An
In the most desperate moment, Mr. Thuong suddenly remembered the doctor's advice: "If you lie down in one place, your limbs will be completely paralyzed", he recalled. Determined not to surrender to fate, he struggled and worked hard to improve his health.
In the early days, he learned to stand, walk, and grasp the smallest things like a child at the age of 3. His steps would limp for a while and he would fall and scratch his whole body. However, despite the physical pain, he still practiced hard and the miracle came. After a short time, he was able to walk normally, his hand began to hold again.
When he was healthy, Mr. Thuong wondered if he had to do something to repay his life. When he went to the gym, he saw plastic bags and masks being thrown indiscriminately along the road, so he came up with the idea of ​​​​exercising and picking up trash to protect the environment.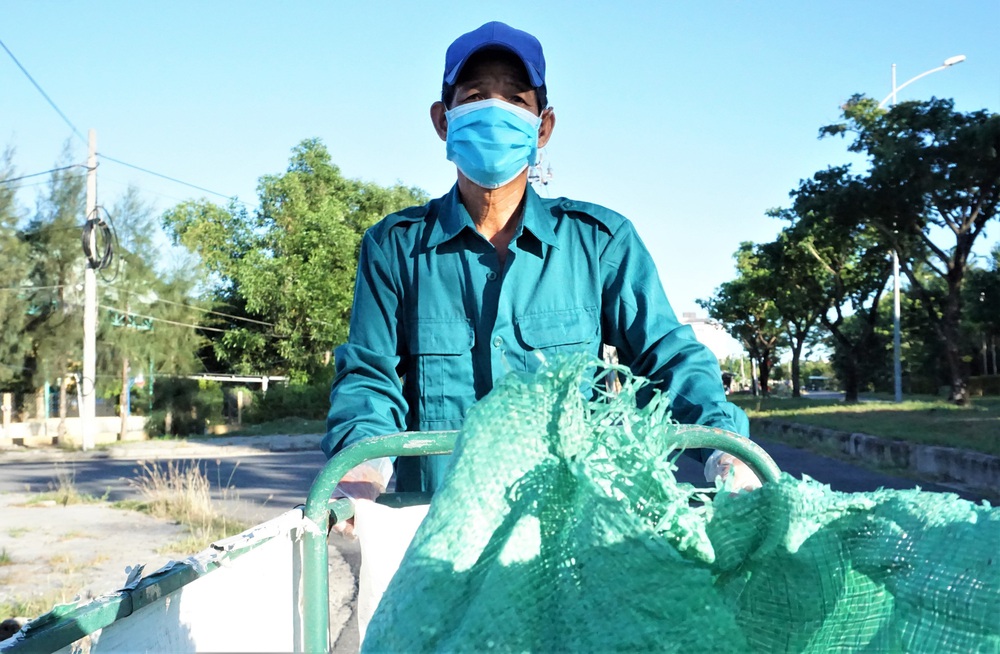 Slippers, worn-out workwear and a time-colored cap have accompanied Mr. Thuong on all routes for 6 years.
For the past 6 years, Mr. Thuong has volunteered to pick up trash all over the streets of Hoi An without receiving a salary
At the beginning of his work, he did not dare to confide in anyone and did not want many people to know about his silent dedication. However, a few days later, the story of him "running away" to pick up trash to clean Hoi An finally reached his relatives. Worried about his health, his wife and three daughters tried to dissuade him, but he firmly refused. After enough convincing but powerless, the family had to "give up" and obey his will.
Still remembering vividly the first days her husband "run away" to pick up trash, Mrs. Le Thi Bay (SN 1967, his wife Thuong) said with tears in her eyes, 6 years ago, every time she woke up, her husband was wet, but I thought he was going to exercise, not picking up trash.
"Later, I heard many people say that he went to pick up trash like a crazy person. At that time, she was very strange, but all advice to dissuade him not to go pick up trash anymore, but it didn't work." Mrs. Bay said excitedly.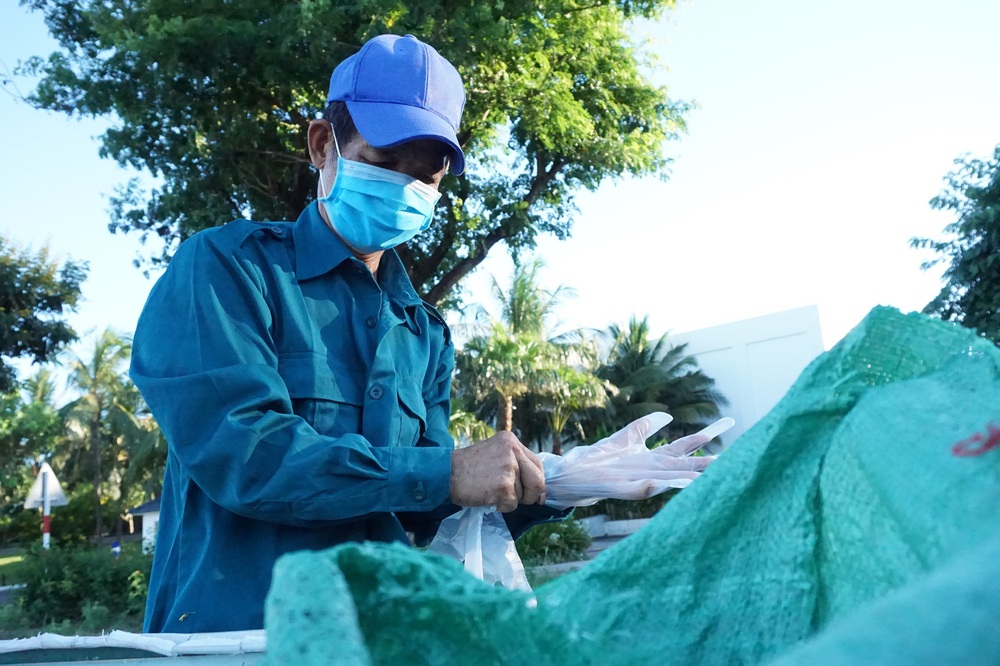 Mr. Thuong is doing this voluntary work, he wants to contribute to Hoi An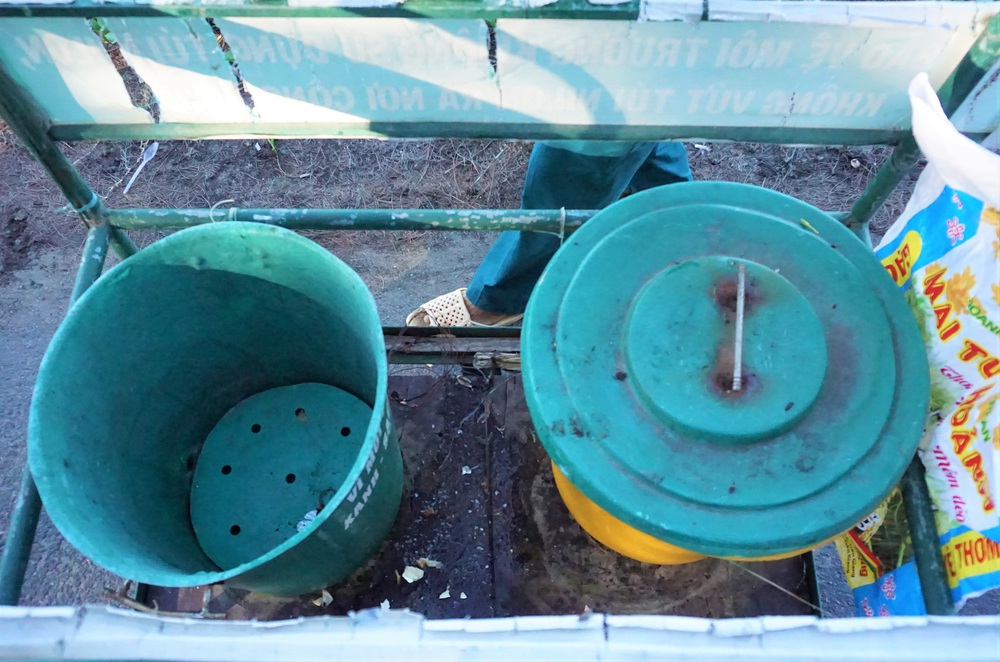 Mr. Thuong's homemade trolley is arranged with 2 waste sorting bins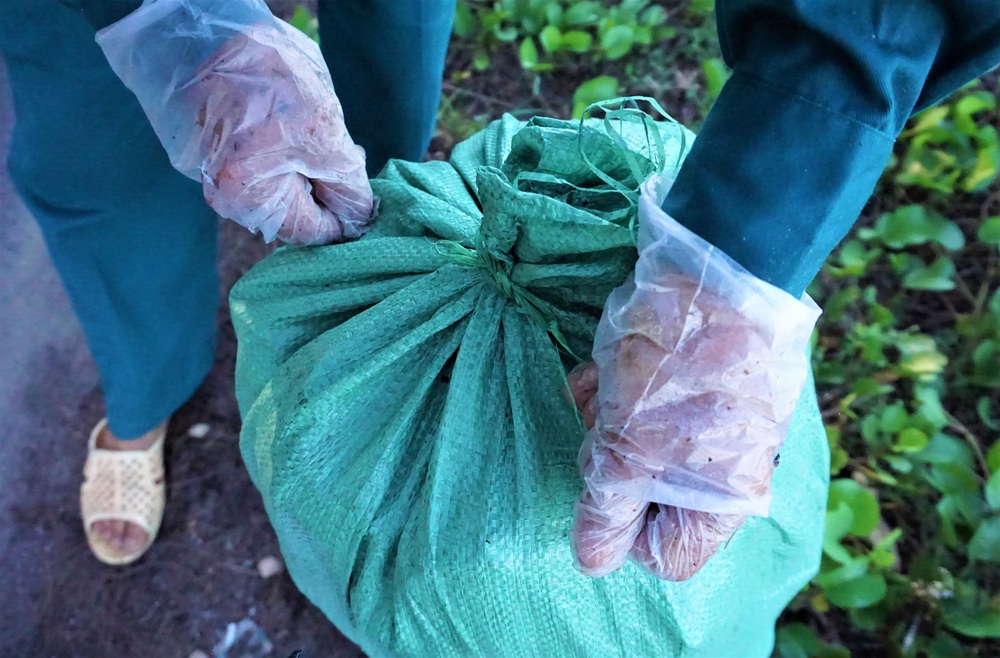 The collected garbage is put in bags and tied by Mr. Thuong before being handed over to the environmental company for treatment
Despite the objections of neighbors and objections from relatives, with the determination to return the word for life, Mr. Thuong patiently persuaded his family to agree to let him complete the promised work with his heart. Understanding his wish and seeing that picking up trash helped his father's health improve, his wife and children gradually accepted it. Prejudice and derision from people around also gradually disappeared.
"Now, the more Dad goes to pick up trash, the better his health is, so the family feels happy because of that. Dad is working to help the society, we feel very proud…", Nguyen Xuan Phuong (26 years old, the youngest daughter of Mr. Thuong) shared.
Like that, for the past 6 years, except for when he was sick, whether it was sunny or rainy day, Mr. Thuong roamed around the streets and alleys to pick up trash. Wherever there is garbage, there are his footprints. Sometimes he even went to the homes of the elderly or the school to help them clean, repair the house… without taking any remuneration.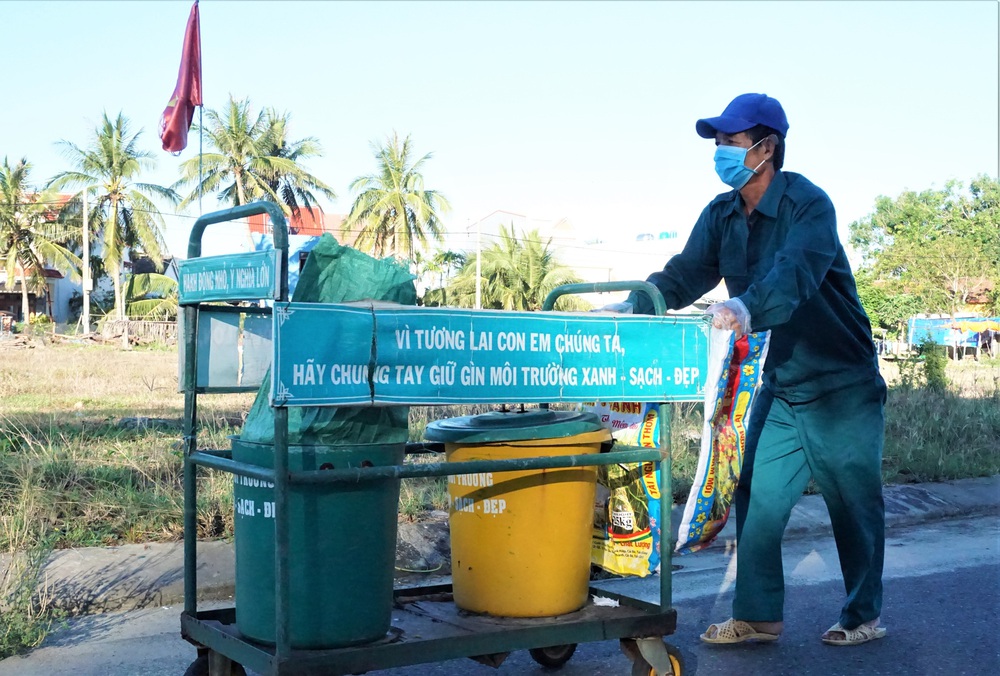 Not only picking up trash, Mr. Thuong also propagates people to protect the environment through his special car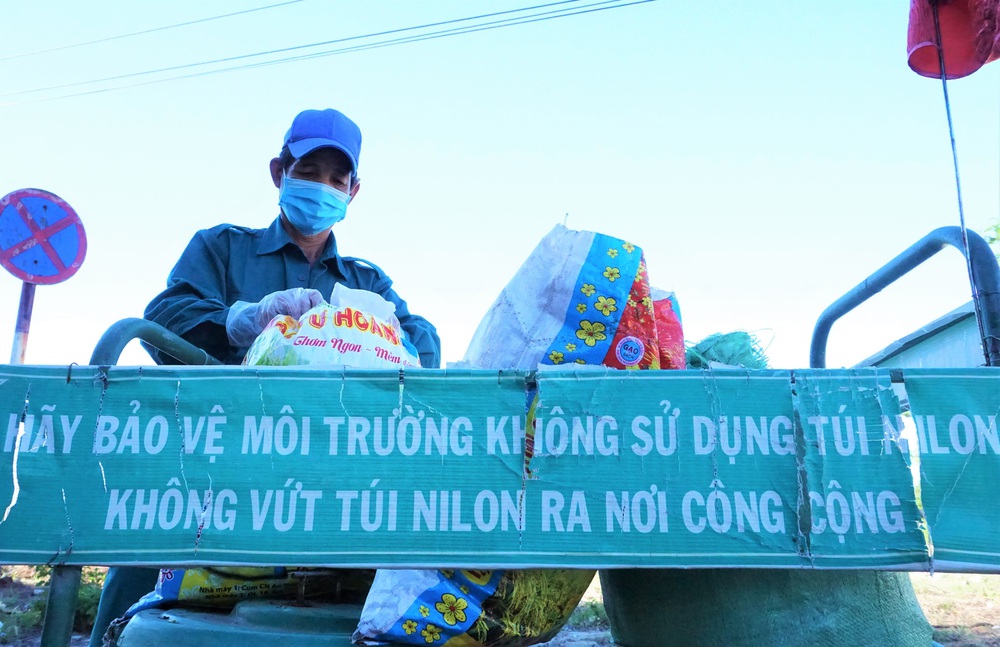 The messages on the car of the "garbage old man" help people and tourists in Hoi An be more conscious of protecting the environment.
In particular, with the money saved from picking up bottles, Mr. Thuong has "invested" in 2 cars. A stroller, a bicycle. Since then, two cars have become his companion on every unpaid garbage collection to clean the old town.
"When I'm healthy, I use a stroller, and when I'm tired, I ride a bicycle. Only the next day, when it's cloudy, I have a headache and I'm afraid of a recurrence that I will stay at home. Every day without going to pick up trash, I feel like I'm missing something, it's itchy on my limbs, and it's tasteless." Mr. Thuong said with a smile.
"If I have strength, I will devote myself to making my Hoi An more beautiful"
On the garbage trolley, Mr. Thuong also pasted many words that he wanted to convey: "For the future of our children, let's join hands to keep the environment clean – green – beautiful", "Small action, big meaning", "Let's protect the environment, don't use plastic bags, don't throw away nylon bags in public". All these messages were created by Mr. Thuong himself; Those are calls and reminders for everyone to join hands to protect the environment.
At first, many locals and tourists were curious and surprised to see an old man stooping, his legs shaking, pushing an old car every day to pick up trash. Some people even got angry when he reminded them about littering; They even called him "crazy" and advised him to enjoy his old age, not to "eat at home, carry prison and general goods".
For Mr. Thuong, picking up trash is his joy and happiness so that his hometown's streets become greener – clean – beautiful
However, despite the detractors and ridicule, Mr. Thuong did not give up his job because of that. For him, the words that others object to are because they do not understand the benefits of what they are doing.
"Many people say that I get paid, so I go to pick up trash. Some people even call me crazy, 'free time', so I go to work without pay… I don't mind. Fortunately, after a while, my wife and children understood and support. I do it for my conscience and for the benefit of society, not doing anything stupid to be afraid of." Mr. Thuong experienced.
Gradually, the image of an old man stooping to pick up trash and beautify the old town has become familiar. Thinking, the view of the old town people about Mr. Thuong was different. People understand the situation, so they appreciate him even more. Up to now, most people living on the roads where Mr. Thuong's garbage truck rolls through every day also raise their awareness of environmental protection, put garbage in the right place, and the streets are getting cleaner and cleaner. .
It is known that in the early days of Mr. Thuong's illness, the family's burden fell on his wife's shoulders. The income of three deposits and three dong from washing dishes for rent for Ms. Bay's restaurant is not enough for her husband's medicine, so the family has to spend frugally.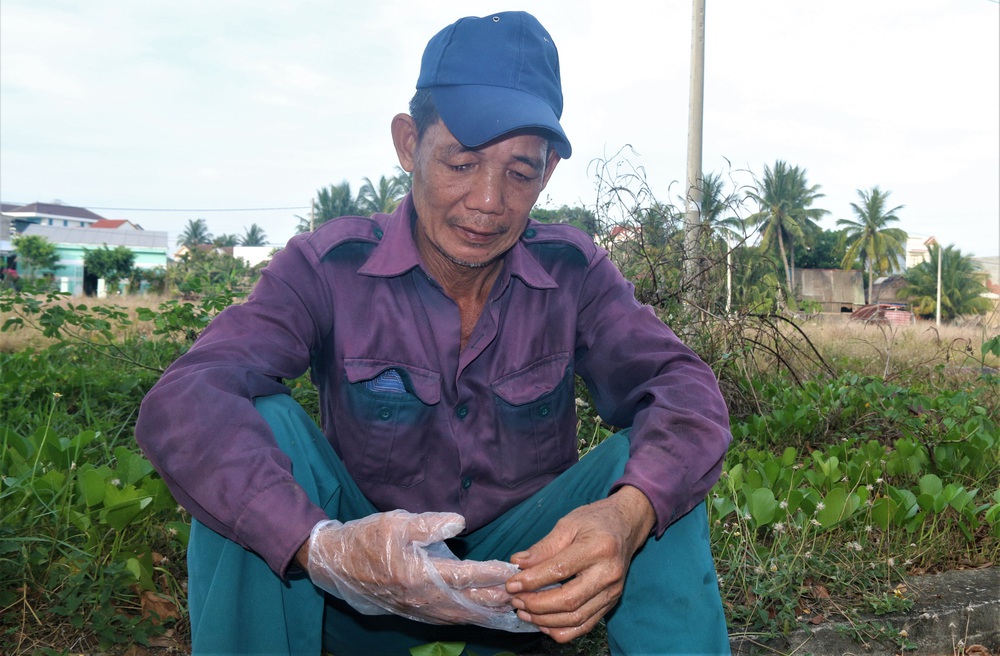 From seeing him as a crazy person picking up trash, people now understand what he does and the awareness of environmental protection has changed.
Currently, the aftershocks of the stroke are still there, one ear of Mr. Thuong is deaf, the other can only hear when wearing a hearing aid. But this machine is as old and wrinkled as his own health. To maintain health, the family has to spend more than one million dong on medicine every month. His wife is the one who takes care of everything.
However, when he received a request for assistance from the Ward People's Committee for picking up trash, Mr. Thuong firmly refused. Because, for him, this is a meaningful work that he promised to his heart, so he will do it for the rest of his life, not accept anyone's support.
"I'm old, I'm bored sitting at home forever, I see a lot of dirty and unhygienic garbage on the streets and beaches, so it's easy to clean up. Looking at the clean and beautiful streets, I'm happy, but I don't expect to receive benefits or benefits. I will give you all the rewards. As long as I have strength, I will devote myself to make my Hoi An more beautiful. I will do this job for free until my legs can't walk and my hands can't pick up trash anymore." Thuong smiled happily.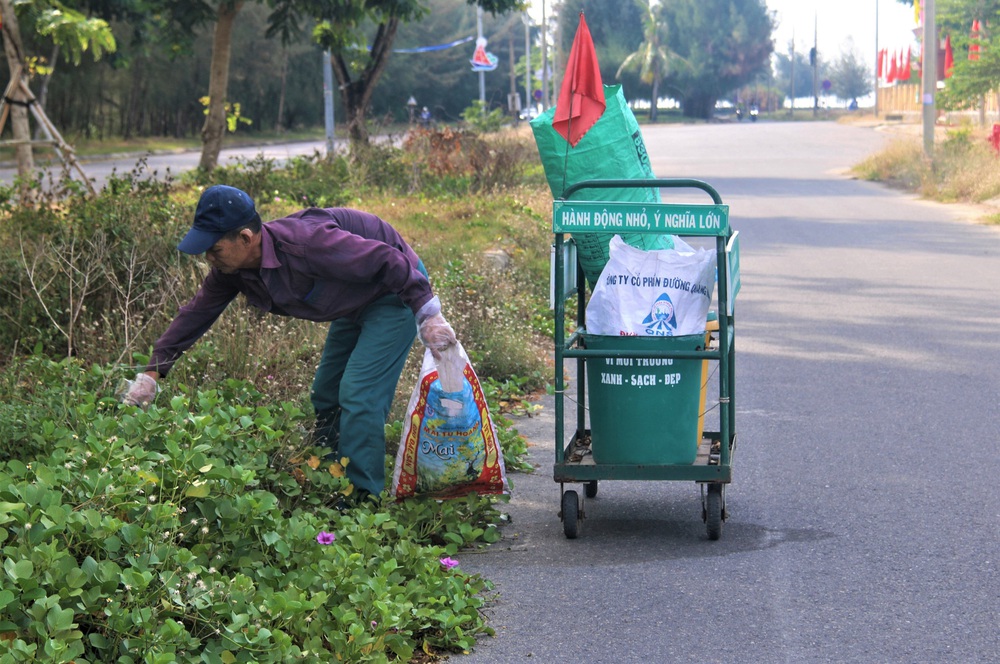 Pictures warm the hearts of people and tourists in Hoi An
Mr. Le Cong Sy – Chairman of the People's Committee of Cua Dai Ward said that Mr. Thuong used to be a soldier stationed on Cu Lao Cham island. Despite his illness, Mr. Thuong is always enthusiastic about environmental protection. Considering his family's difficult situation, the locality offered to provide financial support, but he refused.
"He said what he did was completely voluntary and wanted to contribute to Hoi An. Thuong's work deserves to be an example for everyone to follow…", Mr. Sy shared.
https://kenh14.vn/ong-lao-ngheo-6-nam-nhat-rac-khong-luong-khap-duong-pho-hoi-an-20220324221723603.chn
You are reading the article
Poor old man for 6 years picking up trash without pay on the streets of Hoi An

at
Blogtuan.info
– Source:
Kenh14.Vn
– Read the original article
here