Thế Giới
QUICK READ April 16: British Prime Minister, Foreign Secretary banned from entering Russia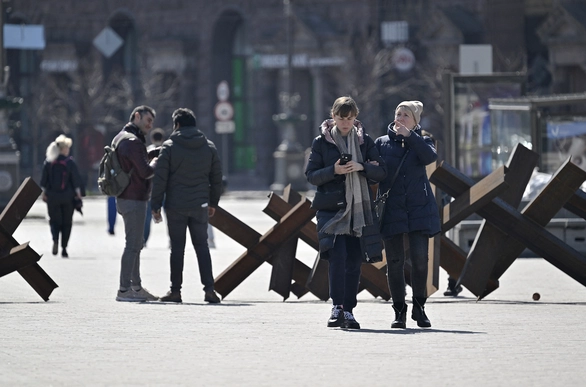 Pedestrians pass anti-tank fortifications in the center of Kiev on April 15 – Photo: AFP
* According to Reuters news agency, on April 16, the Russian Foreign Ministry announced to ban many British officials and politicians from entering the country, including Prime Minister Boris Johnson, Foreign Secretary Liz Truss, Defense Minister Ben Wallace and about 10 others. The ministry said in a statement that the decision was made in response to the UK's imposition of sanctions against Russian officials.
Russia's TASS news agency quoted the Russian Foreign Ministry's statement as saying that Britain is deliberately escalating the situation around Ukraine by supplying lethal weapons and coordinating with similar efforts of the Northern Treaty Organization. Atlantic Ocean (NATO). The ministry also stressed that many countries' imposition of large-scale sanctions against Russia is "meaningless and counterproductive".
* According to Reuters news agency, Ukraine affirmed that it will work with Turkey to the maximum for more support and understanding, although it is not entirely comfortable with Turkey also having close links with Russia. "We would be happy if Turkey joined in sanctions against Russia and stopped flights with Russia, but we understand the reality," said the unnamed Ukrainian diplomat.
* Vitali Klitschko, the mayor of the Ukrainian city of Kiev, appealed to residents who had been evacuated when Russian forces surrounded the city to return to their homes.
According to him, although Russian forces have withdrawn from the Kiev area to focus their troops on the East and air strikes are rare recently, he is afraid that Russia's flagship Moskva is hit by a missile and sinks in the Black Sea. was the impetus for Russia to strike back into Kiev.
* According to Reuters news agency, early in the morning of April 16, There were several explosions in Kiev and the city of Lviv .. The mayor of Kiev said rescuers and medics were working at the scene of an explosion on the outskirts of the city. There are no reports of casualties or damage at this time.
* According to Reuters news agency, Deputy Prime Minister of Ukraine Iryna Vereshchuk said there is 9 humanitarian corridors was agreed on April 16 to evacuate civilians, in which, there is a way for people to leave Mariupol city by private car.
Vereshchuk said five of the nine humanitarian corridors are from the Lugansk region in eastern Ukraine in the east of the country, which is under heavy shelling.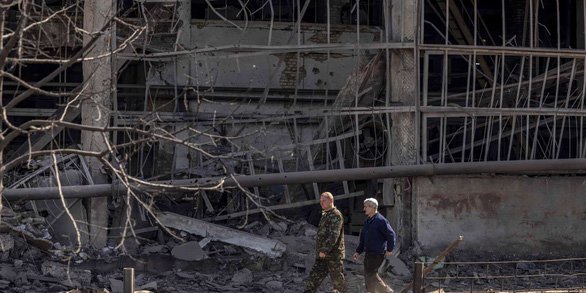 The factory of the Ukrainian company Vizar specializing in the production of weapons near the capital Kiev was hit by a Russian air strike on April 15 – Photo: AFP
* The Interfax news agency quoted the Russian Defense Ministry as saying Russia destroyed armored vehicle factories in the capital Kiev and a military repair facility in the Ukrainian city of Mykolaiv. Attacks are carried out with high-precision ranged weapons.
Russia also shot down a Ukrainian SU-25 plane near the city of Izyum in Kharkov Oblast of eastern Ukraine.
* On April 15, Reuters news agency quoted a source as saying Prime Minister of Ukraine Denys Shmyhal and senior financial officials will visit Washington next week to attend the meetings of the International Monetary Fund (IMF) and the World Bank (WB). This is the first opportunity for senior Ukrainian officials to meet face-to-face with a series of financial officials from advanced economies since Russia launched a military campaign in Ukraine.
* On April 15, Ukrainian President Volodymyr Zelensky said that up to now about 2,500-3,000 Ukrainian soldiers were killed and 10,000 soldiers were injured in the conflict with Russia, CNN reported.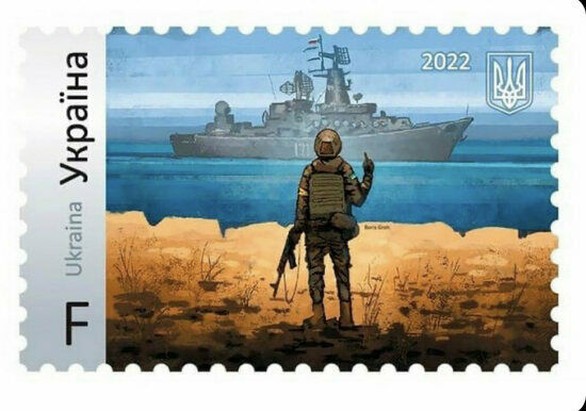 Millions of stamps depicting Ukrainian soldiers in front of Russia's flagship Moskva, which just sank in the Black Sea, were issued on April 15, and many Ukrainians lined up for hours to buy "this symbol of victory." , according to AFP news agency – Photo: TWITTER
* A representative of the US Department of Defense confirmed to several media outlets that the flagship Moscow of the Russian Black Sea Fleet was hit by two Neptune missiles of Ukrainian forces. Meanwhile, until now, the Russian Ministry of Defense has officially informed that this guided missile warship "burned in the ammunition bunker" and then "sunk in the sea while being towed ashore due to a fire in the ammunition bunker". rough seas".
* According to Reuters news agency, The Russian Defense Ministry said that the Russian military attacked the Zhuliany Vizar factory, which manufactures and repairs air defense missile systems. medium and long-range as well as anti-ship missiles, on the outskirts of Kiev, Ukraine with Kalibr cruise missiles.
These are the most powerful explosions around Kiev in the past two weeks. A representative of the Vizar factory said there were no casualties in the above attack, while Ukrainian authorities have not confirmed this information.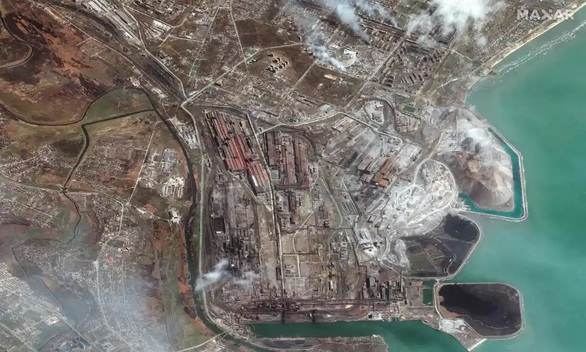 Smoke and flames rise from the Azovstal iron and steel factory, where Ukrainian forces in Mariupol are stationed – Photo: AFP
* April 15, Mariupol experienced the worst fighting since Russia launched a special military operation in Ukraine. According to Reuters, the city was reduced to rubble after seven weeks of siege and bombardment. Tens of thousands of people are still trapped in the city.
"The situation in Mariupol is very difficult. Fighting is ongoing. The Russian military is sending more forces to attack the city," said Ukrainian Defense Ministry spokesman Oleksandr Motuzyanyk. However, he said Russia is not yet fully in control of Mariupol.
* On April 15, in an interview with CNN, Ukrainian President Volodymyr Zelensky said "all countries in the world" should prepare for the possibility that Russian President Vladimir Putin could use nuclear weapons. tactics in the conflict in Ukraine.
* Newspaper Washington Post On April 15, citing sources, Zelensky recently directly called on US President Joe Biden to designate Russia as a "sponsor of terrorism". Mr. Biden did not commit to any specific action following the call. The US list of "state sponsors of terrorism" currently includes four countries: North Korea, Cuba, Iran and Syria.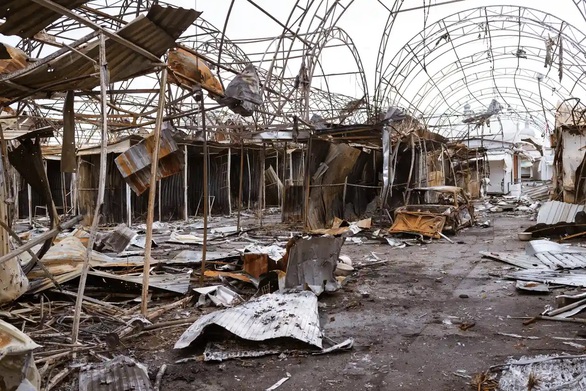 A market on fire in the city of Chernihiv, Ukraine – Photo: GETTY IMAGES
* On April 15, the governor of the Mykolaiv region Vitaliy Kim said that five people were killed in the shelling of the city of Mykolaiv, and cluster bombs were used in this attack. Reuters news agency could not verify the information. Russia has always denied that it attacked Ukrainian civilians.
* According to the newspaper Guardian April 15, Moscow says its main goal is to control DonbassUkraine's eastern region includes two provinces that are partially controlled by pro-Russian separatists.
* Ukraine's Deputy Prime Minister Iryna Vereshchuk said 2,864 people had been evacuated from conflict areas on April 15, of which 363 had left Mariupol by personal means.
* According to the newspaper Washington Post April 15, Russia has warned the US of "unforeseen consequences" if Washington continues to arm Ukraine.
A spokesman for the Russian Foreign Ministry confirmed that Moscow had sent notes to the United States and other countries about the supply of weapons to Ukraine, but did not specify the content, according to Russia's Interfax news agency.
"We call on the United States and its allies to stop irresponsibly militarizing Ukraine, which will have unpredictable consequences for regional and international security," the spokesman said.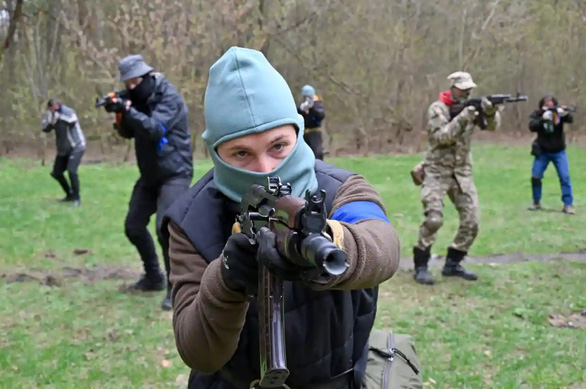 People take part in combat training at a Ukrainian army recruitment center in the city of Kharkov – Photo: AFP
* According to the newspaper Guardian, Ambassadors of many countries are returning to the Ukrainian capital Kiev. The Italian ambassador will return to Kiev and plans to return to work from April 18.
France also made a similar announcement on April 15, with a plan to move its embassy back to Kiev. Before that, France temporarily moved its embassy to the city of Lviv when Russia launched a military operation in Ukraine.
You are reading the article
QUICK READ April 16: British Prime Minister, Foreign Secretary banned from entering Russia

at
Blogtuan.info
– Source:
tuoitre.vn
– Read the original article
here