In China, many age-old traditional wedding customs are still passed down from generation to generation. In it, there are many good customs that need to be promoted, but there are also customs that need to be eliminated, one of which must be mentioned is the custom of the bride's family beating the groom. Many accidents have happened just because of this act, even some grooms were seriously injured, leading to death because of being beaten by the bride's family.
Therefore, recently, the act of protecting the groom by a Chinese bride has attracted great attention from netizens, receiving many compliments.
Local media reported that this wedding took place on April 10, 2022 in Yantai city, Shandong province, China. On April 11, a man who was a flower driver posted a clip of this incident on the social network Weibo, attracting great attention.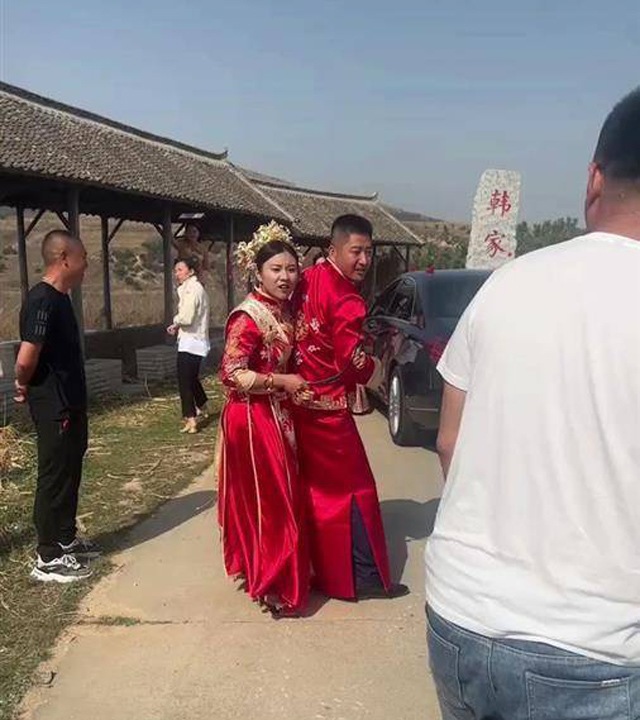 In the clip, the groom has just arrived at the bride's house to pick up the bride. However, when the bride and groom were about to get on the flower car to go to the wedding ceremony, there were 3 men on the bride's side who used tree branches to repeatedly hit the groom. This is a local custom, so the groom can only bite his teeth to be beaten, endure pain without daring to say a word, nor can he fight back.
Usually, other brides can only wait outside for their husbands to "bear the battle". However, that day, the bride was extremely "hot" when she saw this scene, and immediately rushed in to protect the groom.
The bride holds another branch, repeatedly hits the men who beat her husband, then hugs the groom so that no one dares to hit him again. Although she was wearing high heels and a dress, the bride did not hesitate to raise her foot to kick the other men for being rude, abusive and impolite to her husband on the day of the wedding.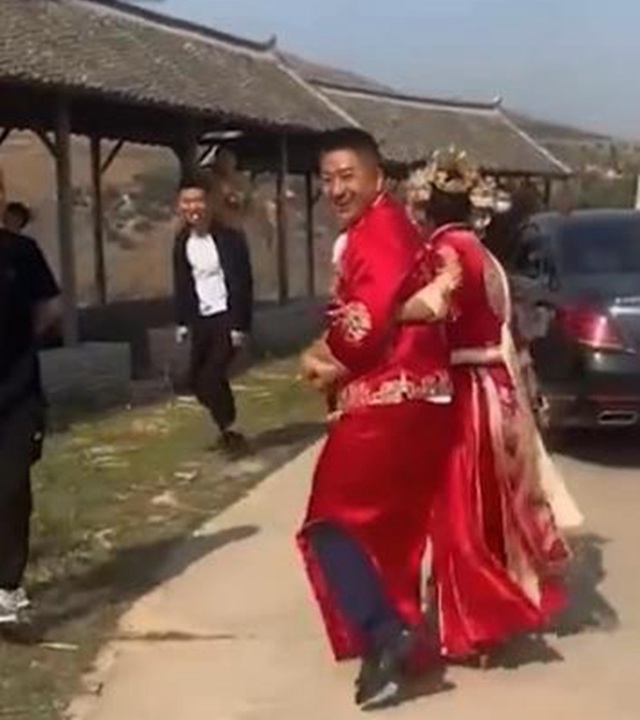 Before the bride's aggression, the other 3 men also gave in and spared the groom. Seeing his strong wife standing up to help him, the groom could only smile happily on his lips, looking at the bride passionately.
Mr. Li, who posted this clip on social media, shared: "I've been driving a flower car for more than a year, this is the first time I've seen such a brave bride. I'm really jealous of him. Groom. It feels great to be protected and protected. This groom is really blessed."
These images quickly attracted great attention from the online community with many comments praising the bride's actions:
"This is the strongest and bravest bride I have ever known."
"The groom is so happy and lucky to have such a wife."
"Not everyone dares to do that. I really admire the bride. I hope their marriage will be perfect."
"I don't know if the groom will dare to disobey his wife in the future?"…
You are reading the article
The bride holds a stick to beat the guests, knowing why netizens agree and admire

at
Blogtuan.info
– Source:
Eva.vn
– Read the original article
here