Cư dân mạng
World
A 25-year-old boy married a 52-year-old wife, love blossomed in Ha Giang
Hmong ethnic man married more than 27 years old
On the highland land of Meo Vac – Ha Giang, the special love story of Mr. Tho Mi Sinh (SN 1997) and Ms. Vu Thi Vu (SN 1970) made many people curious. 6 years ago, Mi Sinh went to China to work as a hired worker, fate made him meet and love Ms. Vu, 27 years older than him. Vu's husband had died at that time, leaving her with 4 children, 2 boys and 2 girls. The eldest son is older than Mi Sinh.
At first, the Hmong ethnic man had no impression of the elderly woman. He often calls Ms. Vu by "she". Both of them work in the same place, sometimes seeing that Ms. Vu does a difficult and heavy job, Mi Sinh rolls up a helping hand. The more he talked, the more the young man found it suitable and loved the simplicity and simplicity of Ms. Over time, love blooms on its own without knowing when.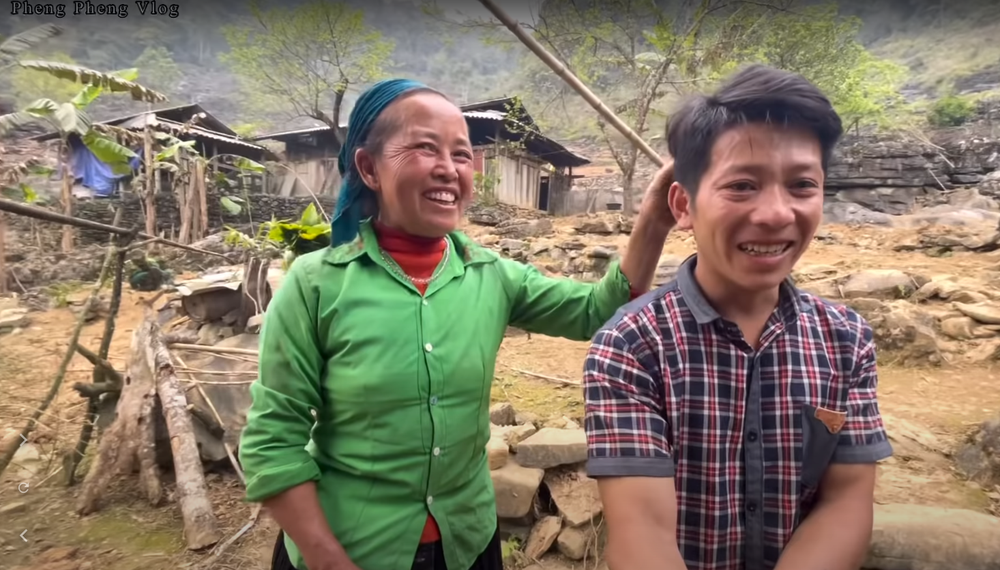 Mr. Tho Mi Sinh and his wife are more than 27 years old.
Mi Sinh's family was very poor, his father died when he was 9 years old. About a year later, Mi Sinh's 45-year-old mother also left, leaving him and his younger brother. At that time, all houses and land had to be sold to take care of his father's funeral. Mi Sinh and I were considered orphans from that day on.
Seeing her boyfriend struggling since childhood, Ms. Vu is very loving and sympathetic to the situation. The two brought each other from China to their hometown to live together, just doing a simple meeting.
"The bride's family doesn't take money, doesn't get married because the wife has been married for a lifetime", Mr. Mi Sinh confided. The next day for the engagement ceremony, Mi Sinh went with her younger brother, with only 2 chickens for the wedding ceremony.
Marrying an older wife, Mi Sinh was opposed by many villages and villagers. They say that he has such a bright and tall face, why not marry a young and pretty girl but love someone older than his mother's age. The Mong ethnic man with sad eyes replied: "Young people I still like. But no one will marry me. I'm so poor, I don't have a house, the land is sold out."
When she first returned to live together, Mi Sinh worked for many years and had little capital in hand, bought 3 cows. When he picked up Ms. Vu, he sold his two children, used the money to build the land and build a house with thatched roof. Since that day, the 52-year-old wife has stayed at home to take care of the house and take care of the food and water with one hand.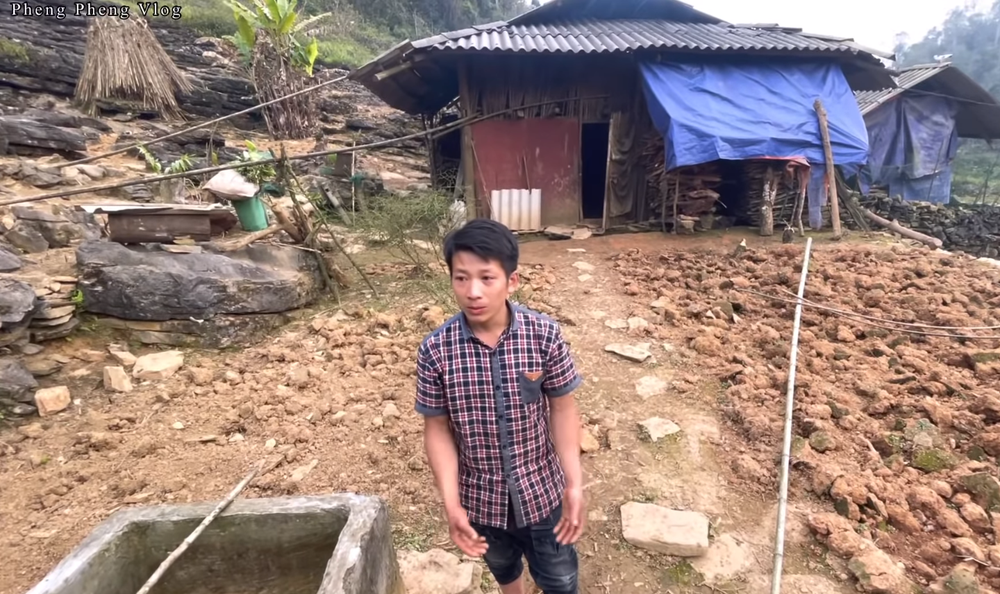 The couple's small wooden house
After being together for a while, Mi Sinh went to work in China for another year and then went back to Hanoi to work as a porter. A couple each have a place.
Ms. Vu lives alone, sometimes picking up her first mother-in-law over to play. She does not know Mandarin, life revolves around the kitchen, the well. Although she is 52 years old, she still retains her youth, health, diligence, and simplicity.
The woman has just taken care of the buffaloes and chickens, and goes to the fields to collect firewood every day. Her hands quickly carried a bunch of bamboo that was twice as heavy as her body, carrying two buckets of water from the beginning of the village to the end of the village.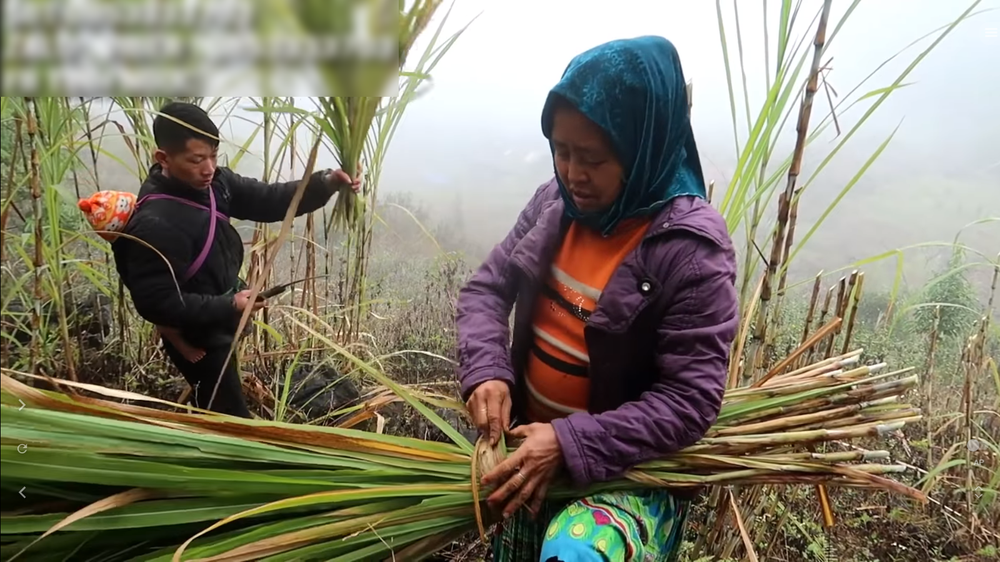 Ms. Vu is diligent, simple, and single-handedly takes care of the house
7 years longing for a child
Currently, Mi Sinh is still at home helping his wife to work in the fields. The Mong ethnic man waiting for the epidemic to pass will go to Hanoi to work as a hired worker. Recently, the couple have just registered their marriage and are waiting for the commune to complete the procedure.
Mi Sinh said that, in the past 7 years, he and his wife "never quarreled, there were days when they were angry at each other for only a few hours and then again". Before, he called her by "she", later the two changed their name. Sometimes when her husband goes to work far away, Ms. Vu misses her and constantly calls to ask. Mi Sinh loves his wife, but because life is difficult, she tells herself that the couple should try.
After many years of living together in harmony, the couple hopes to have a common child so that they can depend on old age. Knowing that Mi Sinh longs to have a baby, Ms. Vu can only wipe her tears helplessly. "My wife said I'm old, I can't have children anymore"the ethnic boy said in sadness.
Ngoc Tinh (25 years old), Youtube channel owner, also a Mong ethnic, lives near the house of two couples. Knowing the difficult situation, Mr. Tinh visited on behalf of many sponsors and gave small gifts such as rice, cakes and necessities.
"Before, I heard my father told the story of both husband and wife. It was more than a year ago that I could only come down to meet and talk directly. Both are very emotional. Contact with Ms. Vu, she is very talkative and talkative. graceful, skillful, I just don't know Mandarin.
The villagers know that Mi Sinh's plight is also miserable, and she suffers and suffers, so now she loves the couple very much."Mr. Tinh added.
Source: Ngoc Tinh Channel
https://soha.vn/trai-25-tuoi-lay-vo-52-tuoi-tinh-yeu-dom-hoa-tren-dat-ha-giang-7-nam-khao-khat-dua-con- 20220414162558167.htm
You are reading the article
A 25-year-old boy married a 52-year-old wife, love blossomed in Ha Giang

at
Blogtuan.info
– Source:
Soha.vn
– Read the original article
here