Giới trẻ
After Luong Ngoc An filed a lawsuit against the police for "slander", Da Thao Phuong was ready to fly home to cooperate in solving the case.
"I still have Vietnamese nationality. I am always ready to coordinate with the authorities to solve this case publicly."
This is poet Da Thao Phuong's answer when an Infonet reporter asked her if she was ready to return to the country if required by the authorities to serve the investigation later. Luong Ngoc An's denunciation accuses her of "slanderous" behavior.
Poet Luong Ngoc An has just been transferred by the Writers Association to no longer hold the position of Deputy Editor of Van Nghe Newspaper. How did you feel when you heard this news?
Da Thao Phuong: These are difficult, hurtful, unstable days for me and my loved ones.
As a victim, with the responsibility of a citizen and a writer, I have tried my best, enduring the tsunami of hurt and trouble to bring the truth to the public light.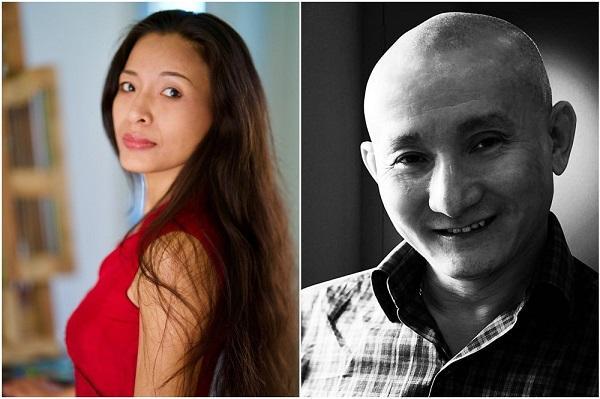 Poets Da Thao Phuong and Luong Ngoc An
I really appreciate and appreciate every effort of each individual and organization in speaking up for the truth, for civility and social justice, and supporting victims of sexual abuse like me. Whether each action is public or silent, strong or small, straightforward or tactful.
However, I must explicitly state: My goal and ours are definitely not to attack a position or an individual life, much more certainly not to cause trouble or awkwardness for any group or organization.
The most important thing is that the correct name should be returned.
Offenders must openly admit their responsibility. That is the first and minimum manifestation of a transformation in awareness, understanding that what we have done is wrong and unacceptable, from which we will control ourselves, not continue to hunt for the wrong. other victims when given the opportunity.
Nothing can take back the loss, hurt, injustice that I and my loved ones have had to endure silently for more than 20 years. I am not asking for absolute fairness. But I don't agree with half-truths, and I believe all people who respect the truth will perceive it as I do.
In order to prevent sexual abuse, we must first call it by its correct name, not like many long-standing cases, which have been changed to "riots", "disturbing order, affecting the reputation of the agency." ", "unhealthy personal activities"… or "cuddles".
All sins are forgiven. I also really want to let go of the painful past, ending my journey to find justice here. But as long as the offender does not accept his or her own sin, forgiveness will mean tolerating evil, letting it hide, continuing to cause harm to society.
With the decision of the Writers Union, are you satisfied with this treatment?
Da Thao Phuong: The current transfer of staff of the Vietnam Writers Association or any other agency or organization, if it has nothing to do with me, I understand it is their job and right, I do not comment.
I fully understand that I have no right to ask anyone to do anything outside their functions and powers. When I sent this letter of denunciation, I also only reflected the truth about the corrupt personality of one of their current senior personnel. How they react to information about such corruption depends on how they perceive the matter.
Once again bringing the truth to light, I was expecting it to be treated differently, not repeating the past.
If the handling of the leadership of the Van Nghe Newspaper 22 years ago had respect for the human condition, thoroughness, fairness, and transparency, there would not have been any injustice leading to today's story.
It is known that on April 14, after more than a week of silence, Mr. Luong Ngoc An also officially spoke up, on his personal Facebook and the press said that he had sent an application to the police to denounce her for her behavior " slander", how did you receive this news? Have you received any information from the authorities about this application yet?
Da Thao Phuong: I heard rumors that Luong Ngoc An did something to bring this matter to law. I do not verify rumors but wait for official contact from the authorities.
My lawyers and I look forward to the opportunity to publicly present the truth and evidence in court.
If this happens, I hope my case will be spread more widely by the press and public, to encourage other victims who are still in the dark to dare to raise their voices to denounce the perpetrators, and contribute to prevent sexual abuse.
In particular, I want the law to handle and public opinion to strongly condemn the evil of infringing upon the honor and emotions of the victims who dare to denounce the perpetrators.
I have not received any information from the authorities on this matter. The letter of denunciation against Luong Ngoc An that I sent to the Van Nghe Newspaper and the Vietnam Writers' Association included my passport and necessary personal information. I believe the authorities will easily contact me when they find it necessary.
In case the police agency asks you to return home to serve the investigation, will you be ready?
Da Thao Phuong: I am always ready to coordinate with the authorities to solve this case openly and fairly to the extent permitted by law. I consider it my right.
A somewhat personal question, do you still have Vietnamese nationality? Are you confident with the evidence you already have?
Da Thao Phuong: I still Vietnamese.
Not very related to this question, but I would like to add that, even though I am an "international citizen", living in one country and living in another country, I am always aware and feel that I am a Vietnamese. .
I love this country. It is a special love, different from all the love I have for the countries I have lived in. Vietnam is where I was born and spent all my youth. This is where my roots are, where my dear family and many friends are, as well as my esteemed readers. I may not be living in Vietnam, but Vietnam always lives in me.
With the existing record, me and my lawyers are very confident. Of course, no one can confirm the specific outcome before there is a debate and the final judgment of the court. If we get rid of the "expiry statute of limitations", I and my lawyers will have the conditions to bring this case to light.
A few days ago, writer Bui Mai Hanh courageously recounted how she had been unsuccessfully raped by Luong Ngoc An in her own home many years ago. Her voice has received a lot of response from the public, I myself admire and thank her very much.
I hope victims of sexual abuse have the courage to speak up, turn to professionals for help, count on progressive public support and protection. under the law.
The last thing after this story, what do you want?
Da Thao Phuong: I know that the statute of limitations on my case has expired. But I still decided to bring my heartbreaking Truth to light, as a step in the process of rooting for my deeply hurt self, and as a civic duty.
I hope that the warm support of the public and the media's impartiality before my case will be a source of encouragement for other victims of sexual abuse. Victims will have the confidence and knowledge to speak up for themselves better than the naive young girl I was 23 years ago. Each individual in the community will be better equipped with knowledge so that they and their loved ones do not become victims, nor become criminals.
I especially want the public to have a civilized and resolute attitude towards the crime of assaulting victims. The victim here is a person who has been sexually assaulted. Victims are also their families and the perpetrator's family – who suffer a lot of trauma and instability even though they are completely innocent. Please surround them with the same kindness, fairness and courtesy you have generously shown me. Please do not get caught up in the trap of hatred and ignorance. Please let our respect for truth and love for people guide our actions and words.
N. Huyen(perform)
You are reading the article
After Luong Ngoc An filed a lawsuit against the police for "slander", Da Thao Phuong was ready to fly home to cooperate in solving the case.

at
Blogtuan.info
– Source:
infonet.vietnamnet.vn
– Read the original article
here