Giải trí
Follow the Vietnamese girl to discover Amsterdam, Netherlands-Travel
Amsterdam is famous for its beautiful and charming flower seasons. Among thousands of colors, this city also attracts tourists by countless interesting destinations.
At the beginning of April, the passionate girl travel Ha Vi Vu, currently studying for a Master's degree in France, had a trip to discover Amsterdam. Visiting Amsterdam for the first time, Ha Vi Vu had many new and interesting experiences. Here are her suggestions for the journey to discover the city of tulips.
Vist location
Keukenhof Flower Park: After nearly 3 years of suspending operations due to the impact of the Covid-19 epidemic, recently Keukenhof flower garden has officially reopened. Keukenhof flower garden is located in Lisse province, about 25km from Amsterdam. The flower garden has a long history dating back to 1857, the original purpose of which was the decorative garden for Keukenhof castle.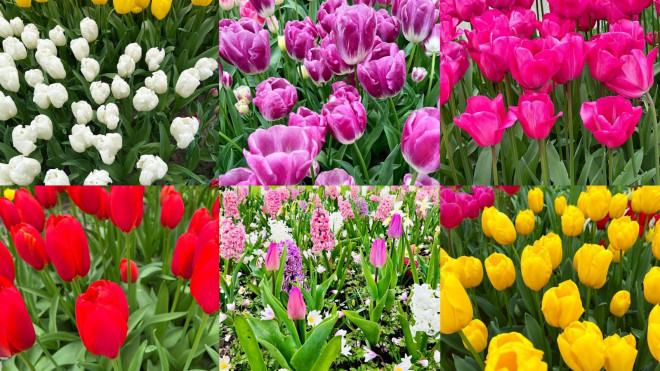 Dubbed "the garden of paradise on earth", Keukenhof is also the largest flower garden in the world with 32 hectares, about 7 million tulips of 100 different varieties. There is usually a tulip festival here from March 22 to May 20, the theme of 2022 is "Flower Classics".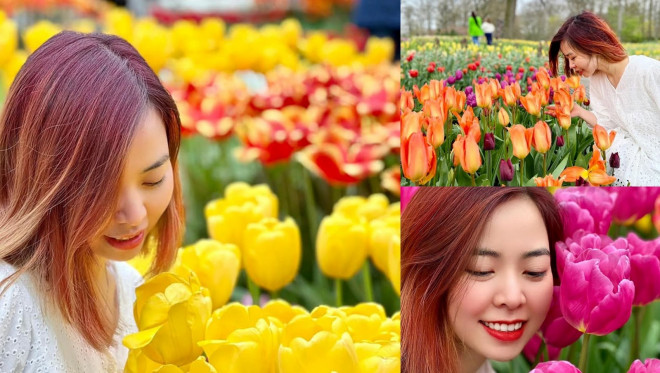 Zaanse Schans Windmill Village: Zaanse Schans is a typical Dutch village, about 15 km northwest of Amsterdam. The village has a peaceful and poetic space with windmills dating from the 16th and 17th centuries.
Initially, windmills were erected along dykes to provide power for factories. In Zaanse Schans, every 16 seconds each windmill will complete 1 revolution, in high winds, it only takes 10 seconds. Today, along with the development of modern industry, the number of windmills at Zaanse Schans has been greatly reduced.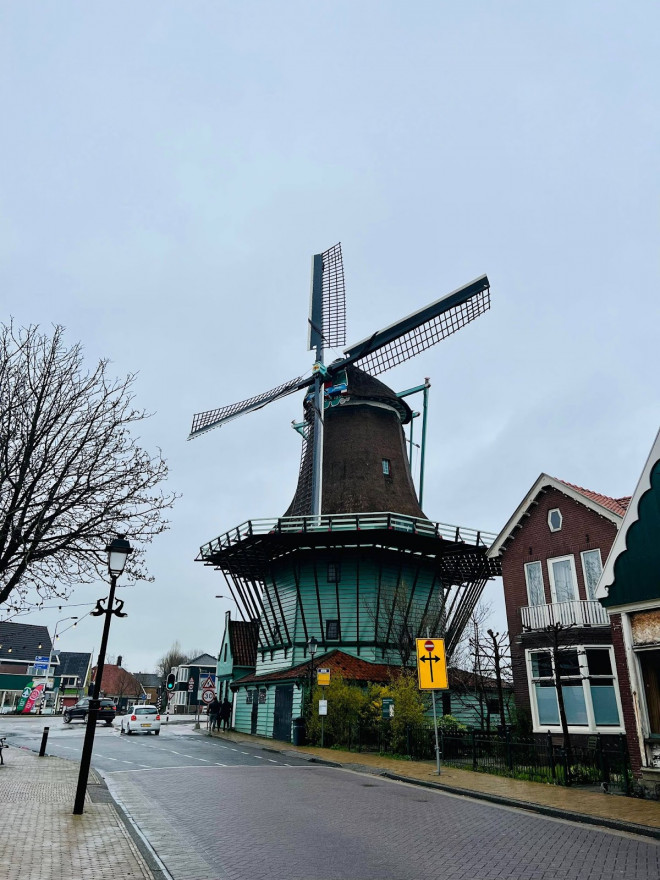 The village of Zaanse Schans is one of the tourist attractions. Here, visitors can also visit and learn about the process of making cheese, bread, and the traditional Dutch wooden clog factory.
In addition to seeing the windmill with her own eyes, she also revealed: "In the village of Zaanse Schans, there will be no scenery of windmills next to the tulip fields. The online collages made me "turn around" the whole village and couldn't find any tulips. I'm really angry that you guys keep taking collages to advertise the tour."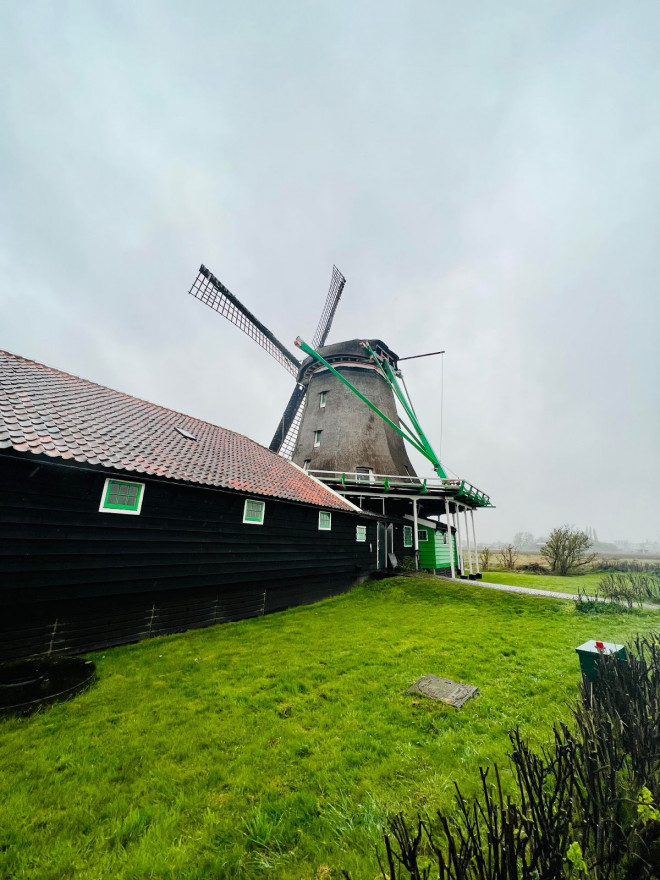 Giethoorn is a small village, built in the 13th century, in the province of Overijssel, the Netherlands. In 1958, the village appeared in the comedy Fanfare and quickly gained popularity from there.
Giethoorn has an interlaced canal system, hundreds of wooden bridges and is known as the "Venice of the Netherlands". Going to Giethoorn, visitors can experience kayaking, canoeing, and electric motorboats to explore the village.
Amsterdam Canal: Besides tulips and windmills, Amsterdam is famous around the world for its image of a flooded city. Since the 17th century, Amsterdam's canal system has become one of the most unique urban landscapes in the world. The canals are also a beautiful backdrop for great cultural and sporting events throughout the year. In 2010, the Amsterdam Canal Belt was added to the UNESCO World Heritage List.
In Amsterdam, there are many famous canals such as: Herengracht, Prinsengracht, Keizersgracht… To explore the canals, visitors can rent bicycles, walk along the canals and see the daily life of the Dutch people.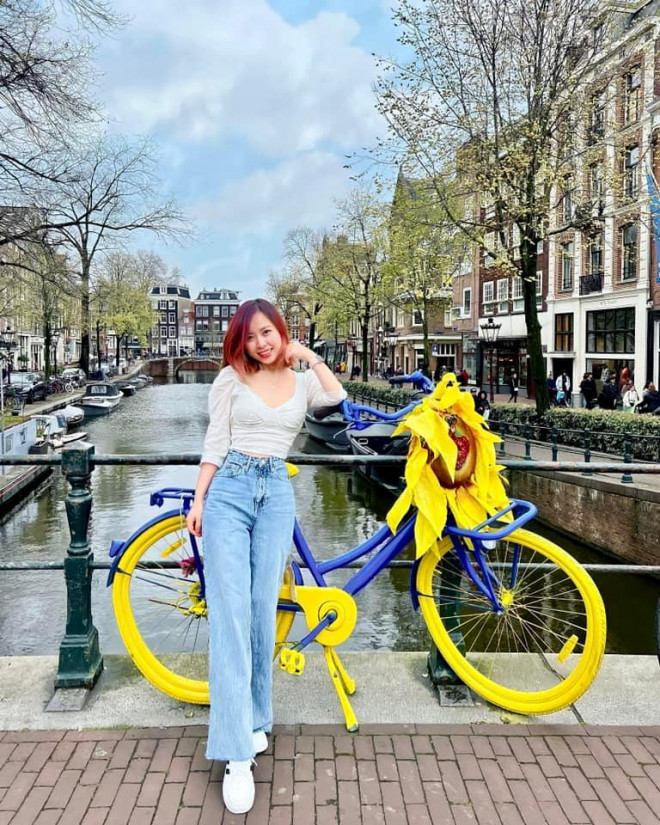 In addition, coming to Amsterdam, do not miss many attractions in the city center area such as: Dam Square, Red light district, Vangogh museum, Rijksmuseum, etc.
Vehicles
Tickets to travel in Amsterdam have many types, you can choose tickets of GVB including bus, tram, metro (only travel in the center). Or Region tickets to travel by train to the surrounding areas including the ancient village of Zaanse Schans, bus tickets to Keukenhof, train tickets, bus tickets to Giethoorn ancient village.
If you only visit and explore in the central area, buy tickets for 24h, 48h, 72h of GVB. "Ha bought a 24 hour ticket for 8.5 euros. If you have a schedule to go to places like Zaanse schans, Keukenhof, then buy an Amsterdam Region ticket that will go to both the center and these destinations. Region tickets purchased at the ticket office in Amsterdam cost as follows: 1 day is 19.5 euros, 2 days is 28 euros, 3 days is 36.5 euros, "Ha added.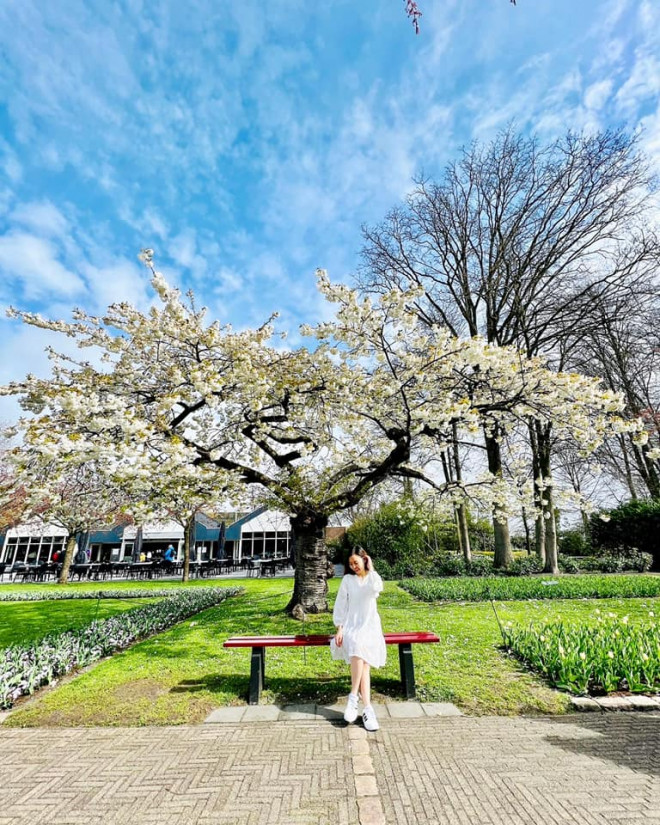 Stay
According to Ha, renting a house in Amsterdam is super expensive, even more expensive than in Switzerland. But according to her, despite the expensive cost, staying in the center is more convenient to move. "The place we stayed on this trip was under the house with bus lines 34, 35, so it was very convenient to move. Room was very clean and comfortable."
Time
If you want to see the tulip season in full bloom, you can go to Amsterdam during the tulip festival from March 22 to May 20. Visitors are advised to check the weather forecast prior to arrival. Ha and her friend went on a rainy week in Amsterdam, so they missed many interesting places.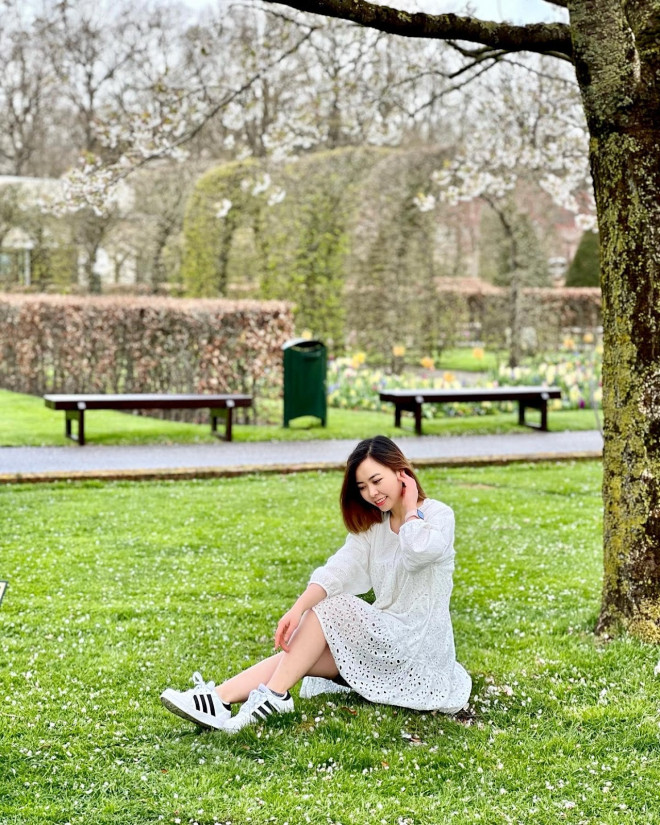 According to the advice of locals, visitors should come to Amsterdam from mid-April. At this time, the weather is more pleasant, there will be no rain from morning to night, from day to day. You also do not need to worry too much about going in May, the flowers will fade, because here the flowers are planted in layers to ensure that visitors always have flowers to see.
You are reading the article
Follow the Vietnamese girl to discover Amsterdam, Netherlands-Travel

at
Blogtuan.info
– Source:
24h.com.vn
– Read the original article
here