Giải trí
Former MC VTV suffered a violent scene in a Vietnamese movie during the golden hour, making the audience angry
The scene in the new episode of the movie "Are you a man" was commented "unique in the world".
"Are you a man" is a movie that is receiving a lot of attention from the audience when it is shown at prime time with a story revolving around close daily life. Taking on the role of Mai Ngoc – Duy Anh's former love, Dan Le was praised for her beautiful face and natural acting. Regularly appearing with her son Khoi, few people know that Mai Ngoc has an unhappy married life.
Recently, episode 26 of the drama aired with many segments Dung – husband Mai Ngoc, beating his wife, giving the audience goosebumps. Not only beating him, but Dung also stamped his wife's hand with a stapler, which was commented on as no different from torture: "Fearer than ghost movies, torture is like an action movie. In the past, looking at how handsome and gentle Mr. Minh Hieu was, now after watching this movie, I feel haunted", "Like watching a horror movie", "Naturally I feel scared when I watch this movie". watching this scene", "The stapling fruit on his wife's finger is really haunting. Tran's life must be unique", "This episode is so haunting about domestic violence. Poor Mai Ngoc", "Va Dung plays the role so excellent that I watched the part where he looked at his wife and was afraid, let alone calling his wife into the room and his wife was shaking unsteadily like this, it must have haunted sleep"… audience comments.
She was also trapped by her husband to forbid divorce
After the episode aired, actor Dan Le shared an image of bruised hands and feet caused by violent scenes. At the same time, she also expressed frustration when many people are indifferent to domestic violence: "When the show aired to the parts where Mai Ngoc was beaten by her husband for very everyday things, there were comments not only from men but also from women who thought that she deserved to be beaten. Jealous husband still meets another man.
Oh my god, in this world of nearly 8 billion people, 1/2 are men. What Mai Ngoc does is daily communication. Are you sure that we ourselves, every day we walk out the door, will not look, talk, smile, greet… with any person of the opposite sex?
If you think that a woman can be spanked for meeting an old acquaintance in the elevator, in her child's classroom, can be beaten for helping others when they go to the emergency room without a loved one by their side. side, maybe being humiliated by motion sickness and needing other people's support… then you also agree that a woman can be tortured for any reason."
Finally, the former MC of VTV is frank: "For whatever reason, a woman never deserves to be abused or beaten. Don't allow that to happen, even in your mind. It's too cruel."
Dan Le revealed bruised limbs because of the violent scene
Before that, the movie "Street in the village" also made the audience feel sorry for domestic violence. Thuong – Men's wife is "broken", often suffers from both physical and mental abuse. The beatings, insults, and insults even in the movie also received mixed opinions.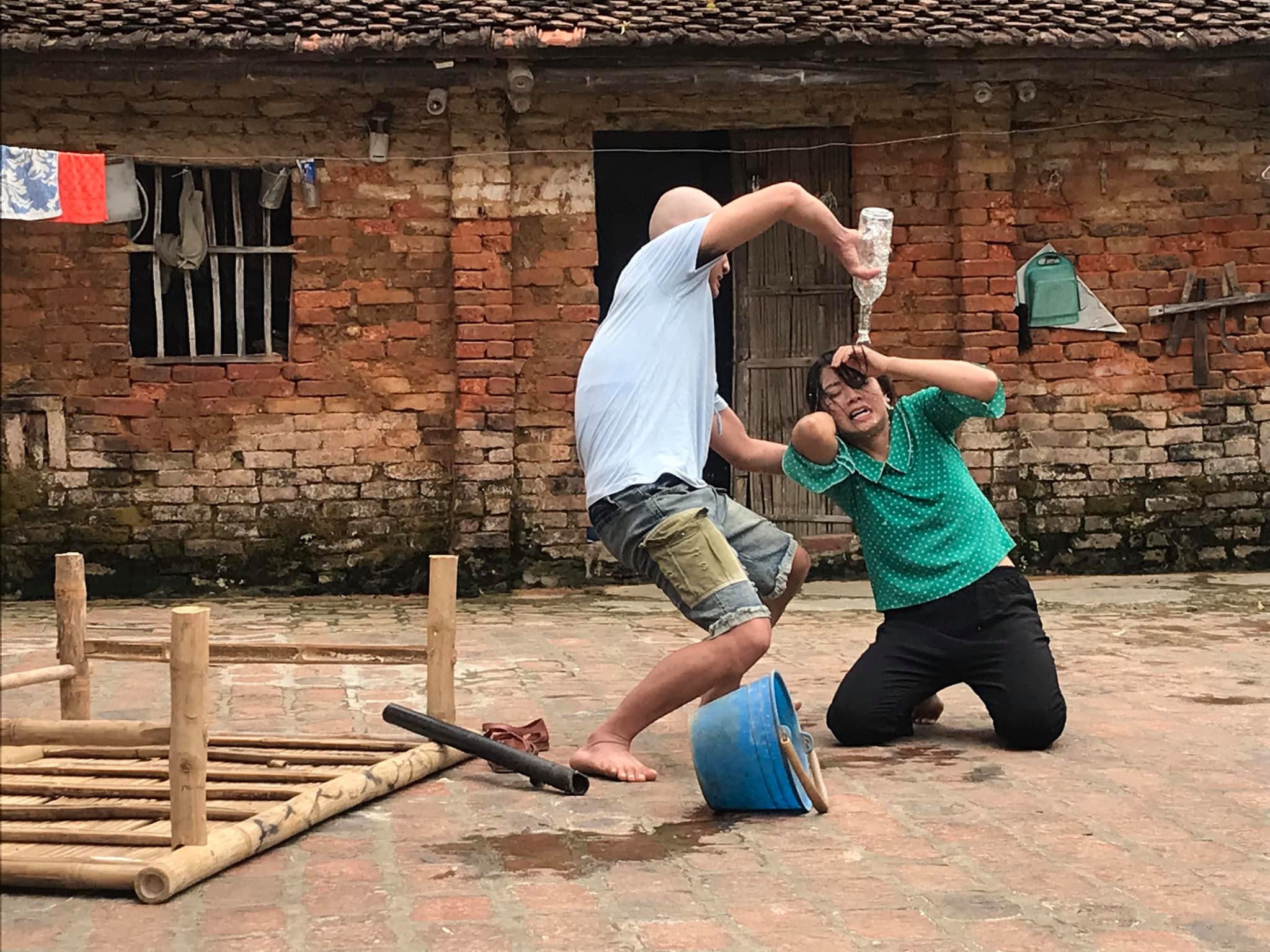 The movie scene in "Street in the village" also made the audience angry
Taking on the role of Thuong, actress Ngo Le Quyen received many compliments for her acting in these scenes: "The most impressive scene with Le Quyen was when the couple struggled and fought between the couple Thuong – Men because this was the scene that made the crew very interested, focused carefully to coordinate between the two. After the scuffle, everyone was very interested in Quyen. From acting to backstage, Quyen loves such scenes."
She also revealed that after the scene, her limbs were so bruised that when she got home, her husband had to get massage oil to help her. However, the praise and support of the audience helps Le Quyen have more motivation to do better every day.
You are reading the article
Former MC VTV suffered a violent scene in a Vietnamese movie during the golden hour, making the audience angry

at
Blogtuan.info
– Source:
24h.com.vn
– Read the original article
here