An emotional "family reunion" through a collage maker
We met Mr. Phung Quang Trung (27 years old) on the weekend when he had just come from Hai Duong to visit his relatives' house in Thanh Tri district, Hanoi. Trung is the one who put together the photo "Having a father on the big day" sharing about the late father present in the emotional wedding photo of his daughter in recent days.
Sharing with PV Dan Viet, Mr. Trung said, late at night in early April, while at work, he received a special message via Zalo: "My father passed away a long time ago, the whole family wishes to have a picture. I have a picture with my father but I have not been able to fulfill it. My biggest wish for a long time has not been fulfilled. Hope you can help me put it together."
Mr. Phung Quang Trung, who put together the picture "Having a father on the big day" shows the late father present in the emotional wedding photo of his daughter in recent days. Photo: Gia Khiem
The messenger is Nguyen Van Cong (23 years old, from Nghe An, now living in Gia Lai). Cong expressed his wish and sent Trung a wedding photo of his sister, full of family members, and an old portrait of his late father. Cong once asked another photo editor, hoping that his sister's happy day would be more complete when she had a father, but the product received was not as expected.
After listening, Mr. Trung received an old photo of Mr. Cong's deceased father. He asked more about the figure of the father to connect the characters properly. His work is reconstruction, restoration and rendering.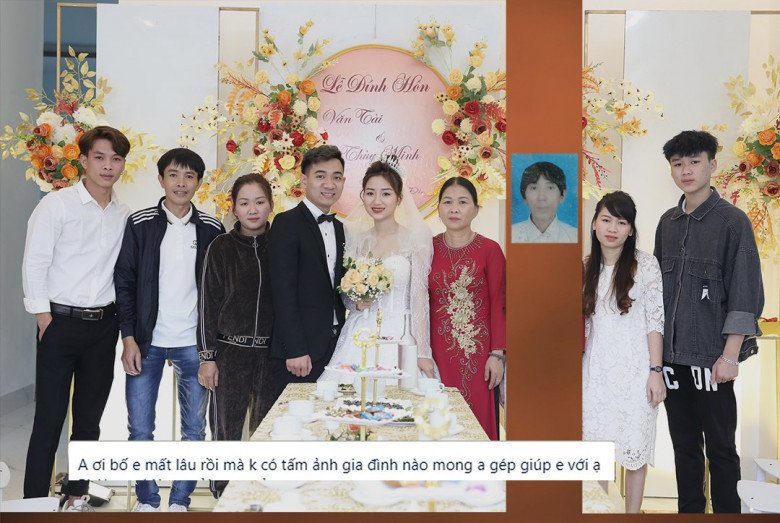 Nguyen Van Cong (white shirt, far left) texted Mr. Trung, wishing to have a photo full of family members. Photo: NVCC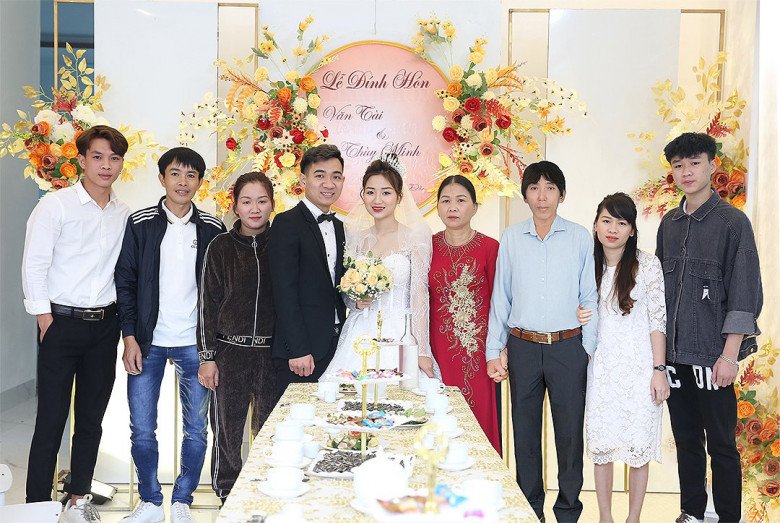 Trung has disassembled the photo space, helping the father stand next to and hold his wife's hand on the big day of his daughter. Photo: NVCC
"I took a look at the photo to understand how she felt when a loved one died without a photo. I accepted to help and didn't get paid. About 2-3 days after arranging the work, I started doing it right away." Trung said.
With normal photoshop photos, the worker only takes about 1 hour. But with this product, he devoted a lot of enthusiasm, with meticulousness and diligence, patiently from 11pm to 3am the next day. The process of making him research small details such as holding hands of parents, holding hands of a daughter with her father, how to make the most emotional, honest, and close picture.
"The process of restoring the photo is a bit laborious because it's an old photo of Cong's father, so it's also a process to make the new strokes synchronize with reality. After 4 hours of completion, I sent it to Cong. Cong. was very touched to say thank you," Trung said.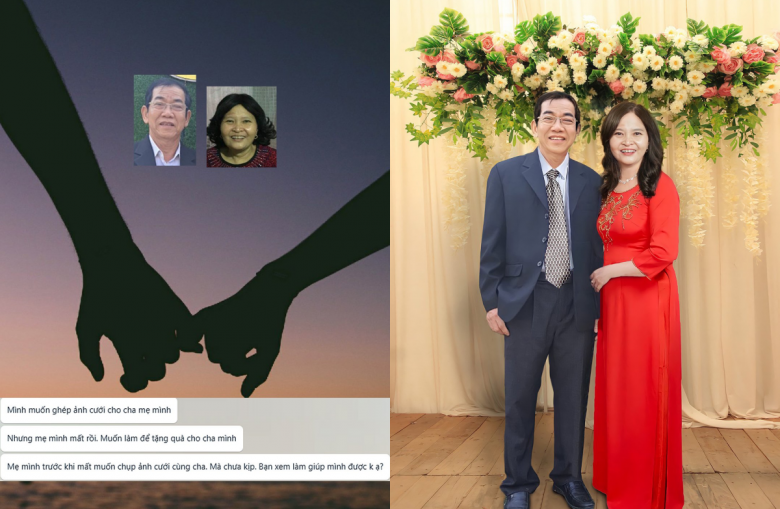 Wedding photo of parents on mother's anniversary. Photo: NVCC
After that, Trung also shared a photo on social networks with the message "Having a father on the big day" which has received special attention from the public. Many people, seeing this photo, were moved to share: "Unfortunately, the memories are only left on collages; Finally, the big day was with dad…"
"At first, I posted it online, just thinking of simply sharing the action, spreading it to the community. I didn't think the online community would receive such a big reception. When I finished it, I was happy and moved. Someone received it. After I sent a photo of my loved one, I burst into tears, thanking me. At that time, I was like them, happy for them, sometimes I felt tears in my eyes, "said Trung.
After receiving the completed photo, Mr. Cong was happy and sad, recalling the memories. The thing he regrets the most is that when his father passed away in 2017, he could not return to Nghe An to see his face one last time. Although the photo is edited, it looks like the real thing, showing the image of a father holding his wife's hand on his daughter's happy day. Cong and other family members were all very emotional.
"This is considered the first photo with all family members, especially the father," said Cong. Since then, each son has gone to work, so the family does not have a photo. any common.
His parents gave birth to 5 children, Mr. Cong was the third child. His family situation was difficult, so in 2016, he moved to Gia Lai to set up a business, run 2 shops of public roast duck, and be the chef of a banquet restaurant. marry.
"My sister's wedding in Nghe An, all the brothers and sisters in the family gathered, but unfortunately there is no father. I am grateful and deeply grateful to Mr. Trung for helping to fulfill his wish to have a father in the future. Big sister's day," said Cong.
According to Mr. Trung, the process of creating a photo for Cong's family was posted online, he also received some mixed and negative comments. Some people think that Cong's father's photo was inserted by him on another person, that is, a person in the picture. However, he said the reality is not what some people think.
"I separated the two people, mother and daughter, and put my father in the middle, not on anyone. It was because a small number of people didn't understand my job, so I ignored it, I helped it so I didn't notice. After that, Cong contacted a lot, thanked him a lot. His friends, neighbors, and friends sent a lot to groups to share photos. Cong was happy to print a large-sized photo to hang solemnly in his house. ", said Trung.
"If someone asks for help I will be very enthusiastic"
This is not the first time that Trung has shown his talent for photo collages causing a storm on social networks. Mr. Trung used to be a real estate photo editor and ad editor, but has been out of work for about a month now. He turned to low-cost photo restoration, editing and printing. He and his wife both have the same profession and mainly work from home in Hai Duong province.
Continuing the story of his work, Mr. Trung remembers the situation of a girlfriend looking for a wish for her father on the anniversary of her mother's death. "Her mother died from cancer a few years ago. Before that, her mother and father wanted to take wedding anniversary photos, but the cancer was developing so quickly that they could not fulfill that wish. Dad She went to find many workers and hired them to do the work, but her family was not satisfied.After a long time of searching, they knew and asked for me.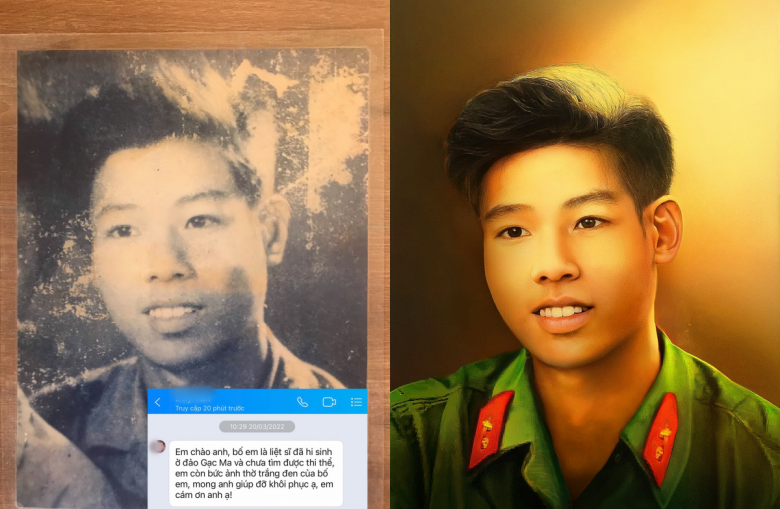 The photo of martyr Nguyen Thanh Hai who died on Gac Ma Island in 1988 before and after was restored by Mr. Trung. Photo: NVCC
After printing the photo and sending it to her father, she was very happy, there were tears in her eyes. It was the joy of the father who received a photo of the couple on their wedding anniversary. And the picture of her mother when she had cancer and lost her hair. I redid her hair and drew more hair so her mother could have a more complete picture," he recalls.
Most recently, Trung received a photo of the son of Martyr Nguyen Thanh Hai who died on Gac Ma Island in 1988 and sent him a picture of his father to ask for his help.
"She shared that her mother is suffering from Covid-19 very badly. Wishing to have a photo of her father as a gift to her mother so that she can have more energy to overcome the disease during this difficult time. It is also the only photo. most left by his father.
This is your mother's wish and your wish for a long time. Along with that, she sent a picture of her mother taking care of her at the hospital. Until now, recalling my feelings is very choked when a few days ago learned that his mother had passed away, very sad. That's what I think, although I can help them, I really regret that, each person's fate is unknown. I think I can help as many people as I can, I will try to help as much as possible," said Trung.
Until now, Trung can't remember how many people he has helped, nor can he ever count. There are days when he helps 1,2 people because photo restoration takes a lot of time, but there are days when he helps dozens of people.
Mr. Trung's main source of income is currently a photo editor and photographer. However, there were many cases where he helped and did not take any public money. He said, he will try to help someone wherever he goes, and when someone asks for help, he will be ready to help.
"I know this work is meaningful, inspiring people, but I don't expect the work to develop, because it is actually based on other people's pain. If someone asks for help I will be very enthusiastic, hi I hope we all cherish every moment we have with our loved ones. That's why I will continue to do this work and will never give up," Trung added.
You are reading the article
The untold story of the man who collaged the picture with a father on the big day was heartwarming

at
Blogtuan.info
– Source:
Eva.vn
– Read the original article
here