Khỏe - Đẹp
Do elderly people need CT scan, MRI screening after Covid-19?
April 18, 2022 14:13 GMT+7
Associate Professor. TS.BS Nguyen Van Tri said that there is no need for CT, MRI screening after Covid-19 in all elderly patients.
The elderly are susceptible to Covid-19 and when infected with Covid-19 are more susceptible to post-Covid-19 sequelae. In the elderly, inflammation and clotting factors are higher, so when infected with Covid-19, it is easy to lead to severe disease and after recovering from Covid-19, there are still many sequelae.
Assoc. Prof. Nguyen Van Tri – Chairman of the Ho Chi Minh City Geriatric Association. Ho Chi Minh City, former Head of the Department of Gerontology – University of Medicine and Pharmacy, Ho Chi Minh City. HCM City, said that up to now, even the US CDC believes that the knowledge we know about Covid-19 is incomplete and so is the post-Covid-19 and people are still doing research now. So the post-Covid-19 sequelae we hear today might be wrong tomorrow but at least it's true for the time being.
Post-Covid-19 is the definition of people after being infected with Covid-19 symptoms persist or after a period of 4 to 12 weeks will appear. Clinically, we often see it in 4 weeks after contracting Covid. When making a diagnosis, your doctor will rule out other causes.
Patients have many symptoms, symptoms overlap, appear on many different organs.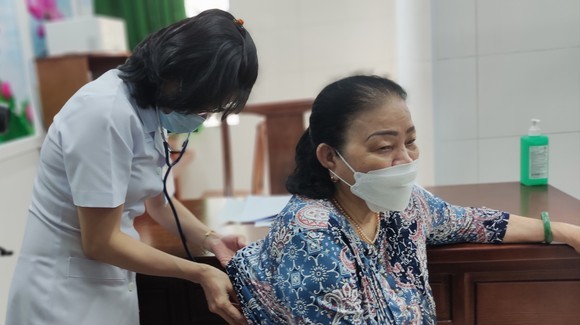 Elderly patients are examined after Covid-19.
Post-Covid-19 is the time when the negative is over but the symptoms are still there. Symptoms such as fatigue, muscle weakness, exhaustion, shortness of breath during exertion, brain fog syndrome… are likely to appear.
Mechanism of post-Covid-19 virus damage to cells, the virus attaches to cell receptors, causing damage to cells, especially endothelial cells, endothelial cells in respiratory organs, blood vessels. inflammation, immune disorders, damage to organs and lead to inflammation and blood clots.
With Covid-19 patients who are elderly, Associate Professor Tri believes that about a quarter of patients in the ICU (ICU) will have blood clots when they are discharged from the hospital. Half of people with no symptoms or mild symptoms still have thrombotic syndrome. This issue should be noted because we are currently only interested in patients who have been ICU out.
According to US CDC recommendations, when making a post-Covid-19 diagnosis, doctors need to listen and identify the patient's symptoms as well as the complaints reported by the patient's relatives.
When examining the doctor, it is necessary to approach the patient's history and symptoms to determine the goal of treatment. In some medical facilities, young and inexperienced doctors may not notice this.
Post-Covid-19 treatment can be treated at a family doctor's clinic, without the need to go to large medical facilities. Assoc. Prof. Tri said that in the post-Covid-19 era, only diagnosis by medical history and examination is enough.
The doctor does not need to diagnose by laboratory techniques because sometimes it is harmful, causing anxiety for the patient.
In some cases, it is necessary to do more advanced techniques such as CT scan, MRI, but the doctor only requires careful consideration for the patient, not a screening.
According to Assoc. Tri, it is not necessary to create an overload in post-Covid-19 medical examination areas. Because after recovering from Covid-19 is mainly related to symptoms such as shortness of breath, temporary oxygen breathing, tachycardia, treatment according to symptoms, doctors need to treat symptoms, increasing the patient's quality of life. .
Symptoms of shortness of breath, change in taste, fatigue, headache, low-grade fever … after excluding all other medical causes, it will last for about 3 months and will go away on its own. Patients should focus on recovering, eating, sleeping, and resting properly.
Worried about thrombosis in the elderly, Associate Professor Tri said that the nature of the body has autologous fibrinolysis and when there is a small thrombus, the body destroys the small thrombus to recover.
Some people who do not have autologous fibrinolysis may worsen, causing large blood clots, microvascular thrombosis, and memory impairment, so in these cases, doctors need to be careful not to wait for thrombosis, so early prevention should be given to patients. The most sick people are the elderly.
Associate Professor Tri said that the patients who come to see him consider whether they should take anticoagulants or not, not how many tests are done, which is costly for the patient.
Khanh Chi
You are reading the article
Do elderly people need CT scan, MRI screening after Covid-19?

at
Blogtuan.info
– Source:
infonet.vietnamnet.vn
– Read the original article
here