Huynh Nu, born in 1991 in Dong Thap, is known from the 2012 Super Model contest with the "talented supermodel" award. She is 1.76 m tall, impressing with an angular face. Long legs married businessman Tyler Nguyen in the US in 2017. Currently, she is living with her husband in the West. Away from showbiz, in addition to taking care of her family, long legs also run an online business, helping her husband manage nail salons.
It is known that her small nest has 2 children, her first daughter is now 4 years old and 5 days ago, she just welcomed the second baby angel weighing about 3.8kg by the following normal delivery method. 4 years of caesarean section.
Huynh Nu's small nest has just welcomed the second member.
Let's listen to supermodel Huynh Nu's sharing about her second birth experience.
Now, after 5 days of birth, how is the health of Huynh Nu and the baby?
Now me and the baby are very healthy. The baby drinks milk very well and is a glutton. Because I still maintain a regular exercise routine, my recovery after giving birth is also quite fast.
Can you share about your second birthday? What are you most worried about in this second birth?
It is said to be the second time to give birth, but actually this is the first time giving birth naturally, everything is new. Although I did a lot of research, but until 1 day before giving birth at 2am, I started having stomach ache, at 4am, when I turned on the mucus plug, it started to mess up, I called my husband to call the hospital immediately and nothing was called. Let her sister call over and sleep with her daughter Angelina, so that she can go to the hospital immediately. Called the hospital all day, after asking me all sorts of things, they said I still need more monitoring but it's best to go to the hospital to check, if I come in at 5 am, I'll probably wait again so I'll stop, go to sleep for 1 more night, After getting up, they brought their eldest daughter to your sister's house, and the couple also stopped by the restaurant to eat coffee and drink a little bit together until 2pm before going to the hospital. (Laugh)
At this time, the nurse checked and said that there were signs, so I needed to stay, I went to lie down and waited, the doctor discussed if I wanted to give more pain relievers to help labor faster. I lay for about 4-5 hours, then the pain started to come, and the doctor explained that because I had a cesarean section, I needed an epidural, because if the birth process is not smooth or the incision is damaged. bleeding, they will perform surgery immediately, but this medicine needs to be in an hour before to be effective. For safety, me and my husband chose to follow.
After a few hours, the pain continued to come, then my whole lower body was numb, the feeling of the previous surgery came back, but this time it was more intense pain, every time I was in pain, my husband stood next to me. I burst into tears immediately. Partly because I know that he is always by my side, partly because I have a husband next to me, so I can be weak and hurt, I can cry a little bit.
At this time, the doctor gave me the option that if it was too painful, I could add pain reliever. After almost an hour, my husband found me writhing in pain, then told me to press the medicine, but I just kept trying a little more, the labor was real. By this time, the anesthetic had also decreased, my legs were heavy, my stomach was aching, and I fully understood the saying "carrying heavy pain" that people often say, even though I chose to have pain reliever, I still felt it little by little. Obviously, at this time, fortunately, the midwife is very good, young and very active, so she helped me during the birthing process, within about 30 minutes, the baby was born.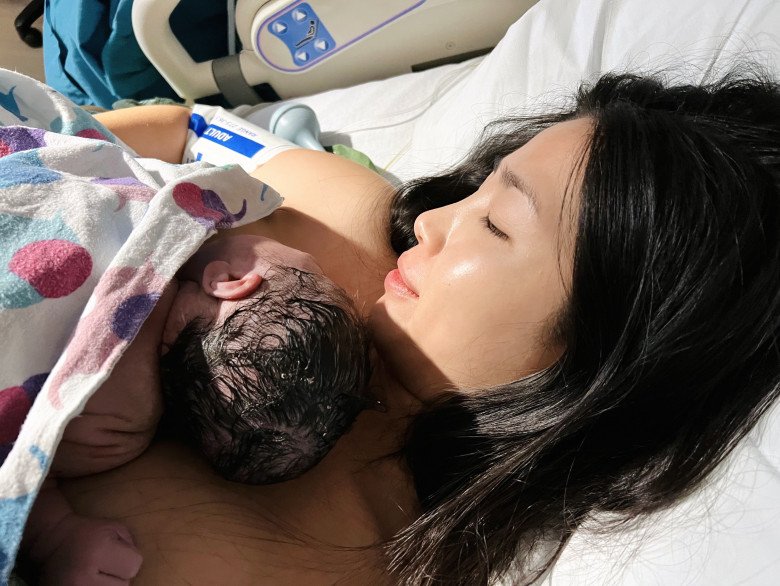 She gave birth normally after cesarean section, the baby was born weighing 3.8kg.
How do you and your husband feel after meeting your baby after so many days? Does the baby match the couple's imagination?
Emotions when the baby was born and cried for the first time, my husband and I were also overwhelmed with emotions, from the time I was pregnant, I couldn't see the baby's face many times, when I was in labor, I kept closing my eyes and thinking. Imagine your face, I'm about to meet you, and when you come out, it's exactly what I wanted. "The guy with narrow eyes is like his mother", I really like boys with narrow eyes but I love a big-eyed husband. (Laugh)
My husband and I were also surprised because the guy was quite big but I could give birth naturally.
What was your experience with vaginal birth after the first cesarean section, do you find cesarean birth or vaginal birth more painful?
Actually, every birth is painful, it's just pain before or after, I've experienced both, the first surgery because the girl doesn't turn, the surgery is gentle in the last few months of pregnancy as well as no abdominal pain During labor, the baby was taken out after 15 minutes in bed, but after giving birth, it took a long time to recover even though I was also in very good health.
For the second time, I chose to have a normal delivery to recover quickly because I still have to take care of both children and because the baby's head turns, I also want to know what it feels like to give birth once in my life. But in the end, I had to go to the drug and inject all kinds of drugs, but fortunately, I recovered quite quickly and after a day and a half I was able to go home.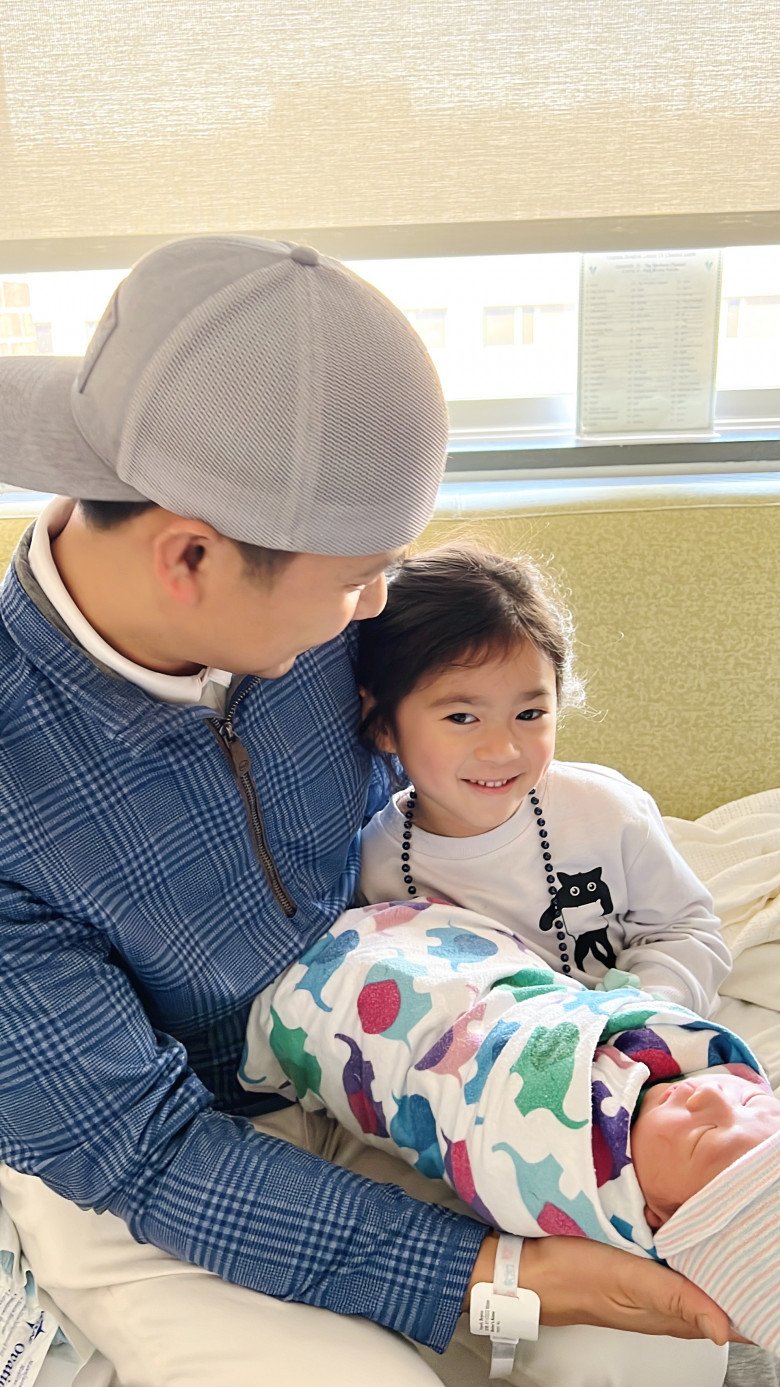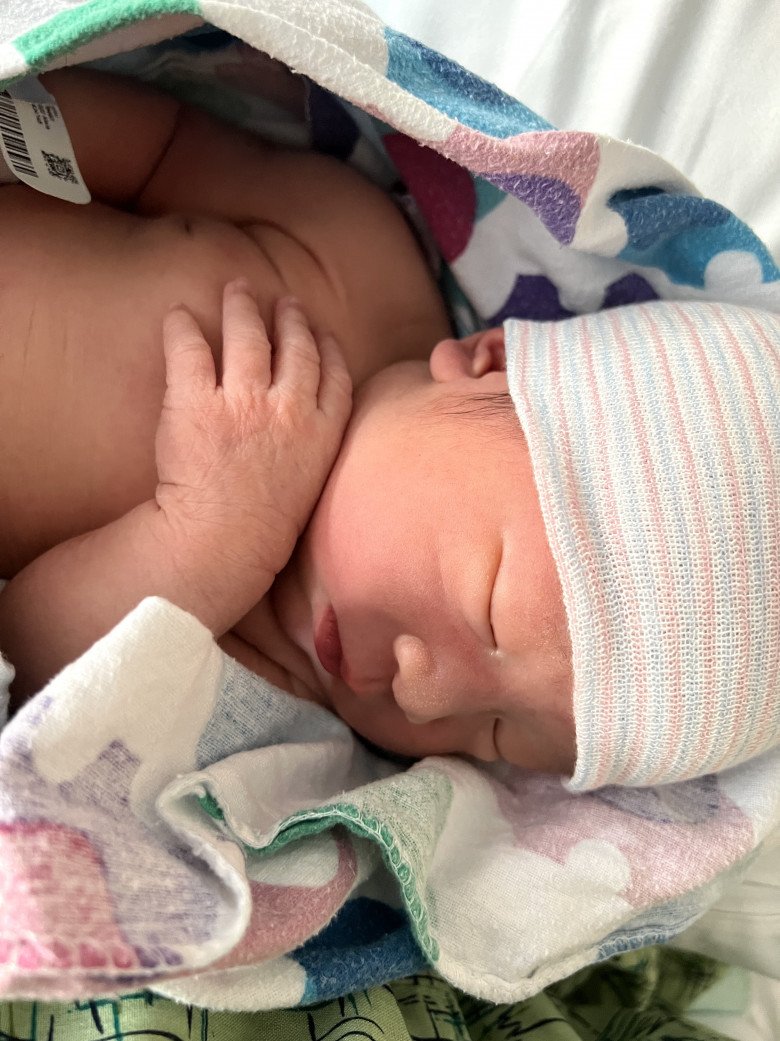 Although giving birth for the second time, this is her first time giving birth vaginally.
I don't know how the second baby came to you and your wife? Receiving the good news of having a second baby, how is the whole family's mood?
In fact, after the cesarean section, I still can't forget the feeling of the operating room, very scared and don't want to give birth anymore, my husband also respects and waits until I'm ready. Because the daughter is very fond of the baby, she kept talking about the baby with her mother, so she suddenly had a heart attack and discussed with her husband that it would be fine to just let it go one more time.
After a few months, I got stuck, but this time I didn't tell the baby and just silently gave the results to my husband, my husband was very happy and since then I have been told over and over again not to do anything heavy.
But the person who knows that having a baby is the happiest is also my daughter, I try to keep it until 3 months before I can tell the good news to the families on both sides, but my sister shows it off everywhere she goes and actively does not ask her mother to carry it. , sister 2 self-consciously eats and plays alone very well, I am lucky because my son listens and understands.
How does your first child change when she learns that she is about to become a sister?
My daughter is also quite understanding and the most happy in the family when she knows that she is the second sister, and to prove that she is the big sister, the second sister also actively does everything by herself such as eating, bathing, brushing her teeth, and when she sees her mother tired, I play by myself and often squeeze my mother's feet. However, the first day the baby came home, he was a bit unfamiliar, everything was eager to do for the baby but his parents did not allow him to do it, but he was angry. After being explained, after 1 day, the second sister was very cooperative and loved most of all, giving all of her time to me, actively playing alone and watching over me.
Is your second pregnancy much different from the first?
Fortunately, my second pregnancy was very gentle, no morning sickness. Compared to the first time, I had pain for about 2 weeks, then it was gone, then it was quite mild until the day of surgery. This time, in the last months of pregnancy, when the baby turned his head, he also started having back pain, cramps, urinating almost every 45 minutes at night and several times had to get up at 6 am to prepare food for the baby to go. learn.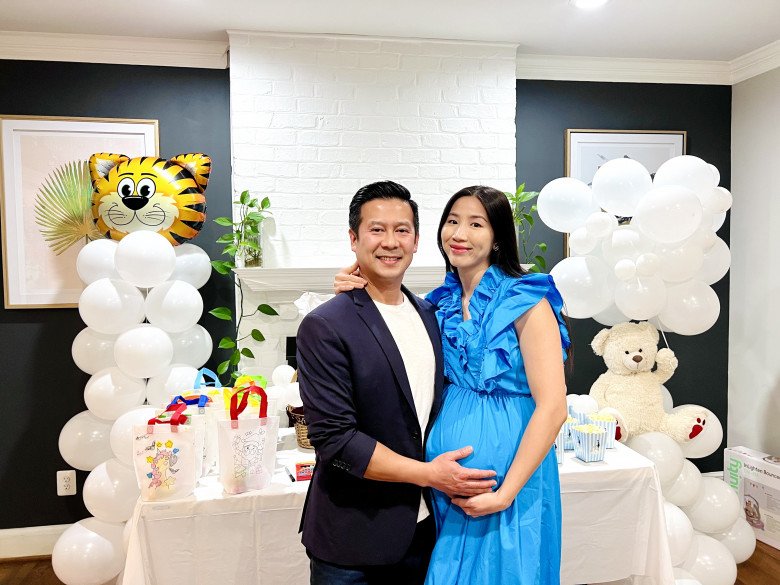 Her husband took great care of her when she was pregnant for the second time.
How does your pregnant wife and overseas Vietnamese husband take care of you?
Since being pregnant for the second time, he has paid more attention to the health of both mother and child, often going to the kitchen to cook for himself and even washing the dishes. And his most affectionate act is probably squeezing his feet before going to bed.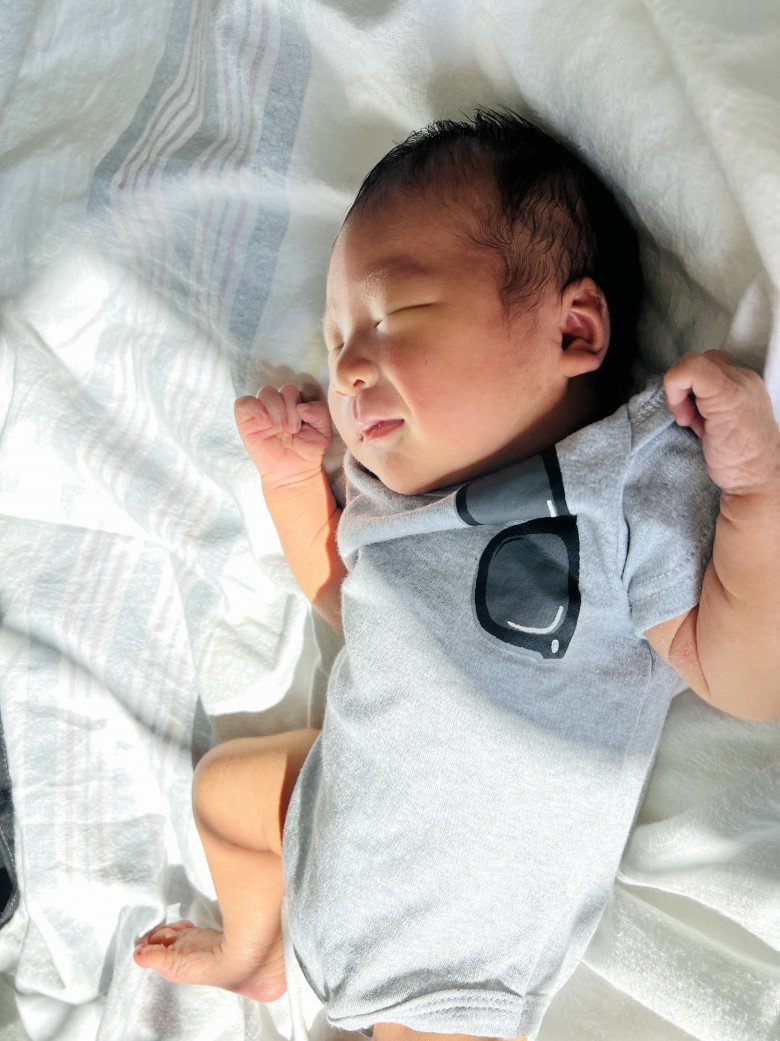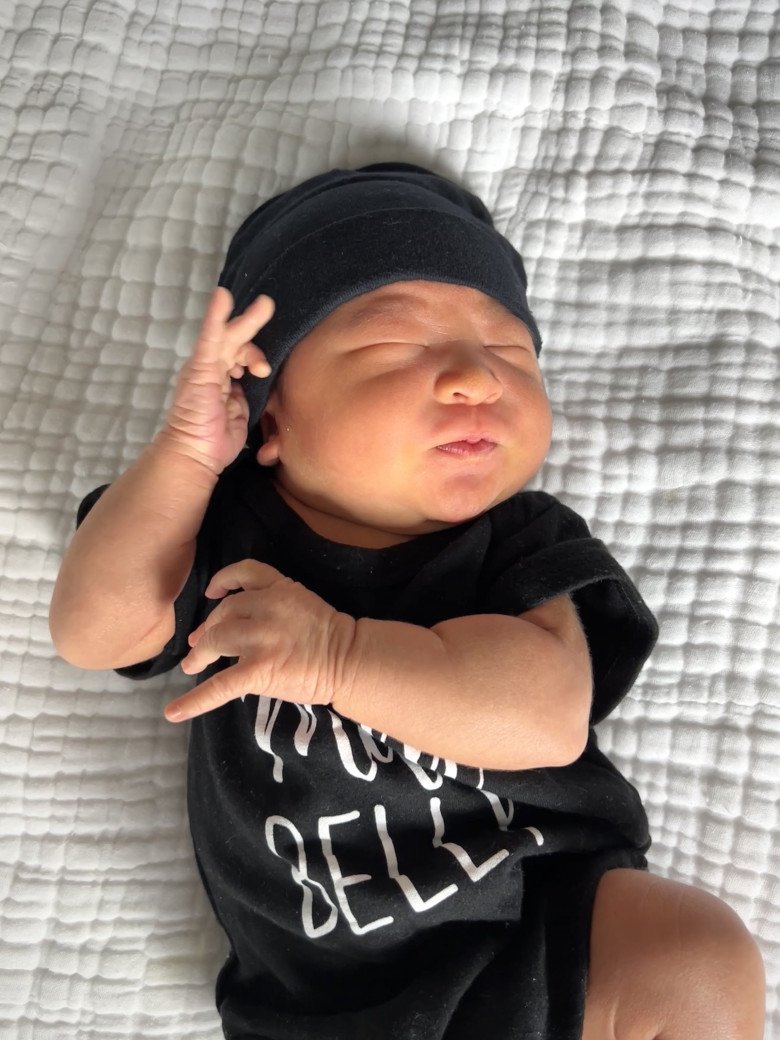 Her son has narrow eyes like his mother.
Known as a supermodel, are you pressured to get in shape after giving birth?
Actually, I am quite comfortable whether pregnant or not, eating must be delicious, so I do not abstain from anything. I combine a little exercise to help eat comfortably and still not be too fat, but fortunately my body is still neat and normal and mainly only on the abdomen.
Currently, when I have my second child, I am really busy, just eating and expressing milk takes up all my time, and soon my eldest daughter will go back to school and the mother after giving birth must be at least 4 months old. It's only -6 weeks before I can practice, so now just working hard as a "milking cow" is enough to help reduce the rush.
I like to take the initiative in exercising to make myself feel healthier, more energetic and leaner for my own satisfaction, not just trying to get in shape because I used to be a model or because I'm afraid of people. other bad.
Thank you for your sharing!
You are reading the article
Married to an American businessman, Dong Thap long-legged born for the second time shed tears, startled when the child was born

at
Blogtuan.info
– Source:
Eva.vn
– Read the original article
here