Business
The mischievous fish know how to climb trees and do many of the strangest "monkey games" in the West
Aggressive, cunning, agile, mouth open full of fangs … are the characteristics found in the most strange fish in the West, named mudskipper. They have bulging eyes and are as big as marbles, protruding from the top of their heads, often living in groves or caves meters deep.
One characteristic that this fish possesses that is not found in any other fish is the ability to "climb trees". They are not slow, but they climb "like lightning". With rough black-gray skin, their fins are like two arms or paddle wheels, helping them to slither and crawl quickly over the mud, water, the ground, and climb trees.
They are only 2-3 fingers big, usually live in swamps, estuaries, mangrove forests, such as Ca Mau cape, U Minh Thuong forest…. Especially, on International Earth Day. In 2011, mudskippers were classified by the World Creatures as one of the six "strange" animals on the planet.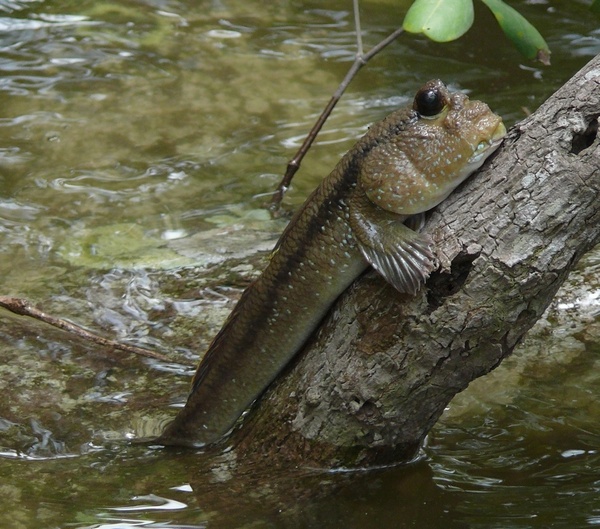 Mudfish in the wild. Photo: Internet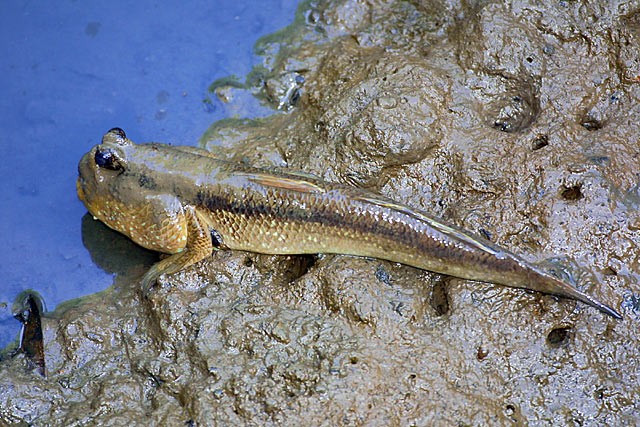 Close-up of the fish "climbing the tree".
Mudfish caught in a trap. Photo: Ca Mau newspaper
Mr. Sau Tuan (a shrimp farmer in a remote area in Ca Mau, Dam Doi) once shared in Lao newspaper that mudskippers can breathe when going ashore, exchanging gases through their skin like a frog. Their fins have a developed muscle system, where they choose to burrow to hide are often "dangerous", such as groves, luxuriant roots… Their burrows can be up to 2 meters deep and have many nooks and crannies. .
A noticeable feature of the "tree-climbing" fish he pointed out is that this fish only comes out to feed when the water is high, and when the water is low, they will enter the burrow.
"People here often call it a fish climbing a tree. Many times when we go out by canoe outside the square (shrimp lake), I see him do many "monkey games" such as climbing over the mangroves, fish sauce…, But when someone approached, they jumped into the river," Mr. Sau Tuan described to the above source.
According to Ca Mau newspaper, because mudskippers are very mischievous, they often dig a main cave and a side cave to easily escape when in danger, so they must have a lot of experience and techniques to catch them.
Mr. Nguyen Van Nhuan (Eco-tourism area of ​​Dat Mui commune) told this source that people who catch mudskippers need to observe whether the cave has fish or not, in order to place nets and rafters at the mouth of the cave. With turbid caves and fin markings, fish are guaranteed.
Mr. Danh Sang (a resident of Vien An commune, Ngoc Hien district) said, with many years of experience in the profession, he noticed that in caves with newly extruded soil and turbid water, there are "monster fish" inside. During a fishing session, dozens of nets that he placed caught fish, but he only caught the big ones and released the small ones. "I'm sorry to catch such a small fish. Even snails, clams, crabs, three-knots… are the same, if they're still small, they'll be released back into the forest," he said.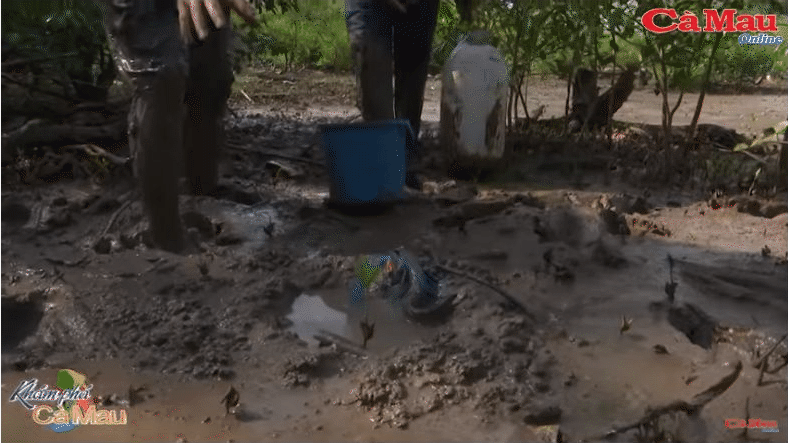 Scenes of people wading through mud and catching mud crabs. Photo cut from the video of Ca Mau newspaper online TV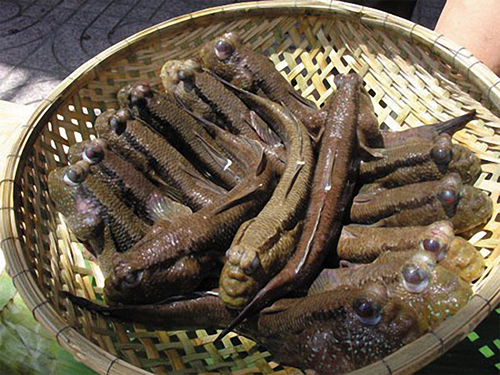 Photo: Tien Giang province e-commerce portal
In addition, "climbing" fish is considered a delicious specialty of the West, with a sweet, chewy, firm, non-fishy flesh. They can be used to bake with salt and pepper, cook sour soup, fry, and braise. For many years, eco-tourism sites in Ca Mau have let visitors experience wading and catching mudskippers by themselves.
(Synthetic)
https://soha.vn/loai-ca-tinh-quai-biet-leo-cay-lam-nhieu-tro-khi-la-lung-nhat-mien-tay-20220418102620053.htm
You are reading the article
The mischievous fish know how to climb trees and do many of the strangest "monkey games" in the West

at
Blogtuan.info
– Source:
cafebiz.vn
– Read the original article
here