Giới trẻ
A dreamless trip to Da Lat of close friends with 'attached files'
April 19, 2022 13:19 GMT+7
Truc's group of college friends invited each other to Da Lat with their family. The trip had many "wretched and funny" memories that she could not forget.
Having a group of close friends five times seven times to go on a trip was unsuccessful. However, there are groups who carry suitcases up to go together within "one note". That was the close friend group of Ms. Thanh Truc (31 years old, in Bien Hoa).
As soon as the idea of ​​going on a trip came up, all of Truc's group responded. Not only that, they also "play big" when carrying "attached files" which are their husbands and small children.
After the trip, Ms. Thanh Truc happily shared her series of commemorative photos on social networks with the caption:Still a dream city, but in a different development."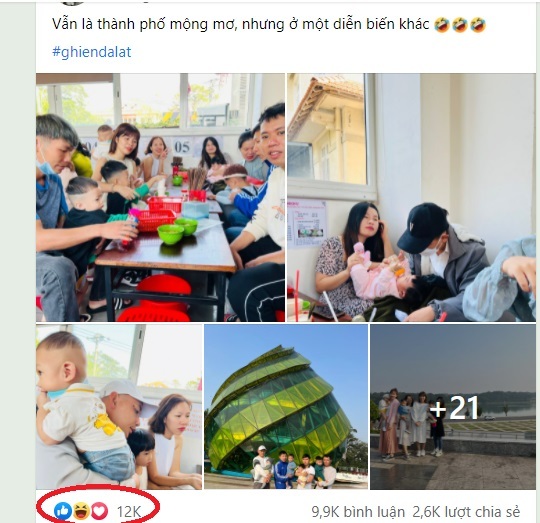 The set of photos of close friends inviting each other to Da Lat with the "attachment file" made netizens laugh and love each other.
Da Lat is famous as a romantic destination for couples in love, but Truc's group chose this as a resort for their home.
Share with Infonet, Ms. Thanh Truc said: "We are a group of close friends who have played together since we were in college (2009-2013). The group has 7 married and 2 single friends. This time, only 5 families can participate in this trip to Da Lat. In which 3 families have 2 children, and 1 family have 1 child.
We want to meet and review old memories because since graduating from school, we have not had the opportunity to have a full "class meeting". The plan to go out was conceived a month ago. When my friend just suggested going out, the other 4 families supported. So we booked tickets and left immediately.
Because we have small children, our group decided to go in the resort style. There are more than a dozen villas and homestays that we consider. Finally found a satisfactory villa with a suitable price".
The young mother also added that this trip will only be done in… group chat because her child is sick. But fortunately, thanks to everyone's encouragement, by the end of the day, the baby was cured.
Also because of the small children accompanying them, the group's luggage was very cumbersome. Every house includes a large suitcase, plus a backpack and bag… Even some families have to carry a stroller, a sling… to comfort their children.
"Going out with small children is really "relaxed". We have filmed some clips of childcare scenes. Those who watch will see that they are "always on their feet", going to this "mortal" resort: Eating quickly, sleeping late but having to get up early to check-in in time. But I can't check anything, the time to make milk, change diapers for the baby to eat, and put the baby to sleep is the main thing. Parents are tired and lazy so they are always dirty and no one wants to take a bath…
After holding your baby, turn around and hold your baby. Most of the children are of the age still demanding to be held, the youngest is 5 months, 6 months, 1.5 years, 2 years old. The oldest child at 4 years old is even more mischievous than running around. In general, we rarely go out, mostly stay in the room and serve the little ones, and when we can go out, we take a few pictures and then go back to the room.
Fathers are very responsible in feeding their children, putting them to sleep, making milk, changing diapers, and sometimes taking care of their mothers. Where to go, what to play, what to eat, what to wear is the mother's decision, the rest the fathers "weigh".
Every father is cute, happy, and sociable even though they first met. After the trip, we looked tired but we were all happy because we were able to review many memories and talk to each other more.", said Ms. Truc.
The post about the special trip of Bien Hoa's mother received a "huge" amount of interaction, everyone was "tag" (tagging – PV) his best friend and expressed his admiration for this group of friends.
Traveling with a group of close friends is a feeling that everyone wants to experience several times. Thanh Truc herself also said that although the trip was a bit difficult, there will be priceless moments that she will never forget.
Aries
Photo: NVCC
You are reading the article
A dreamless trip to Da Lat of close friends with 'attached files'

at
Blogtuan.info
– Source:
infonet.vietnamnet.vn
– Read the original article
here