Viễn thông
APG undersea fiber optic cable has problems again
According to this ISP representative, during the first incident of 2022, on the S1.7 segment, the APG international undersea fiber optic cable had a fiber break fault. Currently, the cable route management unit has not informed the network operators about the repair and troubleshooting plan.
The APG international undersea cable route was officially put into operation in mid-December 2016. With a length of about 10,400 km, APG is located underground in the Pacific Ocean, with the ability to provide a maximum bandwidth of up to 54 Tbps. This cable route has connection points in China, Hong Kong (China), Taiwan (China), Japan, Korea, Malaysia, Singapore, Thailand and Vietnam.
APG undersea cable has the participation of investment from Vietnamese carriers VNPT, Viettel, FPT Telecom, CMC Telecom and is considered as a cable route contributing to bringing stable transmission with larger capacity for Internet users in Vietnam. Male.
Previously, in 2021, the APG submarine cable route had 4 problems, the most recent being December 2021. Specifically, on December 5, 2021 and December 13, 2021, respectively, the APG cable had problems on two directions of connecting cables to Japan and Hong Kong (China).
On February 27, 2022, after nearly 3 months of service interruption due to problems in 2 directions of connecting cables to Japan and Hong Kong (China), the APG undersea cable route was repaired, repaired and restored. restore normal operation.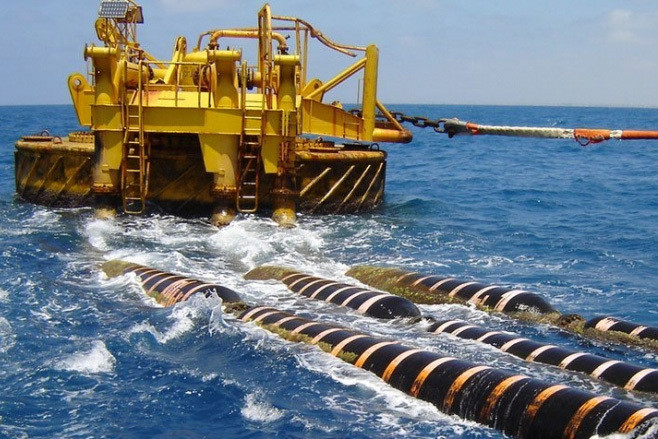 According to experts, because foreign Internet traffic is much larger than domestic, every time there is an undersea cable problem, the quality of Internet services will be affected. (Illustration image: Internet)
In an interview with ICTnews in mid-February 2022, a representative of the Vietnam Internet Association (VIA) said that foreign Internet traffic is now much larger than domestic traffic. Therefore, whenever there is a problem with international undersea cable routes, the quality of Internet services is affected. Network operators, on the one hand, have sought to invest in building new cable routes, on the other hand, have also sought optimal ways to increase domestic Internet traffic such as strengthening Caching and CDN systems.
"We all want Vietnamese Internet users to use domestic applications, but whether that is possible or not depends on the quality and popularity of domestic applications. This is a big challenge and needs a lot of time and joint efforts to improve. Our suggestion is that businesses and individuals should use more domestic applications, as a supplement and backup to familiar applications provided by global companies."VIA representative proposed.
Regarding the long-term solution, the VIA representative said that the Internet can now be considered an important digital infrastructure of the country to serve socio-economic development. Therefore, large network operators need to have strategies and plans to expand international cable routes to catch up and meet the growing demand for Internet services.
The Vietnam Internet Association also noticed the efforts to promote the construction of domestic platforms and services such as social networks, business management platforms, meeting platforms and applications, online learning, etc. Certainly when Vietnamese platforms and applications have quality and popularity, the dependence on offshore undersea cables will be less.
On the other hand, according to the analysis of VIA representative, global platform providers are bringing infrastructure and data closer to Vietnam, setting up access points in Vietnam. This shows that the demand for international as well as domestic capacity will increase sharply in the coming time, when the economy recovers from the epidemic.
Van Anh
You are reading the article
APG undersea fiber optic cable has problems again

at
Blogtuan.info
– Source:
vietnamnet.vn
– Read the original article
here