Khỏe - Đẹp
Buy skin peeling cream online, U70 woman has anaphylactic shock
April 19, 2022 18:00 GMT+7
Hearing an advertisement on the internet for a fast effective peeling cream, Ms. T bought it and used it, but before she could whiten her skin, she was hospitalized because of anaphylaxis.
Doctors of Hoan My Danang Hospital said that they had successfully given first aid to a patient with HTT (62 years old, Da Nang) suffering from grade III anaphylaxis due to the use of whitening cosmetics of unknown origin and ingredients.
According to patient T, she bought cosmetics through an online advertisement to help whiten her skin quickly thanks to the peeling method. Because the skin is dull, also want to improve, listen to safe advertising, so Mrs. T bought it and tried it.
But after only 5 minutes since applying the cream on the skin on both feet, the skin began to peel off a thin layer, Mrs. T at the same time felt the soles of her feet heat up, her heart beat fast, and her chest pain was intermittent. Mrs. T then quickly washed the skin area that had been in contact with cosmetics and immediately went to the hospital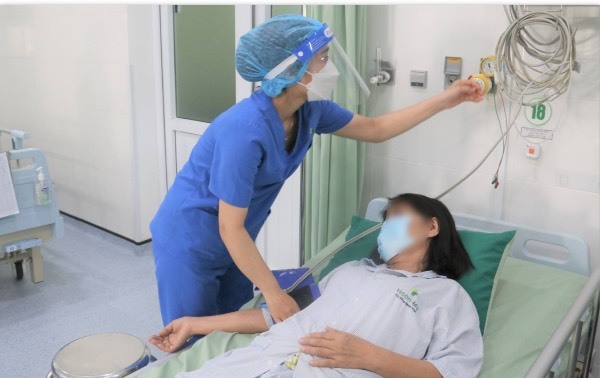 Patient is hospitalized for follow-up.
At the time of admission to the Emergency Department, the patient had a rapid pulse, a high blood pressure of 190/90 mmHg then tended to gradually decrease, there were pain in the left chest, sweating, slight peeling of the skin on the feet and neck. purple embossed legs.
The patient was diagnosed with grade III allergy and anaphylaxis due to the use of cosmetics of unknown origin. The patient was then promptly treated by the doctor's team according to the anaphylactic emergency protocol of the Ministry of Health.
After 1 day of treatment, the patient was stable and eligible for discharge on April 18, 2022. Patients are instructed to continue using prescription drugs and skin care at home.
According to MSc. BSNT. Do Hong Son – Department of Intensive Care – Anti-Poisoning, Hoan My Da Nang Hospital: "This is a case of grade III allergy and anaphylaxis due to the use of beauty cosmetics of unknown origin, if the patient is not treated promptly. can progress to a life-threatening condition."
Dr. Son recommends that people be careful in choosing cosmetics, especially beauty products, and absolutely do not use untested, untested products of clear origin.
Patients should immediately go to the nearest medical facility if they notice unusual symptoms after using drugs and cosmetics for timely treatment.
Anaphylaxis is an acute, potentially life-threatening allergic reaction. Caused by the body's exposure to allergens such as drugs, vaccines, foods, chemicals, insect venoms, cosmetics, etc.
Symptoms can range from mild, such as itching, hives, runny nose, abdominal pain, nausea, diarrhea to severe such as difficulty breathing, chest pain, low blood pressure, confusion, symptoms can develop in no particular order, the patient can stop breathing, stop circulation, even die very quickly.
K.Chi
You are reading the article
Buy skin peeling cream online, U70 woman has anaphylactic shock

at
Blogtuan.info
– Source:
infonet.vietnamnet.vn
– Read the original article
here