On April 19, the People's Procuracy of Phu My town (province BA Ria Vung Tau) has completed the indictment, prosecuted to the People's Court of Phu My town for trial against the accused Lam Thi Thu Tra (SN 1974, living in Vung Tau City) with the crime of "Money Laundering" and "Lending heavy interest in civil transactions".
The prosecution also further prosecuted Dang Thi Tuyet Lan (SN 1966, living in Vung Tau city) and Lam Vu Viet Anh (SN 1989, living in Vung Tau city) for the crime of "Lowing heavy interest in civil transactions" with the role role as a helper for Thu Tra.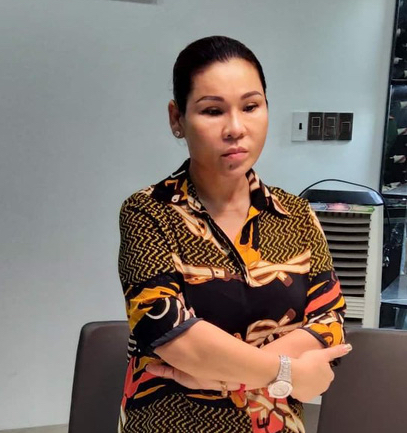 Defendant Lam Thi Thu Tra at the time of arrest
According to the indictment, between 2018 and 2020, Tra lent money to many people with different interest rates, ranging from 1,000 to 5,000 VND/million/day. On the due date, if the borrower fails to pay the interest, the interest will be added to the principal, forming a new loan contract. If the borrower is no longer able to pay, he will have to use the offset property for Tra.
During the investigation, from 2018 to before her arrest, Lam Thi Thu Tra lent more than 921 billion VND to 8 individuals. The lenders have paid for Tra nearly 794 billion VND and the total profit is more than 86 billion VND.
For the two defendants Lam Vu Viet Anh and Dang Thi Tuyet Lan, from 2018 to 2021, Viet Anh helped Tra make money sheets for the loan process of Tra with borrowers. All loans and loans are made by Tra herself, while Viet Anh is the one who calculates, checks and tracks loan data on behalf of Tra. When helping, Tra does not pay wages, but only for spending money.
In 2019, Tea Hire Tuyet Lan helps to transfer money for loans, receive money and pay principal and interest as well as calculate details of loans between Tra and borrowers, each month Tra pays Lan 8 million dong in salary.
As for money laundering, according to the investigative agency, in the process of performing the act of "Lending usury in civil transactions", in order to conceal and legitimize the amount of profit from usury loans, Tra asked Ms. TTDT to transfer more than 23 billion VND to Tra through the banking system, of which Tra obtained illegal profits of more than 3 billion VND.
When the payment was due, Tra asked Mrs. T. to transfer to different accounts. After receiving money to help Tra, these people will transfer to other accounts for Tra to repay, lend, help or transfer to an "overdraft" account to repay loans at the bank.
Regarding the act of lending money to Le Thai Thien (Thien "Soi"), according to the indictment, because of the need for business capital, in 2019, Thien borrowed tea 4 times with a total amount of 9.5 billion VND, with an interest rate of 3,000. VND/million/day. The above loans, Thien paid off for Tra both the principal and more than 112 million dong in interest, and tea made an illegal profit of more than 89 million dong.
Thien "Soi" and his son are being prosecuted by the investigative agency on charges of "lending heavy interest in civil transactions" and "money laundering" with an amount of more than 324 billion dong.
You are reading the article
How much does Lam Thi Thu Tra lend to giant Thien "Soi" and 7 other individuals?

at
Blogtuan.info
– Source:
Soha.vn
– Read the original article
here