Khỏe - Đẹp
Mother brings delicious food, children receive it
April 19, 2022 15:55 GMT+7
Many mothers see that their children are anorexic and rush to buy additional functional foods for their children to expect their children to grow up quickly, but do not understand that this process takes a long time and requires a method, not a tonic bag.
Seeing that her child is anorexic and lazy to eat, Ms. Nguyen Thi Don (Dong Anh, Hanoi) listens to her friend's advice to buy food and medicine in pill form to return it to her child to eat. As a result, after 2 packs of medicine costing only 160,000 VND, her 8-year-old daughter ate much better.
However, when the child often complained of abdominal pain around the navel, Ms. Don thought the baby had worms, but deworming still did not help. Going to the gastroenterologist, the doctor said that the baby had a stomach ulcer. It turned out that for more than 2 months, the baby was given delicious food by his mother. The doctor suspected that the drug containing corticosteroids caused gastritis in the child. In addition, corticosteroids also cause many other health effects for children.
Doctor Nguyen Thanh Sang – who used to work at Children's Hospital in Ho Chi Minh City, said that traditional medicines and functional foods for children are like a double-edged sword. The nature of these types is often given by the manufacturer to add corticosteroids to stimulate eating.
Dr. Sang used to treat children with blood cancer, so he knows the effects of corticosteroids. A child when hospitalized exhausted, emaciated … but after 3 days of treatment, he sat up and ate a lot. The reason is that the child must use corticosteroids to control cancer cells according to the protocol. And one of the side effects of corticosteroids is to increase basal metabolism, increase fat storage and gain weight by "retaining water" in the body.
Not only children, including adults who take functional foods containing corticosteroids to treat joint pain or other diseases, they find that they eat well and have a chubby face thanks to the effects of corticoids.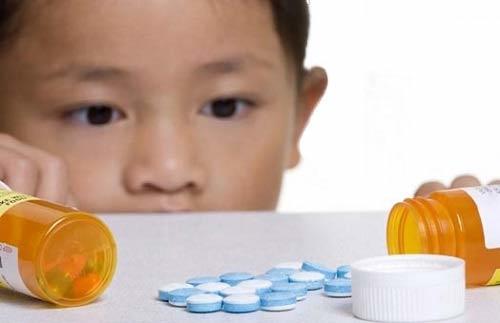 Illustrated photo.
However, patients who drink it will have liver failure and kidney failure if taking high doses and prolonged without a doctor's prescription.
According to Dr. Sang, the use of corticosteroids is a double-edged sword that doctors consider very carefully. If the goal is to treat cancer, bronchial asthma, inflammation … then use the prescribed dose and in a short time and then stop, avoid using too much and too long causing complications on the kidneys, liver, bones.. . and cause Cushing's syndrome.
Many mothers who bring their children to the clinic with a pack of medicines said that when they bought it for their children, the medicine did not have a cover, but only put it in plastic bags. It is also difficult for doctors to determine what these drugs are. Dr. Sang said that for young children, the use of drugs or functional foods should be prescribed by a doctor, not going to a pharmacy and saying "my child is anorexic and giving medicine" regardless of how old the child is. Weight and causes of anorexia.
Children with anorexia need to have a nutritional examination and general assessment, to consider where an anorexic child is lacking or having an excess of. The process of examining and monitoring children with anorexia is a process that takes several months.
In fact, Dr. Sang said that the cause of a child's anorexia is often due to the incorrect way of taking care of the child, but the parents prefer to give them medicine or eat and grow quickly. Many people like the feeling of being prescribed a bunch of medicine by a doctor and told to drink and eat well.
Many parents are too hasty in wanting their children to eat a lot without finding out where they are going wrong. Many parents too underestimate the health of their children when buying prescriptions regardless of whether it is good or not?
Dr. Nguyen Trong Hung – National Institute of Nutrition said that children's eating is a "headache" for many parents. Children with anorexia are tired, stressed parents and there are groups of mothers telling each other to use this and that drug to "stimulate" their children to eat better.
However, Dr. Hung said that in fact, until now, science has not been able to make a delicious and safe medicine for all children.
Drugs that create a feeling of appetite for all children are harmful such as corticosteroids, cyproheptadine. Parents should not use these drugs to stimulate children to eat.
'When going to the nutritionist, some children anorexia may be due to lack of some vitamins or micronutrients and if so, they can regain their appetite when they are supplemented with the right vitamins and micronutrients, not It is a medicine that helps children eat well, so parents think that just going to the pharmacy to buy it is enough. Supplementing with micronutrients needs to be assessed whether children are deficient or not, not parents who prefer to let their children drink' – Dr. Hung recommended.
Khanh Chi
You are reading the article
Mother brings delicious food, children receive it

at
Blogtuan.info
– Source:
infonet.vietnamnet.vn
– Read the original article
here