Thế Giới
Singapore officials support Prime Minister Lee Hsien Loong's successor
Prime Minister Lee Hsien Loong announced that Finance Minister Lawrence Wong would succeed him as the next leader of Singapore. "The plan is for Lawrence to succeed me as prime minister, either before, or after the next election (if the PAP wins)."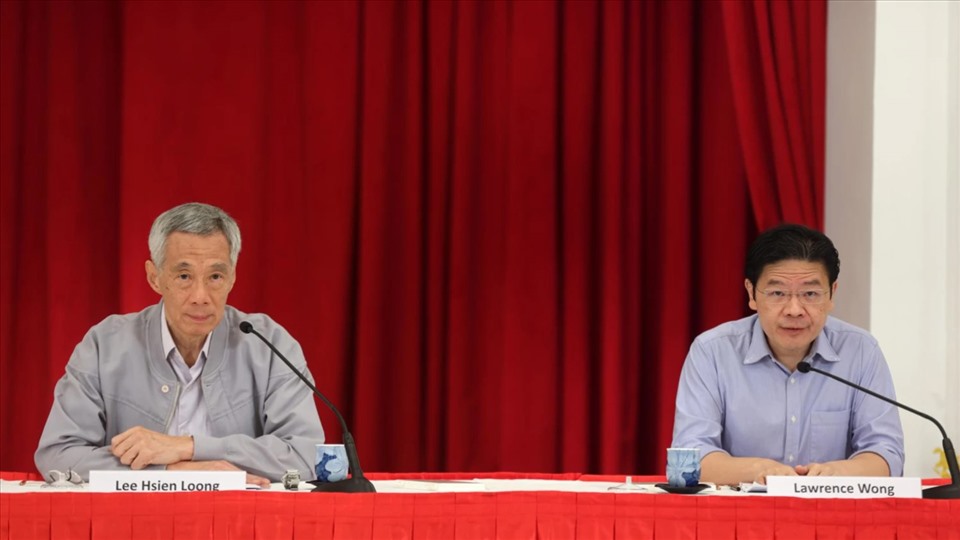 Get strong political support.
CNA on April 18 quoted political analysts as saying that although the selection of Finance Minister Lawrence Wong as the fourth-generation leader of the ruling People's Action Party (PAP) – paved the way for him to become a Singapore's next prime minister – not an absolute outcome, but Mr Wong has strong political backing.
The comments came after last weekend's press conference, in which it was revealed Mr Wong had received nods from 15 of 19 "stakeholders" to lead the PAP party. Former PAP Party Chairman Khaw Boon Wan, who was tasked with supporting the process of selecting the next fourth-generation (aka 4G) PAP party leader, privately consulted with "stakeholders". ", including National Assembly Speaker Tan Chuan-Jin, Labor Minister Ng Chee Meng and other cabinet ministers. As a result, Mr. Wong received the agreement of 15/19 people.
Associate Professor Eugene Tan from Singapore Management University (SMU) said: "I wouldn't take it too seriously that there are some people who don't support Mr Wong. Seeking consensus is not realistic. However, the result of 15/19 shows a very strong consensus that Mr. Wong is the first of the generation of 4G leaders of the PAP party."
Successor portrait
The next prime minister election in Singapore is held in 2025. Prime Minister Lee Hsien Loong confirmed that Finance Minister Lawrence Wong will succeed him as leader of the PAP party, possibly the future leader of Singapore. ; and added that whether he or Mr. Lawrence Wong will lead the PAP in the next election will be decided later.
According to Nikkei, Mr. Lawrence Wong, 49, was once a relatively unknown civil servant, then became a politician. Unlike current Prime Minister Lee Hsien Loong – the son of Prime Minister Lee Kuan Yew, Mr. Wong does not come from a political family. He once told the Straits Times that his family was "just an ordinary family". Mr. Wong is likely to be the second prime minister with such a background, after Goh Chok Tong, who succeeded Mr. Lee Kuan Yew as Prime Minister of Singapore from 1990 to 2004.
Mr. Wong studied in the US on a government scholarship and started his civil service career in 1997. He later became the leader of the Energy Market Authority of Singapore, as well as the personal secretary of Prime Minister Lee Hsien Long. In 2011, Mr. Wong was elected to parliament for the first time and was given his first political post two weeks later – Minister of Education and Defense. Later, he was also assigned a number of other ministerial positions, most recently Finance Minister.
However, Mr Wong has become much more prominent in 2020, after he was appointed co-chair of the government's multi-ministerial task force to respond to COVID-19. Television press conferences have given him more public exposure. He is also famous for his empathy: In his speech to parliament in March 2020, he choked up in tears as he expressed gratitude to frontline workers fighting the epidemic. Meredith Weiss, a professor of political science at the State University of New York in Albany, said Mr Wong had built an image of "not only competent but also welcoming and reasonable".
In his first appearance before the press on the morning of April 16 after being selected as the fourth generation leader of the PAP, Mr Wong said that Singapore still has many challenges ahead, but "can overcome all of them". as a united and strong group, with a single focus on serving Singapore and Singaporeans".
"I believe we have also strengthened our relationship with the people of Singapore through the pandemic crisis of a generation, and the relationship between Singaporeans has also strengthened. In some societies, the crisis drains social capital and undermines political trust. In Singapore, I think we handled the crisis in a way that adds social capital and strengthens political trust, and I'm grateful for that," Wong said.
Minister Wong said he was under no illusions about the requirements of the job. The job will become more challenging with greater political competition and a growing desire for diversity in Congress. Mr. Wong said he will continue the principles that have guided him throughout the years, which are "give your best, participate and listen, learn and improve continuously".
"In all my life, I have never yearned for position or authority. I am always realistic about my abilities and strengths. My life philosophy, instilled by my parents from a young age – that whatever task I am given, I will do my best. If my best is diminished – which is bound to happen over time – I will try to learn and try to improve and do better," Wong said.
You are reading the article
Singapore officials support Prime Minister Lee Hsien Loong's successor
at Blogtuan.info – Source: laodong.vn – Read the original article here