Business
The most 'dangerous' place is the safest place, the most favorable feng shui position at work is sitting opposite the boss!
With a bossy mentality, the worry that the boss can observe and evaluate each small mistake makes many people find ways to get a seat farthest away from the boss. That's where you feel completely free, the manager won't be able to see your face, not know what's on the screen, where your eyes are looking, whether you're wandering or fully focused. work, whether you're a few minutes late after your time, or how long you've been away from the desk.
However, if you are a conscientious employee, you know that doing a good job is not only beneficial to the performance of the company, but also helps you improve your working skills, then definitely the position of the seat. Right next to your boss is the ideal place you always want to go.
According to career development experts, being close to your bosses allows you to have more access to the most important decision makers in the company, which in turn leads to the opportunity to do important work. top priority in the organization.
"In terms of the impact on your immediate and long-term career," says Ben Waber, CEO of Humanyze, a company that monitors and advises on interactions between members of an organization. As well as for your and your team's performance, knowing how to stay close to your boss is vitally important."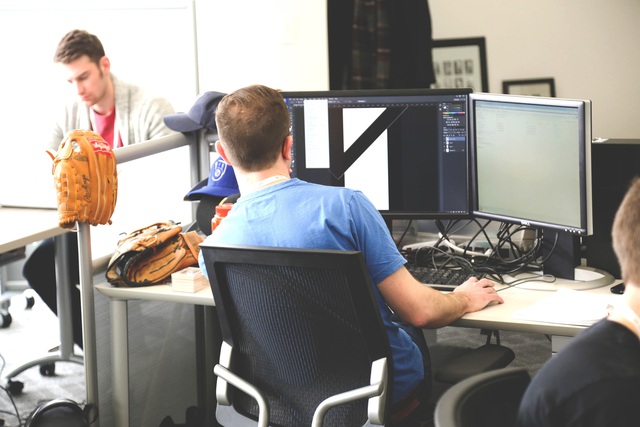 Humanyze launched a study by having employees wear an iPod-like device. The device is worn around the neck, like a company ID tag, and it will help track a variety of behaviors, including how often a person talks and who they talk to. Communication data is then compared with performance data to determine how individuals in the company are most effective.
Humanyze collected data on more than 1 million employees, most of whom work in the service industry, and one of the most consistent and important findings was the daily interactions between people in the organization. organization, including small talk that may seem like a waste of time – is a way of communication that boosts morale, productivity, and spurs new ideas within an organization.
Mr. Waber further revealed: "More than 50% of your interactions at work are with the people sitting right next to you. A quarter of that time is with people sitting in the same row or in the same group as you (depending on what you're doing). Depending on the arrangement of the desk.) About 5% to 10% is for people working in the same department or department of the company, and the remaining 15% is for other subjects.
So if you sit next to your boss, 50% of your boss's social interactions will be with you, greatly increasing your chances of becoming a core, key, integral member of the organization. "From the moment you get in, make it a priority to sit next to your boss/ across from you," Waber says. Because that would be even more valuable than having a private office or a seat in a corner with little traffic."
In two big companies, Google and Facebook, the optimization of all operations in the company is always highly appreciated. In the last few years, company leaders have made the decision to move their AI research teams to sit closer to the CEOs. For example, AI researchers are always sitting around Mark Zuckerberg, just reaching out to touch this CEO, this shows how much they value the AI ​​team in the company. Sitting in this position, they can build relationships with their bosses, build relationships with colleagues because they have the privilege of getting to know the boss better, listening to needs, receiving problems. consult when necessary and most importantly, position yourself as well as have easy opportunities for advancement.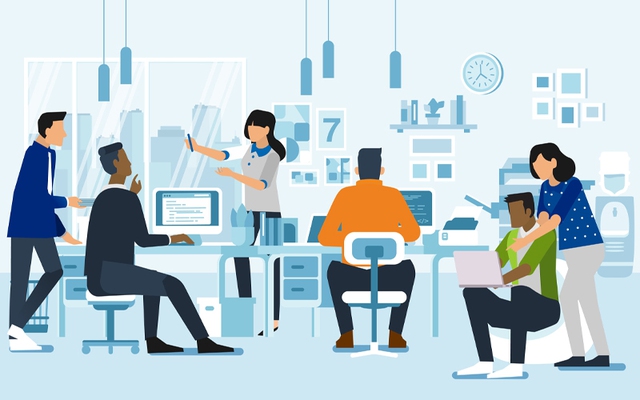 Mr. Hoang Nam Tien – Chairman of the Board of Directors of FPT Software also once shared with leaders that:
"I suggest that those who are business directors, if they want the company to grow quickly, should rent a new office or fix the office so that you sit near all employees. Do not think that the leader must be in a separate room or table, the leader's chair must be larger than the employee's desk or chair! This is extremely difficult. But the first action when the leader leaves his room and comes out to sit with the brothers, although not yet successful, is a very important step. Let's use our own room as a meeting room, and we set up a table to sit with the brothers."
One of the first criteria of a fast-growing company was to have an extremely simple structure. How to make the company structure flatter, that is, the closer employees and leaders are to each other, the better for the development of the company.
The priceless benefits of sitting across from your boss
Get valuable feedback on an ongoing basis

One of the most important things in shaping the right way to behave in the workplace is through real-life interactions and suggestions from colleagues. A lot of people can give you advice, but timing is what matters. Only when you sit close to your boss will you receive direct comments and suggestions immediately.
With sensitivity and experience in the profession, the boss can conveniently remind you of seemingly small but extremely important mistakes for you to be more professional at work, for example: "You should use that font to send to partners instead of using this form to be more polite", "Please use the word Dear instead of Dear to make customers feel more appreciated",…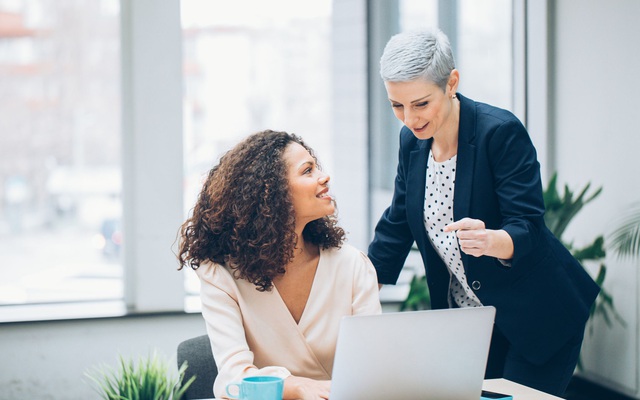 Improve productivity
Instead of having difficulty in being able to face-to-face or schedule an appointment with your boss to ask for advice, sitting right next to your boss helps you quickly get an opinion, making the most of your time for other tasks. The quality and progress of the work is also accelerated. The leader right next to you is also very common, creating the necessary pressure for you to focus on your work instead of getting caught up in distracting and time-consuming things like social networks, games, messaging, …
Personal connection
Sitting right next to your boss, facing your boss, you can discuss important issues, big and small projects in the company, but also talk about each other's personal interests, family, and other personal interests. social news stories.
Spending 8 hours a day talking to your boss at the company, you must become more authentic, no longer overly respectful. At that time, your office life will gradually become easier to breathe and comfortable. When you really put in the work and put your heart into it, you will certainly see the huge benefits of being able to sit across from or close to your boss.
Source: MEL Magazine, Medium
https://cafebiz.vn/nghien-cuu-noi-nguy-hiem-nhat-lai-la-noi-an-toan-nhat-vi-tri-phong-thuy-dac-dia-nhat-tai-noi- work-for-service
You are reading the article
The most 'dangerous' place is the safest place, the most favorable feng shui position at work is sitting opposite the boss!

at
Blogtuan.info
– Source:
cafebiz.vn
– Read the original article
here