Học tiếng Anh
The secret to help children learn English at home effectively
Common problems when children study at home
When children learn online at home, the problem of interacting and interacting with friends and teachers will be greatly limited because children are limited in closed spaces and only interact through electronic devices. This makes it easier for children to withdraw and talk less. Sometimes the blue light of the screen also makes children susceptible to myopia and affects the spine if not sitting on the appropriate desk.
Many children are easily bored and lazy to study because there are many confounding factors in the study space. Many children study at home while lying down to study, even falling asleep during class. Breaks are also limited to the home, making children very sedentary. Sometimes it will create depression, low self-esteem, limiting the child's ability to communicate and behave in the future.
The quality of lessons can also be limited in effectiveness when there are technical problems or when not directly supervised by teachers.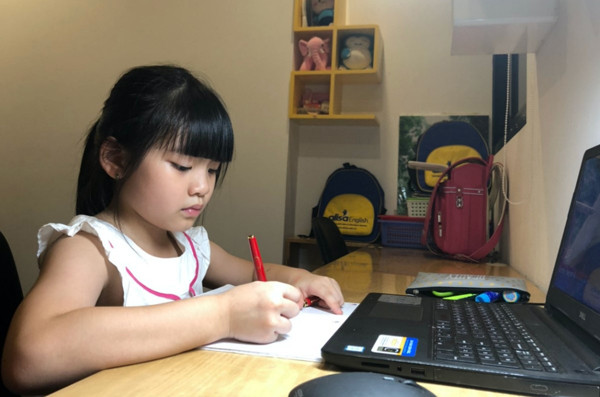 Help children learn at home effectively
Ms. Nguyen Thanh Dung – Founder of Alisa English shared a few solutions to help ensure the quality of learning and relieve psychology for children, which are effectively applied at Alisa English such as:
Developing guidelines, communicating with parents
When children learn at home, the most direct support for the child is the student's parents. With many children sent by their parents to take care of their grandparents during the epidemic, problems with electronic devices such as transmission lines, malfunctions, etc. will make it difficult for children to learn and easily bored. Therefore, Alisa English has built specific and simple instructions with images and videos. Even using direct support measures such as phone calls to guide parents to ensure students receive the highest support when learning. Regular exchange will also help create the most effective learning space, limiting distracting factors in children.
Changes in learning methods
According to the Cambridge Children's Health Study, a short break every 25 minutes helps keep learning intensity four times higher. This study also helps minimize the impact on children's eyesight.
At Alisa English, the staff has been working day and night to build new lessons based on Cambridge curriculum standards, combining video and interactive games through screens. The curriculum also applies many different forms of learning and experiences to help children be constantly active and always interact during the lesson.
Forms of reward and encouragement to receive gifts after school are also necessary because this will help create the highest excitement and receptivity for students. Activities that stimulate creativity, interaction, and not sitting still will also help children learn easily, be active and learn more effectively.
Ongoing training and evaluation with teachers
In addition to parents, teachers are the bridge to support and impart knowledge to children. Therefore, Alisa English has had many training sessions on how to use and handle technical situations that may arise while teaching online, especially with foreign teachers. The learning model with 100% native teachers also helps to improve the quality of children's learning. Especially, there will be regular sessions every week to evaluate the results regularly to improve the quality of teaching
Learning solutions for children in the "new normal"
Ms. Nguyen Thanh Dung – Founder of Alisa English shared: "Currently, Hanoi has begun to allow students to return to school. However, Alisa English will still maintain the model of learning up to 50% of the class capacity to help parents and students feel more secure when going to school…"
This is also the solution chosen and agreed by many parents at Alisa English, especially when the epidemic situation still has many potential risks.
What to prepare for children before going back to school?
According to Ms. Dung, after a long time studying at home, the first activity should be done is to check the child's learning level. Detailed detailed assessment before learning to improve and have a development and supplement plan to help children not fall behind and confidently return to school
The first day of school when children return to school is very important. Therefore, according to Ms. Dung, it is necessary to train teachers in detail and thoughtfully on safe methods for children, and create interesting lessons to help children excitedly go back to school. Before the lesson, teachers should also encourage and share to help children prepare mentally.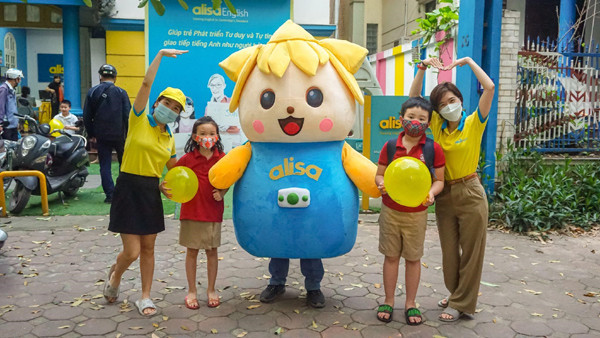 Primary school students at Alisa are welcome back from April 12, preschool students can go to class from April 18. Welcome students, Alisa English is applying a free trial program for 1 month for all students to quickly register.
Alisa English
Address:
CS1: No. 17 BT1, Linh Dam Peninsula Villa, Hoang Mai, Hanoi (Opposite Tower No 03)
CS2: No. 20TT1, Adjacent Villa 96 Nguyen Huy Tuong, Thanh Xuan, Hanoi
CS3: Adjacent to 38, Lenin Avenue, Vinh City, Nghe An
Hotline: 096.995.3399 VND
Pearl league
You are reading the article
The secret to help children learn English at home effectively

at
Blogtuan.info
– Source:
vietnamnet.vn
– Read the original article
here