Tư vấn tài chính
The tricks to 'pickpocket' customers of the air conditioner repairman in the peak season
Ms. Hoang Thi Huyen Trang (Hoang Mai district, Hanoi) said, last week, the weather changed and became hotter, she checked the new air conditioner installed 3 years ago and found that it did not turn on the electricity, so she thought the air conditioner was broken. Had to go online to find the phone number of the phone repairman.
"After checking, the technician reported that the capacitor was on fire, asking me to replace the capacitor for 1.5 million VND. Because the air conditioner has only been installed for 2 years, I disagree. Last weekend, I asked a relative to check, and it turned out that the wire was bitten by a mouse, the replacement fee was only 100,000 VND. Ms. Trang said.
Nguyen Duc Son, a refrigeration electrician in Trung Van ward, Nam Tu Liem district, Hanoi, revealed about the little-known "behind-the-scenes" of the air conditioning repair profession. That's often when the maintenance or repair of the machine is very simple, it is not worth much, but the workers still use enough tricks to "save" money from customers, especially for people who do not know anything about machines.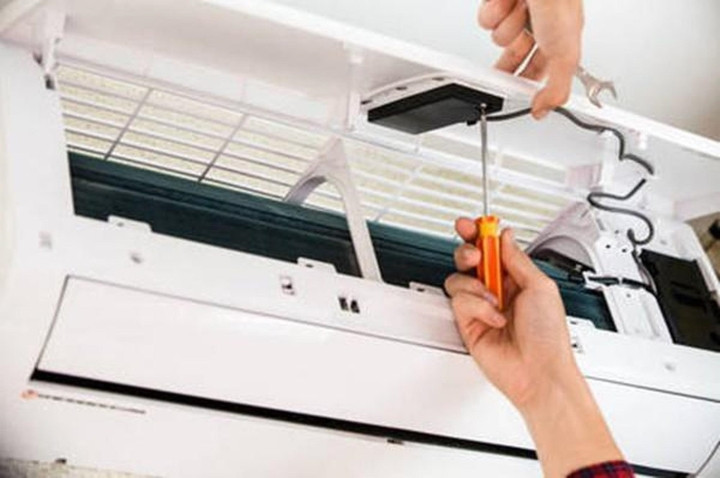 For example, air conditioners that have been used for 5 years are mostly only dirty and need to be cleaned. However, some workers are dishonest, want to save money from customers, so when they come to maintenance, they ask to check the whole machine and then list all kinds of diseases from lack of gas to broken microchips, broken capacitors, tornadoes… then Quote and ask to bring the device to the repair shop with a price that can be up to 3-5 million VND.
"If the customer regrets the money, then ask to buy it with the price of "rubbish" only about 1 million. If the purchase is successful, the worker will return to replace the parts for 200,000 – 300,000 VND and then sell it, pocketing a few million VND right away. Mr. Son said.
Telling the story of his worker who was sent to maintain 5 air conditioners but spent more than 6 million VND, Mr. Son said, through inspection, the maintenance of 5 machines cost 1.2 million VND, but 2 employees This member pumped gas, replaced Aptomat and air conditioner capacitors before the failure of 5 machines, causing damage to customers more than 4 million VND.
"We have asked these two employees to return the money, apologize to the customer, and also resign." Mr. Son said.
Not only stealing money from people who repair and maintain air conditioners, many air conditioner installers also bypass new installation customers if they see that the owner is absent, less knowledgeable or easygoing.
Mai Thi Vui, Giap Bat ward, Hoang Mai district said that because she had just completed the 4-storey house, she bought 3 air conditioners to install, with a total value of 38 million dong. Right after buying, the shop owner also frankly discussed that he would call for a mechanic to come and install, the fee of 300,000 VND/machine and the arisings such as copper wire, electric wire, aptomat the family must bear.
"During the installation process, the worker said that my house line was long, so I had to connect more. I agree because I think it will only generate a few hundred thousand dong in addition to the 900,000 installation fee. However, my family has to spend 11m more copper pipes and wires with the amount of 1.92 million VND. I found it absurd, I asked to measure the reality again, they said the calculation was wrong and reduced 1 million VND", Ms. Vui said.
Actually, not all air conditioner repairmen want to "save money" from customers for new installation or maintenance and repair, but it is not uncommon to get an increase from a few tens of thousands to millions of dong from customers.
Mr. Tran Quoc Cuong, owner of an refrigeration repair shop in Ha Dong district (Hanoi), said that the necessary accessories for air conditioning installations are copper pipes, electrical wires, sewage pipes, insulation genes, and protective fabrics. At this point, air conditioners often cheat on the distance, ie using all 4 meters of copper wire, then declare 5 meters to get 1 meter of copper wire and accessories. included as wire, insulation gene, sewage pipe, insulation cloth.
For example, installing an air conditioner with a distance of 5 meters will take 5 meters of copper pipe, the current price is 175,000 VND / meter, 5 meters of insulation costs 10,000 VND / meter, 10 meters of insulation fabric (must be wrapped around). around pipes) cost 8,000 VND/meter, 5 waste water pipes 8,000 VND/meter. With the price of accessories as above, only needing to declare 1 meter wrong, the air conditioner technician will cheat an amount of about 200,000 VND.
"The longer the installation distance, the more meters are falsely declared. Therefore, installing an air conditioner, in addition to the wages, customers will be charged an extra 1-2 million depending on the installation distance, which is not too strange. Mr. Cuong shared.
According to an expert in electronics and refrigeration, people often do not have expertise, so when the air conditioner has a problem, it is natural to call a mechanic. However, when calling a mechanic, you need to consider the maintenance services of professional firms, ensuring quality. Moreover, the owner himself also needs to learn how to do the basic routine maintenance of the air conditioner to catch the disease through a few simple signs. Only then will you not be overtaken when hiring a repairman.
About how to check the amount of air conditioner gas, Mr. Tran Duc Phu, an air conditioner repairman in Hoang Liet ward, Hoang Mai, Hanoi said, first of all, it is necessary to turn on the air conditioner in the correct mode. After that, see if the fan is spinning, is the heat emitted? If the heater does not emit heat or the copper pipe connecting to the outdoor unit is frozen, it means that the air conditioner is short of gas, it is necessary to contact a technician to be able to be charged with gas.
Mr. Phu noted, when the mechanic comes to maintain the air conditioner, the owner needs to be close, and at the same time ask to clean the obstructions that appear in the outdoor or cold unit for the machine to work well.
"Every 3-4 months should clean the indoor unit, the air filter of the air conditioner. For outdoor units, because they are often placed outdoors, there should be protective measures to limit dust and avoid direct sunlight, which reduces durability. Mr. Phu recommended.
In particular, in hot weather, people use electricity a lot, so it is possible that the current is weak, and the air conditioner cannot cool it, which is very normal. The hotter it gets, the more people have the habit of turning on the air conditioner at a very low temperature, which adversely affects the air conditioner as well as family health, consumes electricity and reduces the life of the air conditioner.
"Therefore, in addition to using a voltage stabilizer to stabilize the current, people should only turn on the outdoor temperature by 7-10 degrees Celsius, and at the same time use an additional fan to circulate air, reducing the load on the system. air conditioning"Mr. Dang Minh Tung, an air conditioner repairman in Cau Giay advises.
(According to VTC News)
You are reading the article
The tricks to 'pickpocket' customers of the air conditioner repairman in the peak season

at
Blogtuan.info
– Source:
vietnamnet.vn
– Read the original article
here