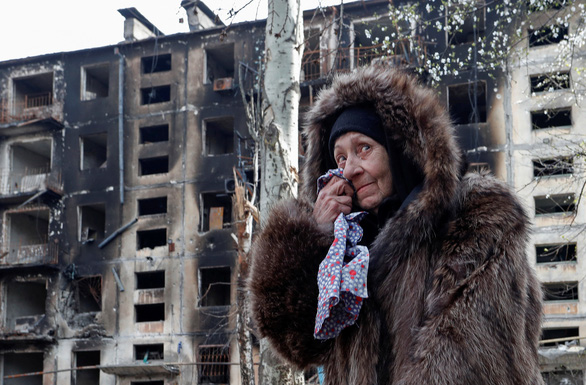 A local resident stands in front of a destroyed building in the city of Mariopul on April 17 – Photo: REUTERS
We will not give up territory but will find some form of dialogue with Russia. If there is a chance to talk, we will talk, but not on the basis of their ultimatum.
Mr. Zelensky expressed his views in an interview with CNN
If it controls Mariupol, Russia can establish a corridor between it and the Donbass region and the Crimean peninsula as well as fully control the Sea of ​​Azov.
Attention turned to Mariupol in the early hours of April 18, after Russia claimed Ukrainian forces and "foreign mercenaries" in Mariupol had ignored Russia's surrender ultimatum. In a notice on April 17, the Russian Defense Ministry warned that those who do not surrender their guns will be destroyed.
"Red Line" for negotiation
Russian media reported that the majority of Ukrainian forces defending Mariupol are now concentrated at the Azovstal Iron and Steel Plant – located in the industrial area south of the city, isolated from the densely populated inner cities. The Azovstal factory is located in a heavy industry complex of about 11 square kilometers. According to The Guardian, in addition to the Ukrainian armed forces, there are Mariupol civilians hiding inside the factory.
Outside Azovstal, Russia is preparing for the prospect of complete control of the nearly 135-square-kilometer city. Petro Andriushchenko, a Mariupol official appointed by Kiev, said Russian forces had already begun collecting and screening information on those who remained in the city. Citizens must have a Russian-issued passport if they want to travel between Mariupol's districts since April 18. Before that, Mr. Andriushchenko also warned that Mariupol will become a place of "no-go from outside" from the beginning of this week at the behest of Russia.
Ukraine's Foreign Minister Dmytro Kuleba and President Volodymyr Zelensky warned that Russia's capture of Mariupol could step on Kiev's "red lines", hinting at the possibility of ending negotiations with Russia. "Opportunities are decreasing day by day," said President Zelensky when asked about the prospect of negotiations with Russia, in an interview with CNN broadcast on April 17.
"Think of Bucha, Volnovakha, Borodyanka and Mariupol. There will come a time when no one in Ukraine will want to talk anymore. Ukrainians will no longer be interested in negotiations," the Ukrainian leader said.
According to Foreign Minister Kuleba, after the deaths of hundreds of civilians in Bucha, which Russia denies, negotiations between the two sides have become much more difficult. The two sides have had no ministerial-level exchanges since then, although the two sides have maintained working-level dialogues.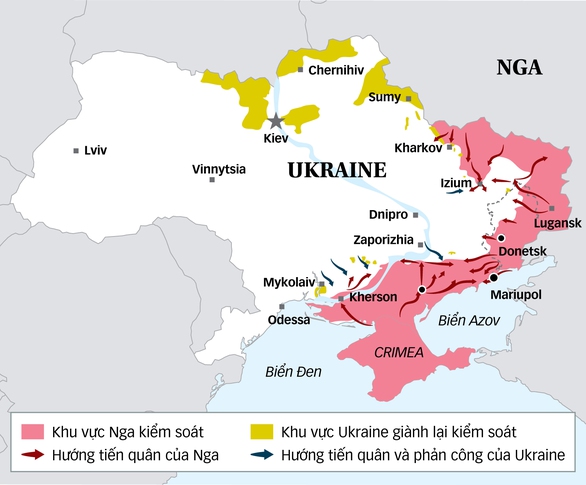 Russia is determined to control Mariupol – Source: The Guardian, Institute for War Studies (USA) – Data: Duy Linh – Graphics: T.DAT
Resistance to the end
Both Russia and Ukraine are trying to make sense of their military actions in Mariupol. The Russian Defense Ministry claims to have intercepted the communications of Ukrainian units at the Azovstal Plant. Moscow asserted that these soldiers had desperately asked Kiev for more weapons and ammunition, and even asked to surrender but were not accepted by the leadership.
In response, Ukraine announced that its soldiers would fight to the last man and would never give up their guns in the face of Russian ultimatums.
If Mariupol were to come under full Russian control, it would be the biggest victory for Moscow since the launch of a "special military operation" on February 24. Militarily, capturing Mariupol would help Russia free up resources for other fronts in the Donbass region.
If Moscow takes control of Mariupol, a road corridor of more than 350km will be established, starting from Russia's western border through separatist-controlled areas in the Donbass to Crimea, which Russia annexed. in 2014. Moscow will also simultaneously control one of Ukraine's leading metallurgical centers and export seaports.
In terms of morale, with Mariupol being the largest city that Russia has captured from Ukraine, Russian soldiers may be able to increase their morale after weeks of facing fierce resistance from Ukraine that made units Russian armed forces suffered a lot. Inside Russia, political and military leaders in Moscow will feel some relief when they have a story to tell on the eve of Victory Day on May 9.
As for Kiev, Mariupol will become a symbol of the Ukrainians' spirit of resistance to the Russian advance. The Ukrainian leadership has acknowledged a couple of times that it will not be able to liberate Mariupol, but insists that does not mean a renunciation of territory and fighting efforts.
Despite the fall of Mariupol, the fighting spirit of the last gunmen at the Azovstal Factory will certainly be mentioned a lot in Ukraine.