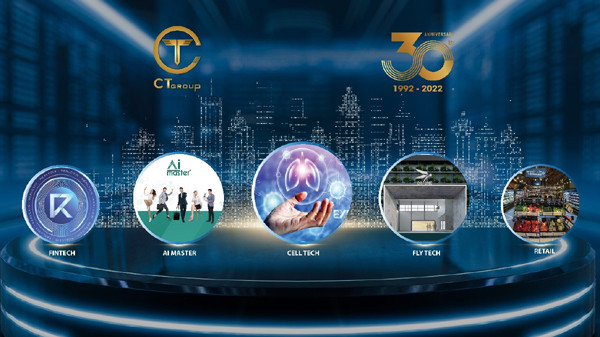 Transform yourself with the 4.0 technology revolution
CT Group is known as a young, dynamic and diverse community. Established in 1992, CT Group is constantly growing. Today, CT Group's key business activities focus on the following areas: real estate, retail, construction, financial investment, ecotourism, and technology. In which Real Estate and Technology are identified as two key segments of CT Group on the journey to conquer the digital era.
CT Group assigns CT Land the responsibility to develop new urban areas, with pioneering and breakthrough products such as: affordable housing CT Homes towards the community; high-class CT Town projects; CT World branded megacities and many other real estate fields.
In addition, CT Group focuses on promoting the development of high-tech fields. With the aspiration to "turn the technology of the future", CT Group has been promoting the development of fields such as: Fintech, Cell Tech, Fly Tech, Digital Banking, Hitech Construction, E-Commerce, Renewable Energy, Hitech Education, AI, Quantum; join hands to bring Vietnam in tune with the global digital revolution.
Some core technologies that have been researched and carefully prepared by CT Group over the years are now starting to bring about certain results, serving as a solid springboard for the corporation to go deeper into the high-tech segment, such as: WHO; Blockchain; DrOne unmanned aerial vehicle; Super App integrates "all in one" to serve the real estate sales community – customers – investors – residents… In the field of Cell-tech, CT Group has established Vietnam Gene & Cell Technology Joint Stock Company (VGCT). to select, apply and develop gene and stem cell technology for patients in Vietnam and the region.
Also in 2022, CT Group will have a global scale when expanding representative offices in: Israel, Geneva (Switzerland), Canada, Dubai… The offices are ready to receive the transfer of advanced technologies, serving as launch platforms. for a major revolution of CT Group.
With technological imprints, excellent business activities to welcome the age of 30, CT Group is starting a new journey towards lasting development. In order to prepare for the challenging but also proud "conquests", CT Group is diligently preparing human resources to meet the scale and growth rate of the corporation.
Comprehensive development working environment at CT Group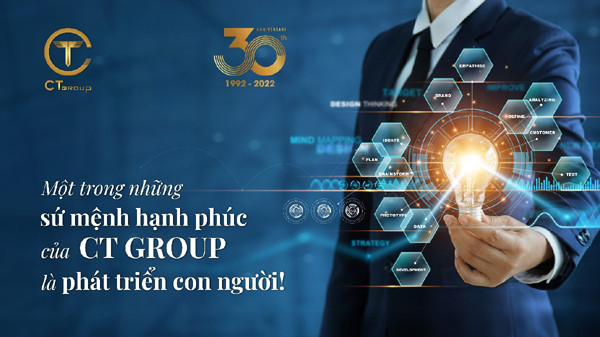 The addition of sufficient human resources is always one of the top priorities and focus of CT Group. The Group not only invests in building a staff of highly specialized knowledge, but also trains elite, disciplined individuals who always put common values ​​on the top and work towards those values. deeply "human" value. With the goal of raising resources to 36,000 by 2025, CT Group has rushed to a large-scale recruitment plan, attracting talents from many fields such as technology, finance, construction, etc. business – marketing… This is to contribute to diversifying the talent network, serving the technology transformation strategy with a wide scale spread across: the corporation, nearly 80 member companies, R&D departments in foreign.
Not only giving opportunities to employees, especially young people, at CT Group, everyone also enjoys comprehensive remuneration policies, an ideal working environment to enhance their career, explore and develop. own potential through the "360-degree policy": care and development for material and spiritual life in all aspects. A representative of CT Group said: "The salary level of CT Group is at least 10% higher than other units in the same industry. In addition, there are a series of irregular and periodic reward policies, rewards for achievements from 3 to 6 months, seniority bonus of 1 amount of gold for employees working for more than 5 years, a series of incentives for housing and shopping. and vacation…".
Besides, the learning culture of CT Group is also a special feature of this group. Every individual is given the opportunity to study and be trained in professional skills as well as necessary skills for the job… with a team of experienced and good consultants in terms of skills and expertise.
CT Group also cares about the lives of employees by regularly organizing many entertainment activities, social activities, and vacations every year. In particular, the journey "Caravan across Vietnam" at the group's resort system and all over Vietnam has become a unique corporate culture for elite individuals with outstanding achievements. , helping them to show their qualities and discover their potential through each challenging journey, to train their bodies to be resilient as well as to have a strong will to become stronger and more comprehensive.
After 3 decades of establishment and development, CT Group has constantly shown a strong desire in the journey to create comprehensive human resources with innovative and positive thinking. Not only stopping at hatching plans, CT Group always makes great efforts and determination to realize the goal: to contribute to bringing Vietnam into the 4.0 global revolution with high-quality human resources and high-quality human resources. long-term engagement.
The Dinh
You are reading the article
Towards 36,000 employees by 2025

at
Blogtuan.info
– Source:
vietnamnet.vn
– Read the original article
here