Giải trí
4 criteria for judging the special beauty of singer Ngoc Son
The Miss Tourism ASEAN+ (Miss Tourism ASEAN+) contest is organized by social network Hahalolo to promote the beauty of Vietnam's homeland, culture and people to friends around the world. That is also the biggest reason why the singer Ngoc Son quickly accepted the invitation to sit on the judge's seat of ASEAN+ Tourism Beauty.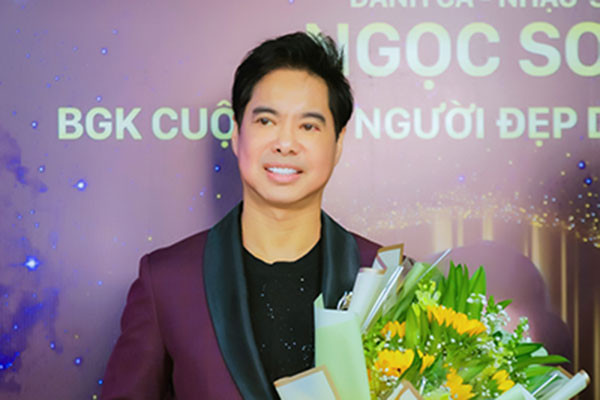 During a meeting with the organizers and contestants, the male singer shared: "Our homeland of Vietnam is a forest of gold, sea of ​​silver, Vietnamese people are friendly and hospitable, Vietnamese culture is diverse, unique, and Vietnamese cuisine is very popular. South is rich… So many wonderful things, if not introduced to friends in five continents, not famous around the world, it would be a pity. By the way, I want to work with Hahalolo organizers to promote the beauty of Vietnam through many programs to get closer to international friends."
Because of that, Ngoc Son himself always hopes to be able to contribute even his small efforts to the journey of bringing the image of the country and Vietnamese people to everywhere, reaching out to the world.
Ngoc Son also wishes that there will always be people willing to do it like him. And the contest is the perfect opportunity to fulfill this mission. Not only the winner, but each contestant when participating in the contest certainly brings a deep love and pride for the beloved homeland.
Singer Ngoc Son also did not hesitate to point out 4 criteria to evaluate in the beauty contest in which he was a judge, namely: "Germany, wisdom, body, beauty". According to Ngoc Son, the beauty of a Vietnamese girl is a combination of many factors. This includes morality, wisdom, filial piety, manners of communication, clothing, and even health and fitness. Because according to him, if your health is poor, it will be difficult to perform many of the missions entrusted by the crown. In addition, women's morality is also reflected in filial piety to parents, harmony with brothers and sisters, respect for teachers, respect for people, good behavior towards people, cultivation of the heart, accumulation of virtues, gentle tolerance and patience, .
In particular, the beauty of tourism and sports in particular, not only exudes the typical beauty of Vietnam, but also interprets and spreads the long-standing culture and beautiful scenery of the country's homeland.
The male singer also shared that although he sat as a judge in many beauty contests, he had never been touched by any contestant. Because even though he is a person who loves beauty, admires and appreciates their beauty, talent and wisdom and also has a lot of children and students who are famous beauty queens and models, he also understands this. What a judge needs most is the seriousness, fairness, and objective assessment to bring fairness to all contestants. No matter what position, Ngoc Son always puts professionalism first. Therefore, Ngoc Son's image and position in the hearts of fans has always been solid over the years, never changing.
And for that reason, Ngoc Son is still "single bed and pillow". According to him, whether the couple should be predestined or not is due to fate, not what I want to be. After his mother passed away, Ngoc Son felt not alone because there was always the love of his extended family for him, who have always stood by him for decades and never left.
After life returned to a new normal, Ngoc Son was very busy with a series of music nights, TV shows and devoted herself to new art projects. In the near future, the male singer will soon release the song "Love the farmer" as well as embark on a series of projects to promote tourism in Phan Thiet and all over the country.
Although it is not possible to reveal too much about the upcoming plans, fans can completely believe in the products that singer Ngoc Son devotes all his heart to.
Ngan An
You are reading the article
4 criteria for judging the special beauty of singer Ngoc Son

at
Blogtuan.info
– Source:
vietnamnet.vn
– Read the original article
here