Young people today define success and happiness in many ways: Some are willing to pay a lot of money for travel, sports, self-care or spiritual repair. Some prove it by "experience". Meanwhile, others choose to buy a house, buy a car of their own…
But no matter what, everyone has their own reasons for buying property and spending their money.
Quyen Moon (SN 1992, currently a doctoral student at the University ofPusan ​​House – Korea) is also among them. Affirming that "the car is not an asset", the 9X girl has changed cars twice and is about to buy another car for her father – even though she does not have a house of her own.
At first hearing here, you will find it difficult to understand and curious about her choice. Of course, with it, there is a story behind it.
"A car is not an asset" but still buys a car for me, buys a car for my dad even though I'm not at home: Everything has a reason!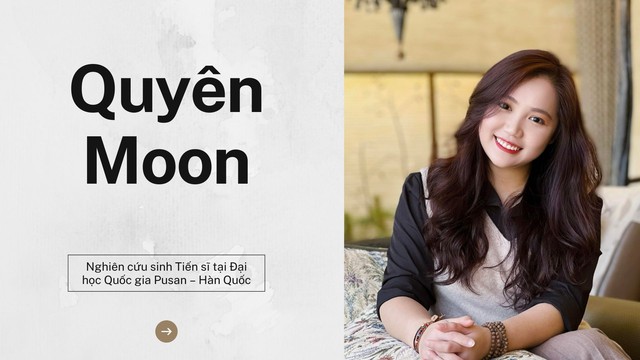 01.
The first car
In 2016, Quyen went to Korea to study abroad, also the year she bought her first car. However, because at that time, the financial situation was not enough, so Quyen only bought an old car for convenient transportation.
"Because Quyen likes to take the initiative in all of her schedules, buses or trains are not the means of choice for Quyen. Besides, it's probably because Quyen was influenced by Quyen's father. From a young age, her father taught Quyen to ride the motorbike no. must be an asset, a car is just a means to protect yourself, so if you think you need it and can afford it, just buy it." – Quyen Moon shared.
At that time, Quyen chose for herself a 2001 Hyundai Avante, calculated in Vietnamese money at that time, the money to buy a car was about 40 million VND.
"Quyen plays badminton with Korean aunts and uncles, so it's convenient to ask people to help you find a car. This time, Quyen did not have any difficulty because Quyen already has a driver's license in Vietnam since she was in 2nd year of university, so When she went there, Quyen only needed to change her license, not to retake the exam.Finance to buy a car at that time was lucky to have her parents help.
For everyone else, maybe the first car will have a lot of memorable things, but for me, it's more practical." – 9x added.
Everything needs a beginning, and even if it were easy, things would still go on with lots of ups and downs – no one dares to say – as a matter of course. Quyen is no exception.
Quyen said that a car is not an asset, a car is just a means to protect yourself, so if you feel the need and within your means, just buy it.
02. Second car
4 years after buying the first car, Quyen was about to graduate and go to work, and planned to pick up her mother to live with her, so she decided to change cars.
"At that time, I also saved a small amount of money, so as soon as this plan started to flash, I thought about changing my car. Partly because Quyen likes to explore, travel here and there, If she brought her mother over, Quyen would definitely take her with her.So if she kept driving her mother in an old car, Quyen was afraid it wouldn't be safe.
Thinking about it again and again, Quyen also decided to change to another car, new and bigger, more comfortable." – Quyen said.
In 2020, Donate to a Kia K5. However, although this car was purchased at a time when Quyen had carefully selected, has ready finances and a stable job while working as a Marketing Manager for a multi-application company in Seoul, it is still not real. does not mean much to her, because half of the money to buy a car is still supported by her family.
03. 3rd car
At first, everyone thought that perhaps with those changes, she would "pause" in the newly changed Kia K5 in 2020. However, everyone's life always takes unexpected turns.
The PhD scholarship was returned to Quyen's hand when she quit her job to return to Busan to study and do more business. And the BMW that Quyen is currently riding is a "sweet fruit" after 1 year of hard work at this job.
"Although the current BMW 320D is not the first car Quyen bought, it is the first car that Quyen can buy by herself without the support of her family. It can be said that this is the "key" the first key "in my own right." – Quyen said.
Sharing more about the work Quyen did to be able to buy herself a luxury car, Quyen confided:
"Quyen doesn't like to receive a salary, doesn't feel safe when being dependent on having only 1 monthly income. So right after coming to Korea, Quyen officially knew how to make money. But while in Vietnam Quyen only knows how to spend money, but doesn't make any money.
The car has helped Quyen a lot in her work and thanks to that, Quyen is able to be self-sufficient in personal finance and also fulfill one of her biggest aspirations.
While studying for a master's degree, Quyen studied while ordering Korean hand-made goods. After picking up her mother to live with her, Quyen saw that her mother was sad, so she sold more snacks online. Fortunately, my shop is working very well, so it is quite famous in Korea now. Quyen maintained that business until now and opened a new direction for herself, with a new product. At first, I thought it was just a part-time job, but I didn't expect it to become my career now."
It seems, the current car has been and is very meaningful to her. It was not only the first milestone in her career, but also something that made the little girl proud.
However, Quyen did not stop there, she still decided to buy another car for her father.
"If you ask what's the motivation for Quyen to try as hard as she is now, she must mention an event that happened to her family. Before that, Quyen was an only child, since childhood, she has lived a full life, that's also the reason Quyen learned to drive from a very early age.
Since then, Quyen's biggest wish is to get back everything that her parents lost. First is the car. And that is also the reason that Quyen is willing to spend money to buy a car, not buy a house or spend a lot on other expenses. Quyen is always thinking, only have means to earn property.
Then, Quyen is about to fulfill her wish to buy a car for her father."
Journey to buy a car for dad
Because buying a car in Vietnam is more expensive than in Korea, Quyen has to learn quite carefully about the procedures as well as the car models that are suitable for her father and still fit in her pocket.
"Quyen estimated the cost of buying a car for three sizes of 1 billion. Initially, Quyen decided to buy a Peugoet 3008 for his father, but his father liked the Honda HR-V.
Heard that the Honda HR-V is compact, imported completely, and the Honda line is also more popular in Vietnam, so if it breaks or wants to be repaired, it will be easier to find than the Peugoet 3008.
I don't really know, I also think that maybe my father thinks the Honda HR-V is good but the price is cheaper than the Peugoet 3008, so I should choose it, but in general, if I like a car, Quyen will give it to me." – Quyen added.
Initially, Quyen decided to buy a Peugoet 3008 for his father, also went to see it but then switched to Honda HR-V according to his father's preference.
Sharing more about buying a car for her father, Quyen said that she intends to pay about 450-500 million VND in advance. The rest is in installments, estimated to be paid in about 3 years.
"After a period of consultation, Quyen chose a car loan support package of Shinhan bank – like my best friend who just bought a car by installment payment. But again, because Quyen is living and working in Hanoi. In Korea, this procedure must be transferred to her mother's name, so Quyen will probably choose a loan package according to the ACB bank that her mother is using to easily pay when it is due. That money is gone.
However, Quyen is still considering because Shinhan supports better interest rates and more incentives. Meanwhile, most domestic banks have higher interest rates and are only supported for the first time, then they will float according to the market, so Quyen is a bit hesitant."
It is expected that next June, Quyen will return to Vietnam and buy a car for her father. She is also eagerly waiting for this day.
It can be seen that, for many people, a car may be just a vehicle, but with Quyen Moon it is different.
In general, there is no standard measure of a person's success. As long as you try hard enough and make an effort to achieve your goals, buy a car or buy a house, choosing what people still think is a "livability", not an asset, is also worth it.
You are reading the article
Affirming that "the car is not an asset", the young girl kept changing cars and even bought one more for her father.

at
Blogtuan.info
– Source:
autopro.com.vn
– Read the original article
here