Business
'Bach Hai Duong' offered 200 million, lowered to 30 million, still no one asked to buy
As Tien Phong reflects, recently, on many petty forums, the plant named "Bach Hai Duong" has been widely offered for sale by gardeners at sky-high prices. These plants are advertised as mutant begonias (from red flowers to white flowers, so they are named "Bach Hai Duong"), rare and valuable feng shui. Even gardener T.D. in Nam Dinh province owns a tree of this type, 2.1m high, 1m wide canopy for sale… 1.3 billion dong.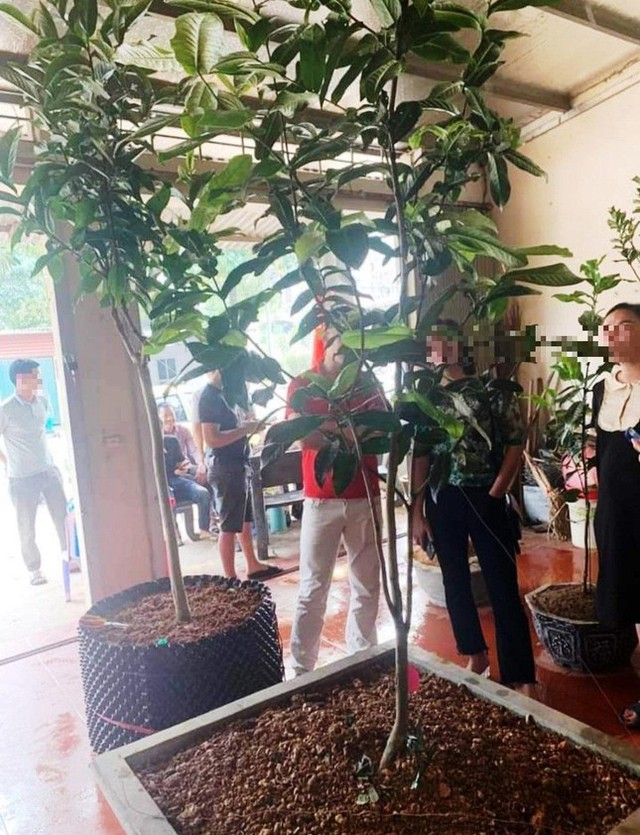 An exhibition, introducing "White Sea Road"
After a short period of excitement and many individuals and organizations participating, the wave of "Bach Hai Duong" has subsided. Tree trading forums, posts about this plant no longer attract the "terrible" interactions as before. The "screaming price" has no longer worked, for example, a tree "Bach Hai Duong" 2m high, 2 weeks ago was offered for sale for 200 million VND, now the tree owner continuously announces the reduction to 30 million VND. copper but still did not attract interested people, asking to buy.
Even many people mocked those who "blow the price". The account named D.XP posted on the group "White begonia (white sugar)" asking why there are many gardeners selling white begonia for only 39,000 VND/plant, but I don't understand why. Many people accept to buy 1 million VND/hom (vote).
"Understandably, at this point in time, very few people actually buy white begonia when it costs so much. Moreover, most bonsai players have learned lessons from investing in mutant plants and orchids. Every day, every hour, "they" have to propagate and stage big sales… Everyone should be alert, don't lose money to buy something of no value!", the D.XP account wrote.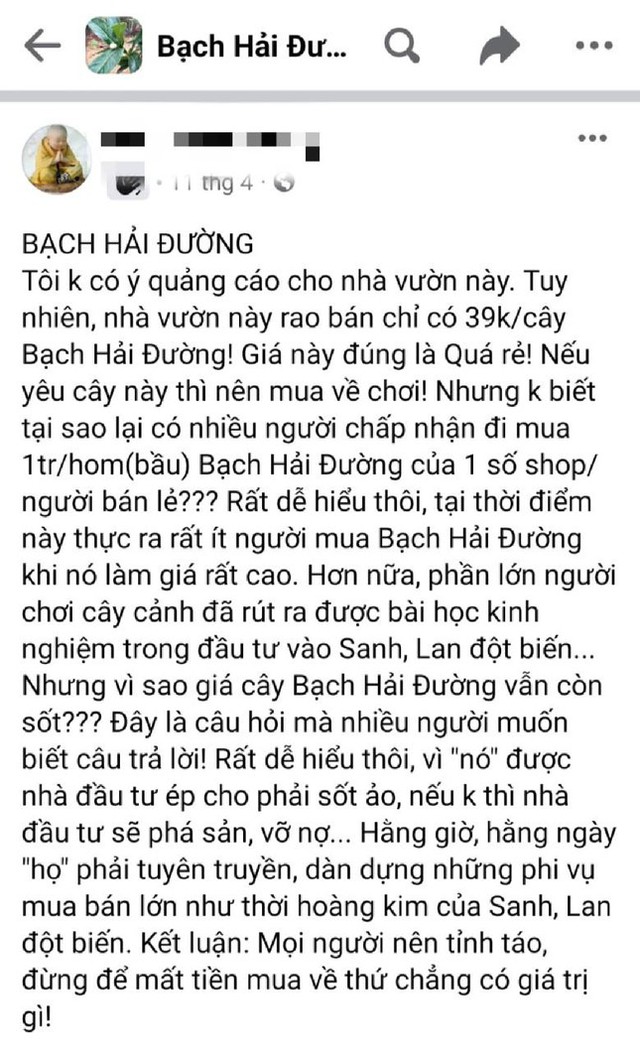 Many people post advice to be alert, "don't lose money buying something of no value".
Many accounts posted many news/articles with similar content along with articles from mainstream newspapers warning of a virtual 'fever'. Some people even commented (commented) mockingly: "Don't buy mutant begonia, I have albino kohlrabi, selling for only one billion dong", with a picture of white kohlrabi.
According to a survey of PV Tien Phong, On e-commerce platforms, the price of a tree "Begonia" is only from 40,000-400,000 VND/tree.
Looking closely at the pictures of white begonias for sale for hundreds of millions and billions of dong, Prof. Dr. Ngo Quang De, former Dean of the Faculty of Forestry (University of Forestry), commented: This begonia tree is similar to woody lotus (also known as ground lotus). "The flowers are the same, the leaves are the same. To confirm, it is necessary to see if the white sea sugar trees they sell for billions of money have nothing else, but it can be said with almost certainty, that the white sea sugar is a land lotus. Regarding the idea that Bach Hai Duong is a nightshade flower, Prof. De said that his family has many nightshade trees. The night flower is also white like the ground lotus but quickly fades, the tree is small, not as big as the ground lotus.
"Land lotus only needs to be cut to grow on a tree. People have done it, selling 100,000 – 200,000 VND/seedling. The case of real mutant begonias can't be that expensive because begonias are easy to propagate. If the white begonia is a night flower, the cheaper it will be because this plant is popular and easy to propagate. This is just a price blowing game, a scam," Prof. De said.
You are reading the article
'Bach Hai Duong' offered 200 million, lowered to 30 million, still no one asked to buy

at
Blogtuan.info
– Source:
cafebiz.vn
– Read the original article
here