Ms. Nguyen Phuong Hang used to have a different name and dual nationality
As reported by Dan Viet, related to the investigation and handling of defendant Nguyen Phuong Hang (General Director of Dai Nam Joint Stock Company), the authorities have now established a criminal record of Nguyen Phuong Hang's accused. .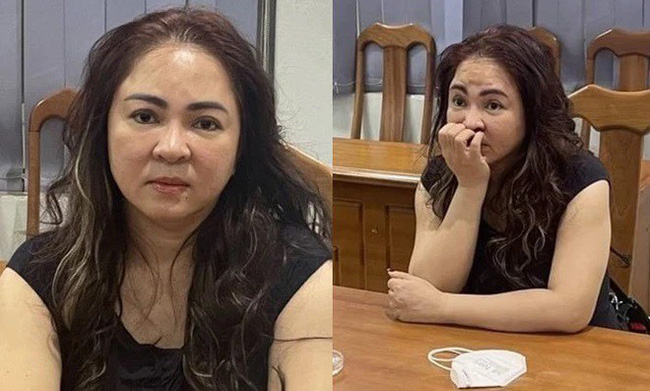 Defendant Nguyen Phuong Hang was prosecuted by the Ho Chi Minh City Public Security Bureau, detained for 3 months to investigate the act of "abusing democratic freedoms to infringe upon the interests of the state, rights and interests. lawful organizations and individuals". Photo: CACC
The making of a criminal record of the accused is an investigation activity to clarify the background and identity of the person who committed the crime.
Accordingly, the accused Nguyen Phuong Hang used to bear the name Nguyen Thi Thanh Tuyen, born on January 26, 1971, who used to denounce D.D.G – a fairly close character of the gangster Nam Cam. was executed), more than 20 years ago.
Ms. Nguyen Thi Thanh Tuyen changed her name to Nguyen Phuong Hang in 2010.
In addition, according to the investigation, defendant Nguyen Phuong Hang has two nationalities, Vietnam and Cyprus.
Why did Mrs. Nguyen Phuong Hang denounce Nam Cam's juniors?
After this information, many people questioned, how did Ms. Nguyen Phuong Hang, when she was still named Nguyen Thi Thanh Tuyen, denounced D.D.G. a trusted junior of the gangster Nam Cam?
According to the document, in 1996, Ms. Nguyen Thi Thanh Tuyen (later Nguyen Phuong Hang) was acquainted with D.D.G. In 1997, Ms. Tuyen rented the house No. 21/15A Truong Son Street from Mr. THH to live and lived with G. here.
In 1998, Ms. Tuyen bought this house for 52 taels of gold. The whole process of trading, buying and selling, Ms. Tuyen worked directly with Mr. H., the documents for the sale and purchase of this house written by Mr. H. also only recorded the sale of this house to Tuyen.
But then G. repeatedly beat Ms. Tuyen, forcing her to add G.'s name in the sales paper. When Ms. Tuyen returned to her mother's house, Ms. Tuyen's house documents were sent to Mrs. N. (Mrs. Tuyen's mother), but G. threatened to force Ms. Nuong to hand over all house documents to her and then forced Tuyen to have to. write a written commitment not to dispute this house with G.
The process of buying and selling this house G. only participated in the final stage when it was due to pay the outstanding amount, at that time Ms. Tuyen had no money, so she asked Mr. H. to introduce him to borrow money from Mr. C. at Tran Quoc Thao Street, Ward 7, District 3 with an interest rate of 3%/month.
According to the document, when the investigative agency struggled with G., he stubbornly refused to admit this behavior and claimed that it was G. who spent money to buy this house.
All trading relations with Mr. H. were directly related by G. and Ms. Tuyen was only the person accompanying G., at the final stage when G. came to borrow money from Mr. C. to pay Mr. H.
G.'s testimony is not consistent with that of Mr. H. about the sale of the house to Ms. Tuyen and is inconsistent with the testimony of Mr. A. who witnessed when Ms. Tuyen paid Mr. H.
Moreover, Mr. D.V.Đ who is G.'s brother-in-law also declared that G. had absolutely no money, when G. lived with Tuyen as husband and wife, all expenses in life depended on Ms. Tuyen for her sake. Having a husband abroad often sends money back. This statement of D. consistent with Ms. Tuyen's testimony on this matter.
With the above grounds, the investigating agency has enough grounds to conclude that Ms. Nguyen Thanh Tuyen is the person who bought the house 21/15A Truong Son street of Mr.
In the last stage, G. just went with Ms. Tuyen and Mr. H. to Mr. C.'s house to borrow gold and signed C.'s gold loan paper for Tuyen instead.
The fact that G. forced Ms. Tuyen to let G. sign more house purchase and sale papers, forced her to take all the house documents and then forced Tuyen to write a written commitment not to dispute the house for appropriation constituted a crime of coercion. take property.
After having appropriated this house, Mr. C. came to claim the amount of gold that G. and Tuyen borrowed to pay Mr. H., so G. had to pay Mr. C. 5 taels of gold.
Thus, the actual amount of gold paid to Mr. H. was 52 taels, including 7 taels of Mr. C. Then Giang had to pay Mr. C. 5 taels. Therefore, the value of Ms. Tuyen's property that G. has appropriated is 45 taels of gold.
D.D.G was later sentenced to 7 years in prison for appropriating property.
You are reading the article
Before changing her name, how did Ms. Nguyen Phuong Hang denounced Nam Cam's juniors?

at
Blogtuan.info
– Source:
Eva.vn
– Read the original article
here