Giải trí
Dan Le's son burst into tears when he saw his mother's sad scene on VTV
Behind-the-scenes clip has been shared on social media.
The movie "Are you a man" is attracting the attention of small screen audiences with its dramatic and climactic details. Notably, the scene where Mai Ngoc, played by Dan Le, is abused by her husband in front of her children, haunts viewers. Not only beating, this man also ruthlessly stamped his wife's hand with a stapler.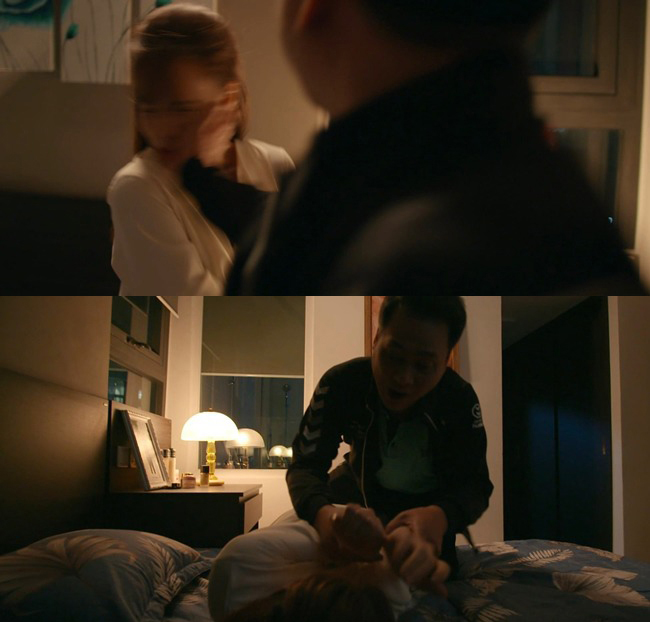 The violence scene in the movie aroused mixed opinions
Recently, the behind-the-scenes clip was shared by the film crew. Accordingly, when witnessing his father beating his mother, Khoi (child actor Bao Nam) ran to the can but his grandmother pulled his hand out. Not only that, the grandmother also stood to one side, looking emotionless, even telling her grandson that it was right that his father beat his mother. After completing the scene, Bao Nam still cried because he was absorbed in his mind and scared by the scene that had just happened. The filming crew felt quite guilty and went over to comfort and comfort the boy.
Video: Child actor Bao Khang cried after the scene
On social networks, many viewers agreed with Bao Nam, saying that even though it was a movie, the scene on the screen was so realistic that it made everyone feel sad, not to mention the boy witnessed it on the spot. At the same time, netizens also condemned the violent behavior of the characters in the movie in particular and the real-life cases in general.
Previously, actress Dan Le posted a long article about the story of women being abused after the scene was broadcast. The former Weather MC also shared his feelings when witnessing the reactions of people who were abused in real life. Dan Le expressed surprise that more women have a mindset of accepting being beaten by their husbands rather than being beaten by their husbands, gambling, etc. She is annoyed with the supportive comments saying that Mai Ngoc deserved to be beaten. knowing that her husband is jealous but still meets another man.
Dan Le posted a picture of bruised limbs after completing the scene
Dan Le wrote: "In this world of nearly 8 billion people, half are men. What Mai Ngoc does is daily communication. If you think that a woman can be beaten for meeting an old acquaintance in the elevator, in her children's classroom, can be beaten for helping others when they go to the emergency room without a loved one. Besides, being able to be humiliated because of motion sickness and needing other people's support also means you agree with a woman can be tortured for any reason. It can be a greeting with the security guard, a meal with a male colleague, a bow of gratitude, a smile when others help.".
Ha Thanh beauty emphasized that as long as there are people who think like that, there will always be pitiful stories in real life. She affirmed that there was never a woman who deserved to be abused and beaten. "Don't allow that to happen, even in your mind. It's too cruel", Dan Le expressed.
You are reading the article
Dan Le's son burst into tears when he saw his mother's sad scene on VTV

at
Blogtuan.info
– Source:
24h.com.vn
– Read the original article
here