Pháp luật
Even believing that the shopping trick still makes a profit, the woman was scammed more than 800 million
Today (April 20), Quang Ninh Provincial Police said that it had just received a report from Ms. PTH (SN 1990, residing in Quang Hanh ward, Cam Pha city, Quang Ninh) about being scammed by more than 800 people. million dong.
Earlier on January 3, while accessing Facebook, Ms. H saw an advertising folder displaying "Recruitment 2" with the words "Send a message".
Because she was looking for a job, Ms. H clicked on the above item to find out and received a message through the Messenger application with the content "Recruiting online salespeople".
Ms. H actively left her phone number, then a Zalo account named Nguyen Thuy Dung made friends and introduced herself as a Shoppe consultant and asked Ms. H to provide personal information, including her bank account.
Dung gave Ms. H a collaborator code, denoted A688, and then sent the links (each link sent by Dung corresponds to a product, these products are on the Shoppe.vn website) and told Ms. H to click Click on this link to see the product code with the price.
In addition, Dung also provided a Techcombank bank account named "PHAM THU HA" and instructed Ms. H to perform the operation to buy the product listed in the link and then pay by transferring money to the above account number.
After transferring the money, about 10 minutes later, Ms. H's account received the amount of the product purchased along with a 10% commission of the product value. Dung said this is a form of stimulus for stalls to increase sales.
With the above method, the first time Dung sent Ms. H the link of the product code priced at 340,000 VND, Ms. H transferred money to order this product and received 374,000 VND in return.
Next, this subject sent a link of a product code priced at 220,000 VND and a product code priced at 639,000 VND, resulting in Ms. H receiving a total amount of 944,900 VND back.
On January 4, when she placed an order for the 4th time with a value of more than 1 million dong, but after transferring the money, Ms. H did not see the money being transferred as in the previous times, seeing that there was an abnormality, she did not buy the products of the company. Dung sent again.
In order for the prey to trust, Dung continued to contact Ms. H via Zalo to offer and say that if you buy a product of higher value, the company will facilitate a high commission.
Seeing Dung say that, Ms. H continued to order 6 consecutive products sent by Dung with a total amount of nearly 200 million VND. However, for one of these 6 products, Ms. H had to transfer another 41 million dong because Dung thought that she had transferred money for the first time, but the content was wrong.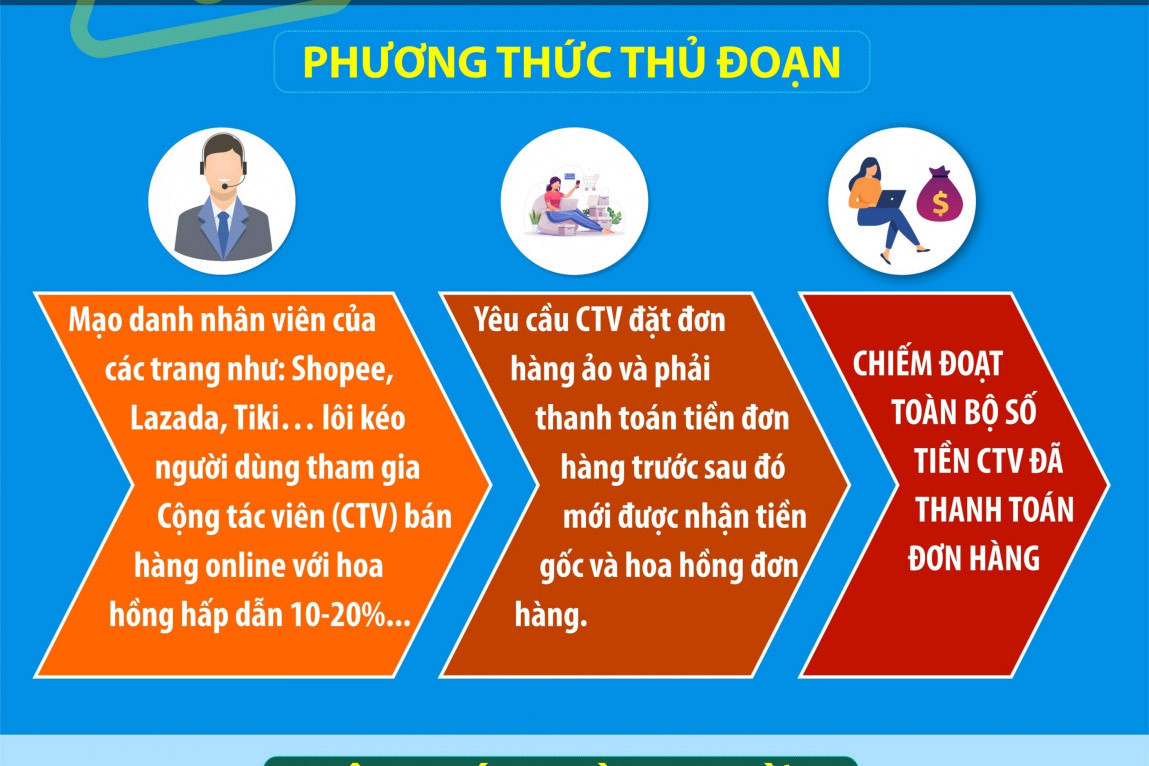 During this time, Dung constantly talked to Ms. H to get traction. Dung also sent via zalo to Ms. H a photo of her identity card. Ms. H asked about not receiving the refund, Dung said that because Ms. H had not completed the task, when she met the requirements, the accountant would disburse the money to her later. At this time, Dung continued to introduce Ms. H with a zalo account named "Xuan Tai" and said that this was an accountant in Shoppe company.
Ms. H talked to Tai to ask if she wanted to receive the transferred money back, Tai asked Huyen to make a 30% deposit of the total amount of nearly 220 million VND, which is more than 71 million VND.
After transferring money to PHAM THU HA's account, Ms. H still did not receive the money back, so she continued to ask Tai, this object asked Ms. H to buy 4 more products worth nearly 150 million VND. At this time, seeing that Ms. H continued to wonder about not receiving the money back, Tai said that the manager of Shoppe company would call her.
When a phone number called, claiming to be the company manager, she asked Ms. H to transfer 50% of the total amount including interest and principal that she had previously transferred to PHAM THU HA's account to complete the target and then full refund.
On January 5, Tai asked her to buy 4 product codes worth 280 million VND and 1 product code worth 50 million VND. Ms. H agreed and transferred the entire amount to Tai.
Completing the transfer procedure, the subjects continued to give many reasons to ask Ms. H to buy more products and transfer more money. Suspicious of being scammed to appropriate property, Ms. H went to the police station to report the incident.
Accordingly, the total amount of money Ms. H has transferred to PHAM THU HA's account is more than 820 million VND. Quang Ninh Provincial Police (PC02) has prosecuted the case "Scam to appropriate property".
Pham Cong
You are reading the article
Even believing that the shopping trick still makes a profit, the woman was scammed more than 800 million

at
Blogtuan.info
– Source:
vietnamnet.vn
– Read the original article
here