Giải trí
How to observe and what does it mean?-Information Technology
HHT – From now until the end of the month, if you wake up early, you can see a very interesting phenomenon: 4 planets align in the sky. What do astrologers think this means?
For astronomy buffs, this is your chance to observe a rare phenomenon: 4 planets aligning in the sky.
That's right, from now until the end of April, you can see Mars, Venus, Jupiter and Saturn lined up in a straight line. According to NBC, this is a rare and quite "unusual" opportunity for us to see many planets aligning in the sky – just with the naked eye.
For people in the Northern Hemisphere (like in Vietnam), to see this "quad", you need to get up about an hour before sunrise, starting early in the morning on April 20, and look at the sky. to the Southeast, in the direction in which the Sun will rise. In a place unaffected by city lights, with a flat horizon, you'll see Jupiter, Venus, Mars and Saturn look as if they were attached to a tight string in the sky, according to NASA. (US space agency). If the sky is clear, those planets will be quite bright, you don't need binoculars or telescopes at all.
4 planets aligned in the sky. Photo: Mark Tarello.
According to NASA, Jupiter will be at the lowest position (closest to the horizon) so it is a bit difficult to see, but towards the end of the month, Jupiter will be higher and easier to see.
The alignment of the four planets is considered a "prelude" to an even more spectacular and rare scene next summer: From late June to early July, Mercury, Venus, Mars , Jupiter and Saturn – five planets in total – will align in the sky before dawn.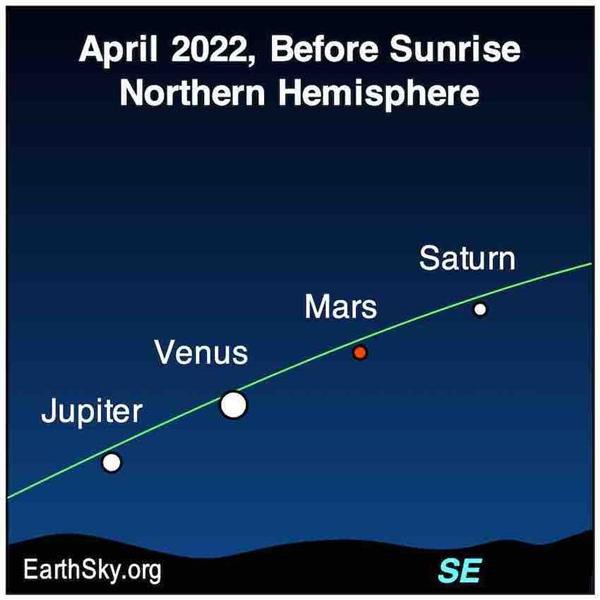 Illustration of the EarthSky site, for people in the Northern Hemisphere. Photo: EarthSky.
So what does the phenomenon of planets in alignment (when viewed from Earth) mean to humans? This also depends on the meaning of each planet. For example, according to astrology, Mercury represents communication and connection; Venus represents love; Mars is the planet of action; Jupiter has a philosophical meaning (appreciate both the good and the bad, forgive…); Saturn is a symbol of cause and effect (whatever you give, you get).
So planetary alignment could be a time when we all need to slow down and reflect on all of the above (are we communicating with others properly, how we love, how we act, how do we interact with others? Do we appreciate each lesson in life, what do we want to receive?…).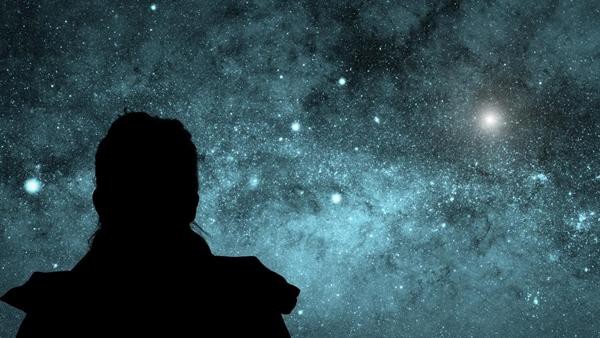 The fact that the planets are aligned is said to have more positive connotations. Illustration: iStock.
Some astrologers also believe that planetary alignment brings an optimistic energy change, which is when you should take action and your dreams will come true. It is also a time of personal growth, becoming more spiritually mature, despite losses, disappointments, and fears (which everyone has). The dark side of this event is that the change in energy can also make some people more impulsive, hasty, and easier to make wrong decisions (so the advice here is that we need to consider carefully). before making decision).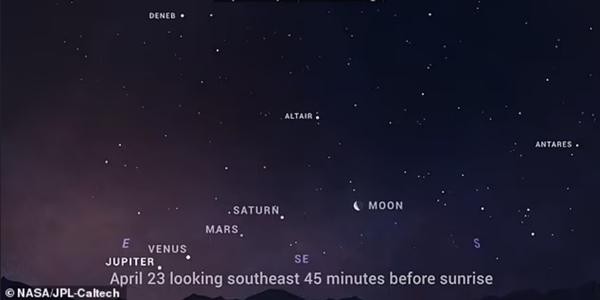 According to NASA, from April 23, you will see the Moon (Moon) near the "quad". Photo: NASA.
And of course, for those who don't believe in these meanings, the alignment of the planets is just an astronomical phenomenon like many other phenomena.
You are reading the article
How to observe and what does it mean?-Information Technology

at
Blogtuan.info
– Source:
24h.com.vn
– Read the original article
here